Print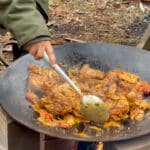 Afghan Lamb Ribs Recipe
---
Description
Do you love these cooking outdoors videos on YouTube? If so, you'll love this episode my director calls "Fire and Ice." 
We don't cook lamb ribs exactly like this in Afghan Cooking but we found some lamb ribs at the local Wal-Mart by our cabin and my producer said let's give it a try! I mean, Afghans definitely know how to cook lamb.
This recipe can easily be made inside with an oven. Instead of outside fire just brown on stovetop and finish in oven like we did.
Enjoy!
---
2 racks of lamb ribs
3 onions
3 tomatoes
2 serrano peppers
1 bunch cilantro
1.5 tsp each of:
turmeric
cumin
coriander
garlic powder
onion powder
dill
salt
pepper
paprika
cayenne
oregano
canola oil
minced garlic
---
Instructions
1. Chop onions, tomatoes, and cilantro. Chop up lamb ribs into pieces.
2. Prepare spice mix with all spices above except the minced garlic.
3. Take generous amount of canola and place in skillet that you can brown meat. Cook onions.
4. Toss in minced garlic, spice mix, and tomatoes. Cook down.
5. Toss lamb ribs in to get good browning on all sides.
6. Add water or stock as braising liquid. Cook for a few minutes.
7. Take all of the food and place into container that you can place into oven. Put covered in oven for 2 hours at 300. Check often. If ribs start pulling off ends of bone its ready to eat.
Recipe Card powered by