Afghans love our Kishmish paneer. It is a simple 3-ingredient cheese, usually served with delicious Afghan raisins. Let's make it.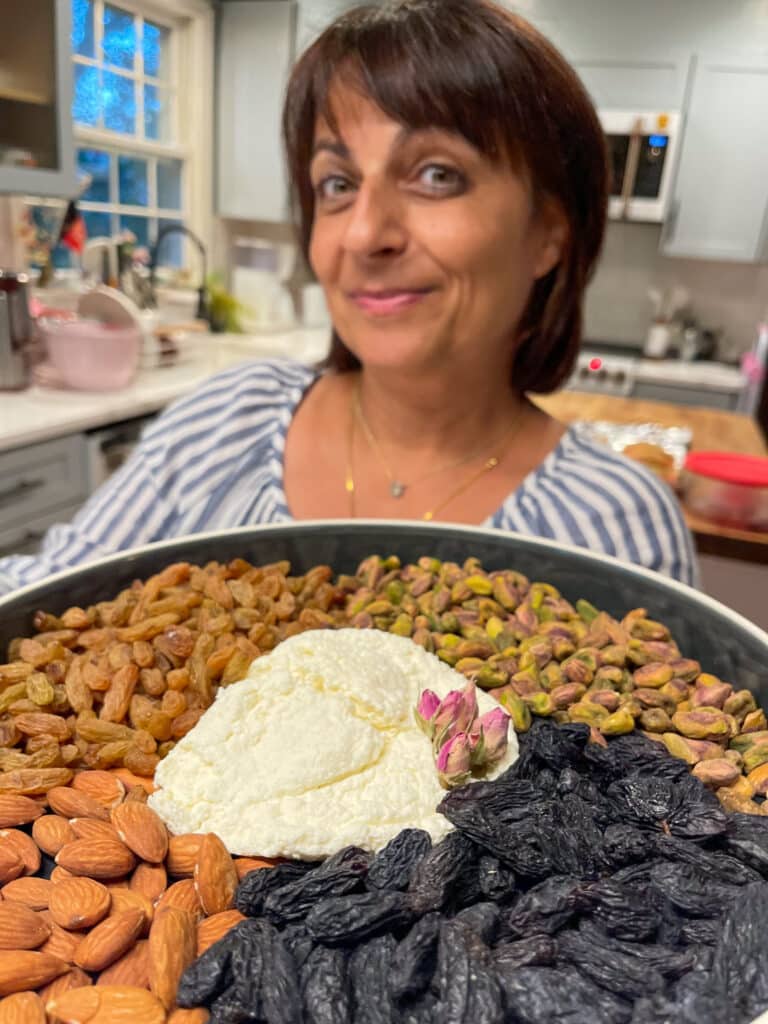 What is Kishmish?
Afghan Kishmish refers to the high-quality raisins produced in Afghanistan. Known for their distinctive taste, these raisins are typically darker in color, often a deep brown or black. They are sundried and naturally sweet, making them a popular choice for culinary purposes. Afghan Kishmish is enjoyed as a snack and is frequently used in baking, cooking, and brewing worldwide.
We love to serve our paneer with different Afghan raisins, mulberries, and nuts. It is typical to serve with green tea.
Interested in learning how to make Afghan milk tea? Try it out here.
How Easy is Kishmish Paneer?
Super easy. Only two ingredients! It is similar in taste and texture to cottage cheese, though it's typically denser and less creamy. Afghan Paneer is often made at home, using a simple process that involves curdling milk with a food acid like lemon juice or vinegar.
Afghan paneer may be the most accessible cheese you can make. Many Afghans don't add salt, but sometimes I like to because I feel it heightens the flavor of the cheese.
Printable Kishmish Paneer Recipe
As always, we make this recipe easy to print and replicate. I suggest you watch the video if you have any questions. Also, leave a comment. I always respond. Are you a fan of Afghan Cooks and want to help spread the word? Well, social media is critical.
Finally, don't forget us on social media. We are on Tik-Tok, Instagram, and Youtube. We also have an excellent non-spammy Afghan Cooks Club. Sign up for that too!
Print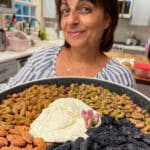 Kishmish Paneer – Two Ingredient Cheese
---
Description
Kishmish Paneer is a simple cheese and raisin dish that is simple, delicious, and loved by Afghans.
---
4 Cups Mlik
Sieve and fine cheesecloth
2 Tablespoons of Vinegar
Fresh Afghan kishmish (raisins), and nuts to serve with
---
Instructions
1. Pour your milk into a saucepan and slowly bring to a boil.
2. You will slowly start to see a ring of small bubbles form around the edge of your milk. Stir occasionally.
3. Turn off the heat and add vinegar When the milk reaches a boil. Your milk should almost immediately curdle.
4. Once your milk curdles, set aside and set up your fine cheesecloth over a bowl. Dump your cheese (and now separated whey) over the cheesecloth. The cheese will stay in the cloth, and the whey will gather in the bowl. Slowly drain the whey from the cheese and press it into the desired shape. Voila, cheese! Let sit in the fridge overnight.
5. Serve on a pretty dish with Afghan kishmish (raisins). You could add nuts and mulberries if you wish.
Recipe Card powered by