Print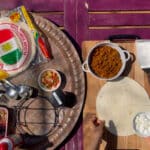 Lamb Keema Recipe
---
Description
You asked for it and we delivered. We told you over at our TikTok Viral Wrap recipe that we would tell you how to make this Lamb Keema for the "meat" wrap. 
You can use any kind of meat in this recipe. Ground beef or chicken would work. Of course this mixture is delicious and need not only be used on our wrap. Could convert this into Afghan Sloppy Joes, Afghan Tacos, etc etc. Use your imagination!
Here is the Keema recipe.
---
1 lb ground lamb (or other meat)
1 onion
2 tbs ginger garlic paste
3 tbs tomato paste
1 tsp turmeric
2 tsp ground coriander
2 tsp cumin
2 tsp paprika
1 tsp dill
1 tsp oregano 
1 tsp MSG (not it isn't bad for you)
oil for pan
water
red pepper flakes to taste (start w/ 1 tsp)
salt to taste (start w/ 1 tsp)
---
Instructions
1. Heat oil and then brown onions.
2. Add ginger garlic paste and let get fragrant.
3. Add your spices.
4. Add tomato paste. Mix thoroughly.
5. Add meat. Cook around 10 minutes.
6. Add 1/2 water so you can make a sauce. If you have ever made taco meat it is the same principal. This keeps the meat moist and infuses the flavors into the meat. Cover for about 10 minutes and cook med-low heat. Add water as necessary to keep moist.
Recipe Card powered by