Let's make Ash Noodle Soup.
Ash (aush) noodle soup was one of the first recipes I posted on this website a year ago, and on my YouTube. It is THE Afghan soup.
This version I made is slightly different. I tried to make it a "one-pot meal." Also, I added an extra twist with some qurut at the end.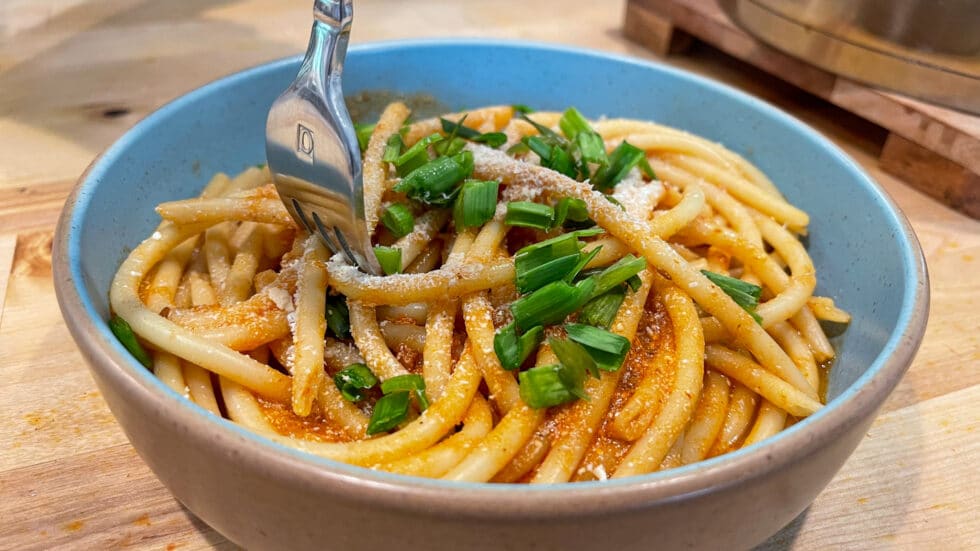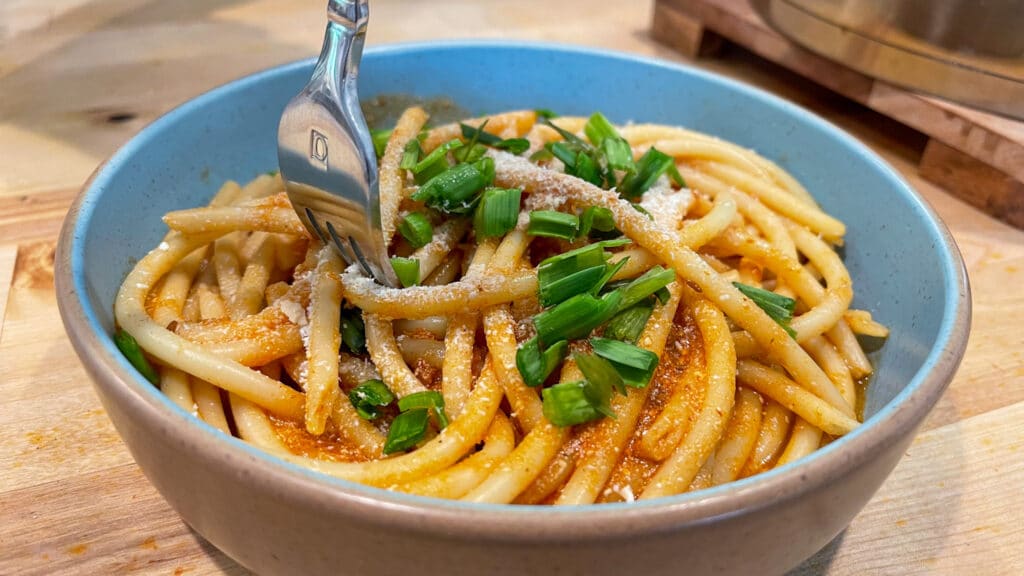 What is Ash Noodle Soup?
This Afghan soup is usually made with noodles and different vegetables in a tomato-based broth.
The Afghan version of the soup is more likely to have tomatoes or a tomato broth. It is topped with a yogurt sauce, sometimes fried garlic, and dried/crushed mint leaves.
The Afghan version is slightly different from the Iranian version, with about 50 different versions. Iran has a Jewish population that has its own version without yogurt.
Why this is a One-Pot Meal?
Typically, like in my original aush recipe, the soup is multi-steps, layered, and takes some time. Here, I throw it all together.
Heck, I didn't even have chickpeas at the house so I skipped that too. But, definitely add chickpeas to your ash before you finish the plate.
Cooking should be simple and not discouraging.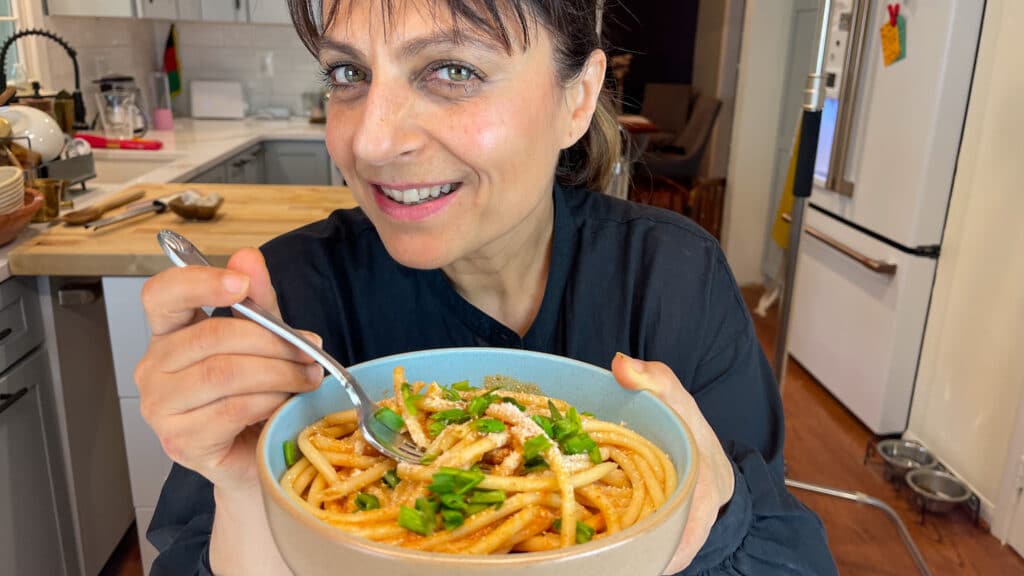 This Ash Recipe is Vegetarian
Many Afghans, and people around the world, are trying to limit the meat in their diet for health or religious reasons. There are many benefits to vegetarian eating:
heart health
lower risk of cancer
lower risk of obesity
lower blood pressure
lower cholesterol levels
This recipe is a vegetarian aush recipe that is heart-healthy.
Shaved Qurut – A Delicious Topping
Now for those unfamiliar, it is not uncommon when eating pasta and red sauce to have some fresh Parmigiano-Reggiano. Why is this cheese so special? Here is why.
Parmigiano-Reggiano is a type of cheese that originates from Italy. It is made from cow's milk, and the milk is first curdled and then pressed into wheels.
The wheels are then soaked in brine for 20-30 days. After that, they are left to age for 12-36 months.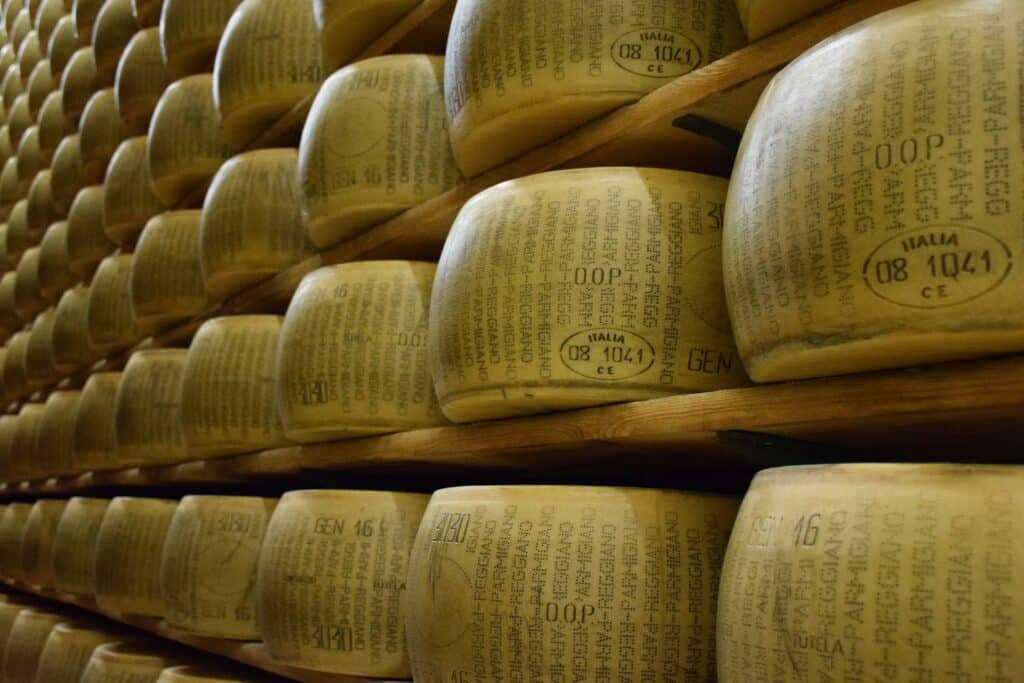 That cheese sits around a long time. It develops all kinds of deep flavors. A little sour, a little stinky, and a lot delicious. Just like qurut. So who does not know about qurut?
Qurut is the whey from yogurt. Imagine taking sour yogurt and extracting all of the liquid from it. This would give you the whey. Then, Afghans completely dehydrate it. This becomes qurut. They are like little hard balls of deliciousness.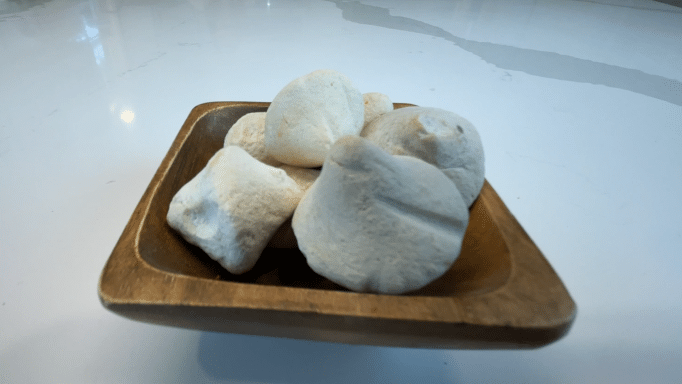 You may be worried that you can't find them. I got you. You can buy qurut easily in our shop by clicking here.
The Recipe
As always, we have a convenient printable recipe below. Anytime you need help, I always suggest watching the video once or twice before starting to make any recipe.
Are you a fan of Afghan Cooks and want to help spread the word? Well, social media is critical. Finally, don't forget us on social media. We are on Tik-Tok, Instagram, and Youtube.
We also have a wonderful non-spammy Afghan Cooks Club. Sign up for that too!
Want Secret Recipes? News Updates?
Subscribe to our Afghan Cooks Club now. (free secret recipe for signing up)
Print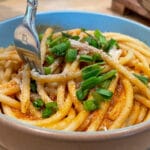 Vegetarian Ash Noodle Soup with Qurut Shaved Topping
---
Description
This vegetarian ash recipe will fill you up and is super easy.
---
1 Package of Noodles
1/3 Cup Tomato Paste
1 Tablesppon Vegetable Oil
1/2 Tablespoon Ground Cumin
1/2 Tablespoon Ground Coriander
1 Teaspoon Garlic Powder
1 Teaspoon Onion Powder
3 Cups Water
1 Teaspoon of Salt
Cracks of Black Peper
2 Teaspoons of Vinegar
3/4 Cup of Yogurt
Shaved Qurut
1/2 Cup Cooked Chickpeas
Chopped Chives
---
Instructions
1. Start your water boiling for your noodles.
2. Oil your pan and add the cumin and coriander to toast. This only takes a minute, don't let it burn.
3. Then, add your tomato paste. You want to cook this in the oil and spices until it slightly changes color. Just a few minutes.
4. Next, add your onion and garlic powder. Add your water now. The tomato paste is the base of your sauce. Now that you've add the water, bring it to a boil and let it simmer for about 10 minutes.
5. Add your salt, black pepper, and white vinegar. Turn your heat off so we can now add the yogurt.
6. We need to temper the yogurt with the tomato sauce. Add a little of the sauce to your bowl of yogurt, and stir. Then add it all to the sauce.
7. Finally, add your chick peas and let warm.
8. To plate, add qurut by shaving it over pasta like it is grated cheese. Sprinkle chopped chives on top.
Recipe Card powered by