Our website has a small affiliate store where you can shop for ingredients and kitchen items I use in all of my episodes. We get a small affiliate fee from Amazon if you buy from our links. We appreciate your support.
Print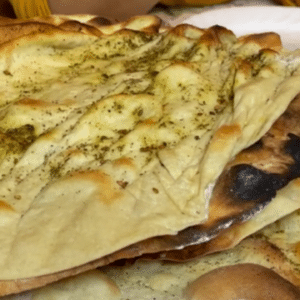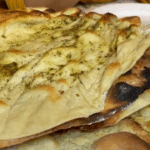 Afghan Bread Recipe
---
2.5 tsp yeast
3/4 cup warm water
2.5 cups all purpose flour
3 tablespoons oil
1.5 tsp salt
---
Instructions
Stir together yeast and 1/4 cup warm water. Make sure it's not too hot or too cold or you'll kill the yeast. This step isn't technically necessary for most active dried yeasts, but it helps to let you know if your yeast is alive. Let the mixture sit for 5-10 minutes. It should get bubbly. Add the flour oil and salt and stir. Add the water – slowly – until a soft dough forms. If it is too wet, add more flour one tablespoon at a time. If it's too dry add more water 1 tablespoon at a time.
Turn the dough onto a floured surface if you are doing it by hand and knead it for 4 minutes until you get a nice, bouncy pliable dough. If you are using a dough hook let it go for the same amount of time. Put the dough back into a bowl, brush some oil onto it to keep it from sticking onto the plastic wrap. Cover it with plastic wrap and set it aside to rise for about an hour or until it doubles in size.
When it's done rising, take it out of the bowl and punch it down. Cut it into 4 or 8 equal parts. This will depend on how big you want the flatbreads. Roll each piece into a ball and set it under a cloth or paper towel and let it rest for just 10 minutes.
Heat your oven to 500 degrees. Roll out the dough until it is very thin – so you can see the work surface under the dough. Make sure the dough is well floured. When it is thin enough put it on a baking sheet or pizza tray and put it in the oven to bake for 1.5 minutes. Flip it and bake another 30-45 seconds. Take is out, cover with a cloth so it doesn't dry out and keep going.
Recipe Card powered by