100 percent of people love the Popeyes spicy chicken sandwich recipe. That's a proven fact. If you are searching around Google for the recipe, I've got a version of that sandwich that I think you'll love.
First, Our website has a small affiliate store where you can shop for ingredients and kitchen items I use in all of my episodes. We get a small affiliate fee from Amazon if you buy from our links. We appreciate your support.
Why Afghan Popeye Spicy Chicken?
Everyone's got one – yes an opinion, but also a spicy chicken sandwich. It may seem that I'm just jumping on the bandwagon – what do Afghans know about fried chicken. Well, have you ever heard of Crown or King Fried Chicken in New York City? If not, after the Covid times you should head to Queens and check it out. Then you'll know what Afghans know about fried chicken.
But, besides that, Afghans love fried foods. We cook almost everything in a healthy amount of fat, that's why it tastes so good! All I did was take the typical flavors of Afghan cuisine and add it to a fried chicken coating. If you've been around for a bit, you know what these seasonings are – turmeric, coriander, cumin, dill, mint, etc. You get the picture.
Spicy Chicken Bath: Afghan yogurt sauce.
Before you do all of that, let the chicken sit in a bath of Afghan garlic yogurt sauce with a healthy dose of hot sauce added to it. Sprinkle the fried chicken with sumac, spread yogurt sauce on a pita wrap, lavash or thin Afghan bread and top with pickles. I won't say you'll never go to Popeye's again because, come on, it's delicious (and the one near us is halal!) But you can go there a bit less. 
When some people make the popeyes spicy chicken sandwich recipe, they use cornstarch. Also a great trick for getting a crispy crust. I think you'll find our recipe gives you everything you need.
Popeyes spicy chicken sandwich recipe printable recipe
As always, we have a quick and easy printable recipe below. If you like this recipe, please leave a review. The more reviews you leave, the better the search engines like our videos. Also, take a minute to go subscribe on our YouTube video channel.
Did you see a kitchen appliance that I used and loved it? I've put all the things here in my influencer store. If you buy anything, I get a small commission, and you help support these free recipes!
Print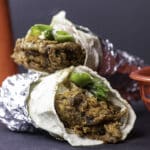 popeyes spicy chicken sandwich recipe – Afghan Style
---
Description
this Popeyes spicy chicken sandwich recipe is going to blow your mind. Afghan spices and frying techniques are a perfect marriage for this classic sandwich. We love you Popeye's, but we do it better.
---
2 lbs boneless, skinless chicken thighs. 
1 cup yogurt
3 tblsp lemon juice
1 tsp dill
1 tsp mint
2 tsp salt
hot sauce (to your taste. I used about a quarter cup of ghost pepper hot sauce.)
1 cup flour
1 tsp turmeric 
1 tsp coriander
1 tsp cumin
1 tsp smoked paprika
1 tsp msg (optional) 
1 tsp mint
1 tsp dill
t tsp salt
1 tbsp chili powder
1 tbsp cayenne (or more depending on your taste)
1 tsp onion powder
1 tsp garlic powder
A few grinds of black pepper
1/2 cup milk
3 cups oil (canola, peanut, grapeseed)
sumac 
flat bread of some sort
achar
---
Instructions
For the marinade
Mix together the yogurt, lemon juice, dill, salt mint and hot sauce.
Add the chicken and mix making sure all of the chicken is thoroughly coated. You can do this in a large bowl or in a large ziploc bag.
Once all of the chicken pieces are covered in the yogurt sauce, cover it and put it in the fridge for at least 4 hours but preferably overnight.
For the coating
Before you do anything, take the chicken out of the fridge. 
Mix together the flour, cumin, coriander, garlic, onion, salt, black pepper, chili powder, cayenne, turmeric, dill and mint. Put it in a shallow dish big enough for you to be able to flip a piece of chicken in it.
In a separate shallow dish, pour the milk.
Heat the oil in a large pan. You can put this in a frying pan and shallow fry it, but I prefer putting in a large dutch oven or something that size. Heat the oil to 350 degrees.
Set up your assembly line. Take a piece of chicken from the marinade and put it in the flour coating, coat both sides. Transfer that to the milk and get both sides wet with the milk, put it back into the flour mixture and coat again. Put directly into the hot oil.
The chicken is done when the internal temperature reaches 165 degrees. This will take about 7 minutes. Watch your heat, make sure it doesn't get above 350 otherwise the chicken will get dark quickly but won't be cooked all the way through. If you need to turn down the heat, do so but don't let it go below 325.
Drain the chicken on a rack with a baking sheet underneath it. This way the chicken stays crisp. Worst case, just put it on a paper towel.
Make the sandwich
While the chicken is still warm, sprinkle it with sumac.
Take a piece of lavash or other flat bread and spread Garlicky Afghan Yogurt sauce on it. 
Put a piece of fried chicken on it, top with pickle or coriander chutney.
Roll up like a burrito.
You can add French fries, tomatoes or just regular pickles. 
Enjoy!
Spiced ketchup
I made this on the video to have with the french fries. But we like it so much we eat it with everything now.
1 part garlicky Afghan Yogurt sauce
1 part ketchup 
garam masala
Mix all togher. Eat with everything. 
Recipe Card powered by