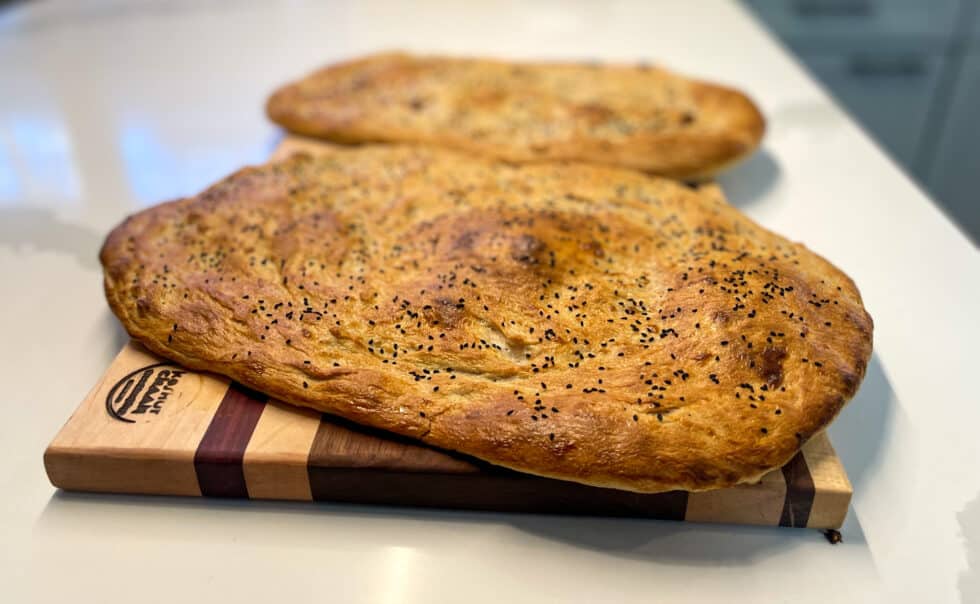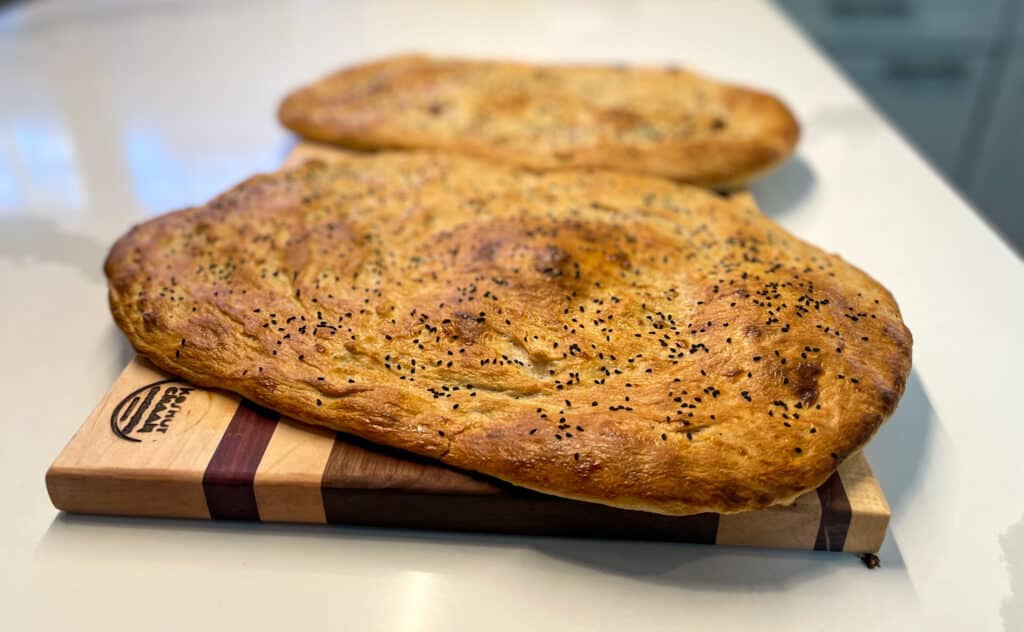 This Afghan bread recipe is a brand new update. I have been perfecting this recipe (some call it Afghan naan) for two years.
I've tried to make it easy and authentic. Afghan bread is instantly recognizable in its long loaves and is usually covered in black nigella seeds. Once you start making this bread, you may never repurchase store-bought bread.
Technical Keys to Afghan Bread Success
Afghan bread is a yeast bread, so you do have to let your little yeast do its magic. If you don't let your yeast-sugar mixture develop, you will have a very, very dense bread. No good.
Also important is to use the yogurt-milk mixture on top. This mixture helps not only make the bread tender but also gives it that lovely golden brown color.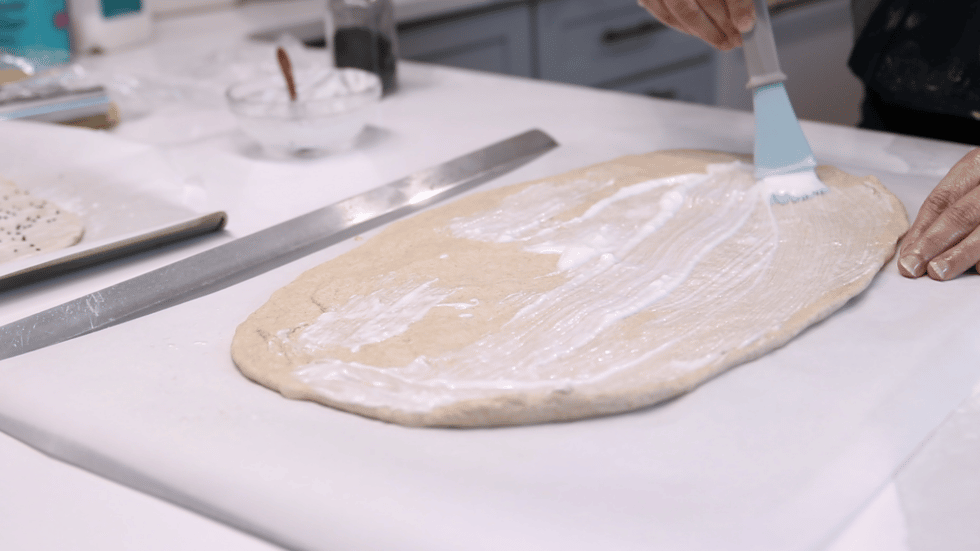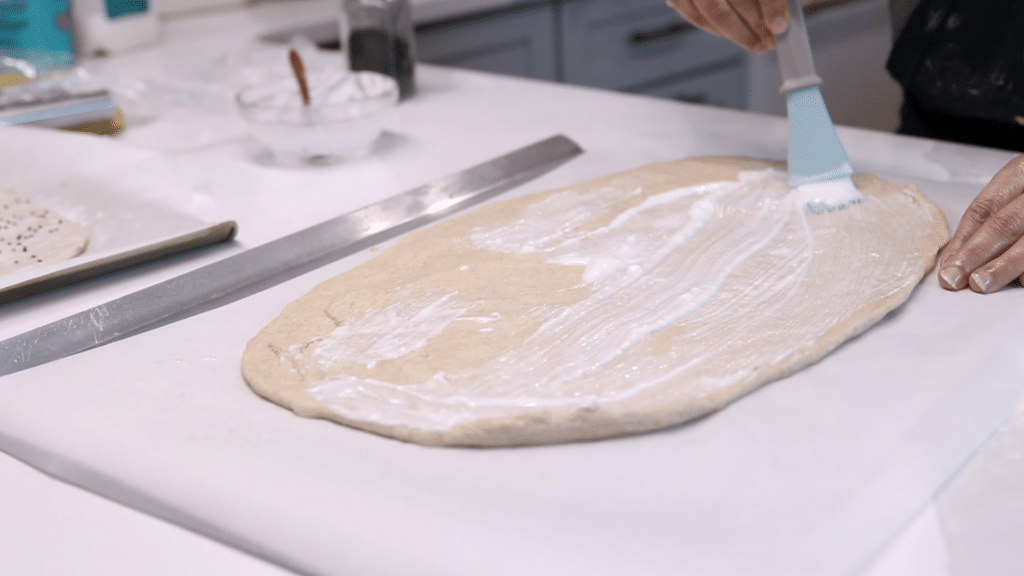 Also, be warned this bread will be devoured. You work on the bread for a few hours and then have it eaten in 15 minutes. Please don't say I didn't warn you.
Afghan Bread is Close to My Heart
I have incredibly fond memories of watching my grandmother make Afghan naan. There is not one Afghan meal that doesn't have Afghan bread or rice. (usually both lol)
Do not be intimidated by bread-making. This is not the Great British bake-off. You are making this bread to feed yourself or your family. Try and develop a feel for dough with your hands. It is gratifying.
You can use a Kitchenaid, and some people even use a "bread-maker," but I encourage you to make it by hand. You will get a feel for the dough, and the end product almost always improves after you practice a few times.
Easily Printable Recipe and my Social Media
As always, we have a quick and easily printable recipe below. If you like this recipe, please leave a review. The more reviews you get, the better the search engines like our videos. Also, please take a minute to subscribe to our YouTube video channel. Leave a comment.
Did you see a kitchen appliance that I used and loved it? I've put all the things here in my influencer store. I get a small commission if you buy anything, and you help support these free recipes!
Want Secret Recipes? News Updates?
Subscribe to our Afghan Cooks Club now. (free secret recipe for signing up)
Print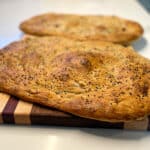 Afghan Bread Recipe
---
Description
This Afghan naan will be a family favorite in your home, Afghan or not. 
---
1 Tablespoon Instant Yeast
1 Tablespoon Sugar
1/2 Cup Warm Water
2 Cups White Flour
2 Cups Whole Wheat Flour (or just 4 Cups white)
1/4 Cup Vegetable Oil
2 Teaspoons of Salt
2 Cups Water
Nigella Seeds
Plain Yogurt
Mlik
---
Instructions
1. First, put yeast and sugar in a bowl, then add warm water. You must let the yeast bloom and bubble. Let it sit for 15 minutes.
2. Once your yeast-mixture is ready, add your flour, oil, and salt. Mix together. 
3. The next step has to largely be done by feel. Since I used 4 Cups of flour my default for added water is typically 2 Cups but that could vary based on your environment. I talk about this in the YouTube video so I highly recommend watching it. 
4. Add your approximately 2 Cups of water slowly as you mix in. You must give the flour time to absorb the water. When I know the dough is close to ready, I get a cup of water to sit by my bowl. I'll wet the dough just by adding wet fingers into the dough. This gives me a lot of control toward the end so I don't add too much water.
5. Next, need your dough for about 6-10 minutes. After that, add your dough to a greased bowl and cover it with saran wrap and leave in a relatively warm area to rise. It should double in size. Let it rest for 1.5-2 hours.
6. After your dough has risen, preheat your oven to 425 degrees Fahrenheit. Now prep two cookie sheets. This recipe makes two large loaves. I place parchment paper over the sheets and grease the paper with oil.
7. Next, prepare your work area. Have a little cup of flour to avoid sticking to the surface. Also, make a yogurt-milk mixture. Don't add too much milk, just enough to be able to spread it over top of your bread. Finally, make sure you have nigella seeds to top your bread. That makes it Afghan!
8. Punch your risen dough down. Now, place it in your floured work area. Cut in half. Cover the half you are not working so it doesn't dry out. 
9. Stretch your dough out so it is in the shape of an oblong Afghan loaf. Cover with the yogurt mixture and top with nigella seeds. Do the same for both loaves.
10. Place them in your oven for about 15 minutes to start. Check on them. You do want them golden brown but not burned. Make sure the dough is finished. 
Recipe Card powered by