Our website has a small affiliate store where you can shop for ingredients and kitchen items I use in all of my episodes. We get a small affiliate fee from Amazon if you buy from our links. We appreciate your support.
Print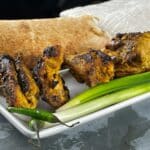 Afghan Chicken Kabob
---
Description
Americans think they are the meat grillers. But one bite of a good Afghan Kabob recipe and you will start thinking differently.
Kabob is everywhere. There is Iranian kabob, Pakistani kabob, etc etc. Mirriam shares with you some family secrets on why their family kabob recipe is so delicious. Why the marinade makes their meat so tender.
If you like this Afghan Kabob Recipe please like, comment, and subscribe.
If you make the recipe, please take a picture and tag Mirriam on Twitter or Instagram at Mirriam71.
---
2 lb of chicken thighs (cut into kabob-size pieces)
2 C yogurt
1/3 C lemon juice
1 tsp paprika
2 tsp onion powder
1 tsp coriander 
1 tsp mint
1 tsp dill
1 tsp cumin
1/2 tsp MSG
1 tsp turmeric
1 tsp garam masala
1 tsp Aleppo pepper
2 Tbs garlic ginger paste
salt to taste
ground black pepper to taste
---
Instructions
1. Scoop yogurt into bowl large enough to marinade chicken in.
2. Add lemon juice.
3. Add your spices and garlic ginger paste. Stir.
4. Cover chicken and marinade overnight. (At least 2 hours)
5. Skewer on grill (no veggies on skewer!)
6. Enjoy
Recipe Card powered by