Afghan Ashak or Aushak Afghan dumplings are a popular dish for both Afghans and non-Afghans alike. They can been seen at fancy parties or wedding dinners. They do take a lot of time but are worth it. Ashak (or "gandana") are a dumpling filled with leeks and, typically, covered in a meat sauce. Today, I made a completely vegetarian sauce with a lentil-tomato base.
I know people love the traditional meat sauce Ashak but having a tasty vegetarian dish that is Afghan is great to have and adds some flexibility to your diet.
The dish is already fairly time-consuming but if you try to make your own dumpling dough, that can overwhelm the best of cooks who are short on time. In our family we now usually take wonton wrappers to use instead of making the dough from scratch. This makes the Afghan Ashak recipe more accessible. The easier it is the more likely you are to try and make it.
The recipe is paired with a typical Afghan yogurt sauce which I already have a recipe for you here. The yogurt sauce is handy to have around your fridge and goes well with all kinds of dishes.
In this episode I used Burlap & Barrel single-origin spices. We do get a commission from them if you click their products from our website. Their wild cumin is straight from Afghanistan!
Please click here for some of my favorite links from around the web on TikTok and Instagram.
Finally, make one simple click below on that red box to subscribe to my YouTube.
Print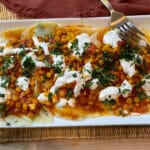 Afghan Ashak or Aushak Afghan Dumplings
---
2 Cups Lentils (rinsed)
2 –3 Large Leeks
For Lentil Sauce Base
1 Large Onion
2 Cloves Garlic
2 Tablespoons Tomato Paste
1 1/2 Teaspoons of Salt
1/2 Teaspoon turmeric
1 Teaspoon cumin
1 Teaspoon chili powder
1 Teaspoon ground coriander
3–4 fresh tomatoes
2 Cups of water
Spices for Leek Stuffing
1 Teaspoon ground cumin
1 Teaspoon of ground coriander
1/2 teaspoon of turmeric
1 teaspoon of garlic powder
1 teaspoon salt
a few cracks of black pepper
Chili flakes
---
Instructions
1. Rinse your lentils.
2. Chop your leeks finely or use a food processor that can slice them thin. Either before or after, wash them and drain them thoroughly. Leeks retain a lot of dirt and sand.
3. This will give you many more leeks than you need. I always take a bag and freeze the rest of them. You can save them for ashak in the future, or use them to make my bolani recipe.
4. Boil lentils on medium and simmer for about 10 minutes covered.
5. Begin on your sauce base for lentils. Chop onion and place in oil.
6. Add 1 1/2 teaspoon salt, 1/2 teaspoon of turmeric, 1 teaspoon cumin, 1 teaspoon chili powder, 1 teaspoon ground coriander, and 2 tablespoons of tomato paste. You do not want a raw tomato paste taste. Then add 2 cloves of garlic. Add your fresh tomatoes. Cook on medium until lentils done.
7. After tomatoes get soft and lentil base gets cooked, add about 2 Cups of water. You will use the water to loosen up the sauce. Let the water incorporate into the sauce mixture.
8. Take cut leeks and add all of the spices to them and mix thoroughly.
9. Now take your wontons and assemble your dumplings.  The easiest format is to take them and make a "half-moon" and wet the edges after you fill then, fold over, and pinch edges with a fork.
10. Boil dumplings for 3-4 minutes.
11. Plate your dish with my yogurt sauce base. Cover the yogurt with your dumplings and then cover the dumplings with the lentil mixture. Cover with some green for appearance.
Notes
You can always make your own dumpling dough, but I think using the wonton wrappers for Aushak is the way to go. The best part of the dumpling is the sauce and the filling. Do you love dumpling recipes for other cultures? Let me know in the comments on YouTube.
Recipe Card powered by