quick note – our website has a small affiliate store where you can shop for ingredients and kitchen items I use in all of my episodes. We get a small affiliate fee from Amazon if you buy from our links. We appreciate your support.
Print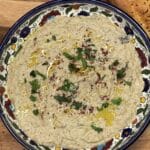 Afghan Eggplant Dip
---
Author:

Total Time:

30 minutes

Diet:

Vegetarian
Description
Afghans love eggplant. I've loved it my entire life – fried, stewed, in an eggplant dip. Honestly, I didn't even know this dish could be served as a dip on it's own since we've always had it as a side dish with rice and meat and all the other good Afghan food. But, I've discovered that this creamy eggplant dish is fresh and satisfying on its own, no rice required! (But I mean, if you've got rice eat it!)
This dip is similar to babaganoush, which is the most well known eggplant dip that I know, but the addition of dill and mint making this a snack that wakes your mouth up. You can easily make this vegan by using a non-dairy yogurt or sour cream while keeping the rest of the ingredients the same. Serve it with bread, pita, or veggies on your charcuterie board, or just on it's own as an appetizer. Or as a side dish, the way Afghans do.
---
2 medium to large eggplants cut in half lengthwise
1 head garlic
1 medium onion peeled and cut in half
1/4 cup yogurt
1/4 cup sour cream
3tbs lemon juice
1 1/2 tsp salt
2 tsp dill
2 tsp mint
1/2 tsp black pepper
olive oil 
sumac (optional)
parsley or cilantro (optional)
---
Instructions
Roast your vegetables
Preheat your oven to 500 degrees F
Spray a baking sheet generously with oil
Place the vegetables on the baking sheet (the head of garlic should have the ends cut off so it sits flat and a small portion of the flesh of the cloves is exposed) and spray them with olive oil.
Put vegetables in the oven and set timer for 10 minutes. Check the veg after 10 minutes. The eggplant skin should be wrinkled and the flesh should be very soft. If they aren't done, roast for another 5-7 minutes.
By this time all of your vegetables should be done. Your onions should be slightly charred and the garlic should be soft. 
Set the vegetables aside to cool.
Make your yogurt sauce
In a small bowl, combine the yogurt, sour cream, salt, pepper, dill and mint. Stir to combine. 
Add the lemon juice and continue to combine.
The finished product
When the vegetables are cool enough to handle, lay the eggplant, flesh side up, on a flat surface and use a spoon to scoop out the flesh into a medium mixing bowl, food processor or blender.
Add the roasted onion and 4-5 cloves of the roasted garlic (peeled, of course) to the container. 
 Blend (I use an immersion blender) just until all of the vegetables are combined. You don't want it to turn into a paste. Just make sure there are no big bits of onion or garlic and its a homogenous mixture. 
Put the eggplant dip into a serving bowl and add the yogurt sauce. Stir to combine thoroughly.
Don't forget to check for salt. Add more if needed. 
Smooth the top of the dip and make a little valley in the center. 
Pour some good olive oil over the dip and pool some into the valley.
Top with sumac and parsley. 
ENJOY!
Notes
I cannot live without my immersion blender. I've had a Braun for about 20 years. They don't make the one I have anymore (and if you can get it it's 130 dollars) But this one is similar. It doesn't have any of the bells and whistles but I never use any of the other attachments anyway so why spend the extra money to have stuff sit in a drawer? 
If you watched the video, you'll notice my baking sheets are also very, very old. I've had these since 1996 I'm not kidding. I don't want to recommend any of the ones out there currently because the newer ones might not be as good or as heavy. I'm sure these were inexpensive when I got them since I was just a law student at the time. But, my recommendation is to actually touch the sheets to make sure they are substantial – you don't want your cookies, etc. burning through thin metal. 
Prep Time:

10

Cook Time:

20

Category:

Appetizers

Method:

Roasting

Cuisine:

Afghan
Keywords: eggplant dip, dip, roasted eggplant dip, appetizers, charcuterie board, eggplant, roasted, vegan, vegetarian dip, vegan dip, vegetarian dip, afghan food
Recipe Card powered by