Shorwa is to soup as Sahara is to desert and Chai is to tea – Shorwa is the pashto word for soup. BUT in Afghanistan, shorwa is a very particular soup. See, all other soups have to be described, chicken soup, vegetable soup, etc. But shorwa – well, everyone knows what you are talking about which is why this recipe is titled THE Afghan soup. There are a few distinct steps to this recipe but I promise if you follow the recipe you can do it. Buy the bread – if you can get Afghan bread that is great, if not pita bread, lavash anything sort of flatbread will do. Make sure it is a bit old (maybe a day or two) I made my soup with bread I'd made that same day so it got a little softer than I normally like. But I need to make the soup!
quick note – our website has a small affiliate store where you can shop for ingredients and kitchen items I use in all of my episodes. We get a small affiliate fee from Amazon if you buy from our links. We appreciate your support.
This recipe is made much easier by using a pressure cooker or an instant pot. If you prefer video, scroll down and watch me make this step by step – and learn about Afghanistan at the same time. For a delicious side dish, make our Afghan pickle recipe (achar).
I've been using a pressure cooker my entire life and find it to be super easy and it doesn't take up the counter space an instant pot would take. But, my mother has given up the pressure cooker for the instant pot. Either way, here are a two links to pressure cookers you might want to check out.
If you are looking for the platters and you can't make it to China Town in NYC (where these are ubiquitous) here are a couple that could work for this and other Afghan dishes:
And, if you are looking for a spice bin like mine (in the video) and you can't get to India, here is one that is is similar.
Print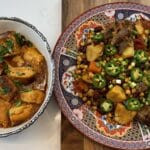 Shorwa – THE Afghan Soup
---
Author:

Total Time:

6 minute
4 tbs oil
1 large onion, chopped
4–5 cloves garlic, roughly chopped
1 tbs ginger, minced
2 tsp salt
2 tsp cumin power
2 tsp coriander
1 tsp turmeric
chili powder (optional and to taste)
a few grinds of black pepper
1 lb meat on the bone (oxtail, lamb or beef shanks or goat)
2 carrots peeled and cut into chunks
4 small – medium potatoes cut into chunks
1 28 oz. can tomatoes (peeled, crushed, or diced)
4 cups water
1 can chickpeas (drained and rinsed)
1 can kidney beans (drained and rinsed)
1 loaf Afghan bread, pita or any other flat bread (about a day old) cut into bite sized pieces
Chili peppers, cilantro, parsley for garnish
---
Instructions
Heat your pressure cooker, instant pot or large dutch oven or pot over medium high heat. Once the pot is hot, add the oil.
Once the oil begins to shimmer, add the onions. Stir them around a bit and let them cook until they are very translucent and some start to brown around the edges.
Turn the heat down to medium and add the garlic and the ginger. Stir and let cook for another minute.
Add the spices and continue to stir until your house smells deliciously aromatic.
Add the meat and stir until the spices and aromatics thoroughly coat the meat and the meat starts to brown. This will take a few minutes. Don't rush it. Enjoy the sounds and the smells.
Add the tomatoes and keep stirring until it is all incorporated. Let this mixture cook for about 2 minutes. You want the tomatoes to lose some of that tinny taste.
Add the water.
If you are using a pressure cooker or instant pot, add the carrots and the potatoes now and stir.
If you are using a regular pot, do not add the potatoes and carrots yet. Cover your pot after you add the water, place it over medium-low heat and leave it to simmer for 1 1/2 hours. Stirring and checking it every so often to make sure the meat is starting to get tender.
If you are using a pressure cooker, let the soup come to a simmer, cover it and turn the heat to medium. Once it has reached pressure, let it cook for 25-35 minutes.
If you are using an instant pot, follow the directions. (I don't have one so I can't tell you how long on an instant pot.)
If you are using a regular pot, add your carrots and potatoes after 1 1/2 hours and let cook another 30 minutes until the carrots and potatoes are tender.
After 25-35 minutes in the pressure cooker, release the pressure and check your meat. It should be fork tender. If it is not, put it back on for another 5-10 minutes.
Once the meat is cooked to fork tender (if you are using a regular pot, once your potatoes and carrots are cooked through) add the two kinds of beans and allow to warm through, about 5 minutes.
Check for salt. Add if it needs more.
Now you are ready to serve!
Using a slotted spoon, remove the meat and vegetables and put them on a large platter, add chili peppers, cilantro and parsley on the top.
Plate the cut up bread into a large bowl. Pour the soup mixture on top of the bread making sure all of the bread is covered.
You now have two courses from one recipe!
Prep Time:

20

Cook Time:

35-2 hours

Category:

Soup

Cuisine:

Afghan
Keywords: soup, shorwa, afghan, cooking, afghanistan, afghan food, afghan cooking, recipes, oxtail, meat, bone broth, winter soup, soup season
Recipe Card powered by