Have you been in the mood for trying a new soup that is hearty but healthy? Well, Afghans have a soup for you: Mashawa. I make mine vegetarian here. There is something so satisfying about a soup that will fill you up without slowing you down during the day.
quick note – our website has a small affiliate store where you can shop for ingredients and kitchen items I use in all of my episodes. We get a small affiliate fee from Amazon if you buy from our links. We appreciate your support.
This soup has all the Afghan recipe regular ingredients such as chickpeas, dill, yogurt, onions, and coriander. Just Americans love to top their chili with sour cream, we often top our dishes and soups with yogurt. Yogurt is nice because it is not as gloopy as sour cream and usually it is more healthy.
Some people insist that they need meat for dinner but you can change their mind with Mashawa. If you are ever in New York City, there is a wonderful Afghan food truck called Nansense. They have so many delicious items. Look how the New York Times describes their mashawa:
One last dish is mashawa, a soup thick as stew and built for winter. Mung beans, black-eyed peas and chickpeas are softened and fused with rice, carrots, turnips and potatoes. It's suffused with dill, which adds an unexpected sunniness. With each spoonful, I felt like I could walk a hundred miles — or sleep for hours.
New York Times, November 29, 2018.
Mashawa is a soup that will appeal to anyone in your group. Make a large pot of this on a rainy day and you will have some very happy guests. If you try this and love it, you should try our other soup recipes for shorwa and aush. Shorwa is a bread soup, how cool is that?
Print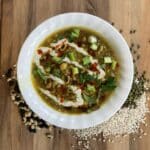 Mashawa Soup – Afghan Vegetable and Barley Soup
---
Author:

Total Time:

50 minutes

Diet:

Vegetarian
Description
Shorwa is perfect for a cold day. Like many of the other recipes, it can be adapted to your taste and to what you have around the house. View the recipe as a template. If you are new to cooking, start by following the recipe for this vegetable soup exactly, then when you feel more comfortable, change it up. 
---
1 cup barley or cracked wheat
1 cup kidney beans (dried or canned)
1 cup chick peas (dried or canned)
1 1/2 cup lentils
1 large onion, chopped
2 tbsp ginger garlic paste or 4 cloves garlic and 2 tsp ginger, minced
3 tbsp oil
2 tbsp tomato paste
2 large tomatoes or 4 small chopped
1 tbsp coriander
1 tbsp cumin
2 tsp turmeric
salt and pepper to taste
1 tbsp dill
chili flakes (to taste)
green onions
cilantro/parsley
4–6 cups water
---
Instructions
Cook Lentils 
Wash and drain the lentils several times before you use them.
In a medium pot, add lentils and cover with water. There should be about 3 inches of water over the lentils. Bring to a boil then turn down the heat to medium-low, cover and cook. Depending on the lentils this could take anywhere from 6-15 minutes. Split lentils will take less time. Whole lentils more. 
When the lentils are cooked, drain them and set them aside.
Prepare the barley
Rinse and drain the barley or cracked wheat
Put oil in the pressure cooker or instant pot and allow to heat, add the onion and fry until a light golden brown. Don't rush it.
Add the ginger garlic and cook another minute
Add the tomato paste and all of the spices except the dill. Stir and cook until the tomato paste is a dark red color. 
Add the tomatoes and cook until they begin to break down. 
Once the tomatoes have broken down, put the barley and any dried beans you may be using into a pressure cooker and cover with 4-6 cups of water depending on the size of your cooker or instant pot. The barley will take about 20 minutes to cook. 
You will know the barley and beans are cooked when they have a give to them when you bite into them. They should not be mushy. The cooking liquid will be thick. If it needs more water, add more at this point and stir. Check for salt. Add more spices if you feel it is lacking. Remember, this is your recipe.
Add the canned beans, dill and the lentils and allow to warm thoroughly. This should only take about 5 minutes. 
Serve topped with green onions, yogurt sauce and parsley or cilantro and enjoy. 
Notes
I make this dish when I have dried beans I need to use up but that aren't enough for a whole dish on its own. So, in the video below I used a mixture of black beans and black eyed peas, and red split peas (which took only a few minutes to cook.)
Prep Time:

20

Cook Time:

30

Category:

Soup

Method:

Pressure Cooker

Cuisine:

Afghan
Keywords: soup, afghan soup, bean soup, vegetable soup, vegetarian soup, vegan soup, barley, barley soup, grain, afghan food, afghan dishes, afghanistan
Recipe Card powered by