Afghan Eggs were a staple for breakfast growing up. We wouldn't eat it every day, but when we did it was one of my dad's specialties. You have to watch the video to hear about the level of black pepper he used lol.
Afghan Eggs and tomato is very similar to a dish you may have heard of called Shakshuka. Not surprisingly, many cultures have a dish that uses tomatoes and eggs for breakfast.
There are some key points to remember. When cooking Afghan Eggs, keep in mind that the veggies you used need to be liquified enough to be able to poach the eggs. You will see me continuously add water to the dish so that when it comes time to add the eggs at the end, there is enough poaching liquid.
Use the highest quality eggs that you can. We went to the town market to get our eggs from a local farmer that raises quality pasture chickens. Don't buy cheap eggs. Finally, don't go anywhere! Eggs cook fast. Once you place the eggs in the tomato and onion mixture the final process usually won't take more than 4 minutes.
If you like this recipe you should check out our most popular recipe so far and that is our Afghan chutney recipe. It goes well with everything.
Thank you and please subscribe to our YouTube channel.
Print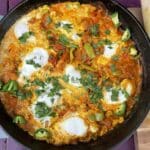 Afghan Eggs and Tomato
---
Eggs (Best quality you can find)
Two Lemons
Olive Oil
Onions
Fresh Tomatoes
One Mild to Hot Pepper
Parsley for garnish
Green onion for garnish
Spices
Coriander
Cumin
Turmeric
Salt
Black Pepper
Dill Weed
Paprika
Chili Powder
Sumac
Zatar
---
Instructions
1. Slice Onions into Rings. Put oil in pan. Start cooking onions. Add water as needed. Add salt to pull out moisture.
2. Core tomatoes and chop, then add to onions. Same method. Keep adding water as needed, salt as needed. Remember, you are wanting to have a sauce for your delicious eggs to poach in!
3. As its cooked down, you add your spices (black pepper, turmeric, coriander, paprika, dill weed, chili powder)
4. After the onions, tomatoes, and spices have cooked down, I chop up a medium heat pepper (even bell would do) and add it to the mixture. (I want these a little more crispy)
5. Juice of one lemon into mixture. (Juice of second lemon goes in after done)
6. You will see that liquid gets cooked out of mixture. Keep adding enough liquid so the mixture can poach the eggs.
7. Now it is time to make little holes in your sauce to lay your eggs into so they can poach. Space them around the pan so they have enough space between them so they don't break.
8. They'll need to cook for about 4 minutes, covered, on medium. You really need to keep an eye on them. This will take practice. You just don't want your eggs all rubbery and chalky.
9. Garnish the dish with sumac, cilantro, and the green onions. 
Recipe Card powered by