If you learn any recipe that I make for you, you have to learn Afghan sheer chai. This is THE recipe. Afghans drink tea every day. When we drink our regular tea without milk, we don't usually drink it sweet. But, when we make sheer chai we don't hold back. We like it milky and sweet.
I make my sheer chai quite strong. It is so strong we refer to it as "Afghan Red Bull." What makes sheer chai so delicious is the combination of the herbal cardamom, sweetener, rich milk, and deep strong black tea. Black tea is necessary here, as opposed to green tea in normal Afghan chai, because the body of it holds up to the sugar and milk. If you want to learn how to make regular Afghan chai, you can watch that TikTok here. (It has almost 500k views)
First, our website has a small affiliate store where you can shop for ingredients and kitchen items I use in all of my episodes. We get a small affiliate fee from Amazon if you buy from our links. We appreciate your support.
I find that if we make Afghan sheer chai we do not even need a dessert as it is very satisfying after a meal on its own.
I wanted to update this recipe for sheer chai because I did a TikTok video on my new TikTok. Please follow me there, but you can watch it here:
Does your family or culture make a milk tea? How do you make it? Please leave a comment on our YouTube Channel. This recipe is part of our Ramadan recipe series which is on the channel as well. Enjoy the Sheer Chai!
Print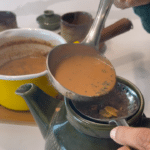 Afghan Sheer Chai Recipe
---
Description
Afghan Sheer Chai is the Afghan recipe to end all Afghan recipes. Learn how to make this and you will attract many Afghans. It is also a great recipe to win friends and influence people.
This sweet, milky, and spiced tea is great for after dinner or in the morning. We make it during suhoor, the meal before fasting during Ramadan.
Enjoy this Afghan Sheer Chai recipe.
---
2 C water
1 C Milk
2–3 Tablespoons Black Tea (loose or bagged)
Cardamom
Sugar or Jaggery (to taste)
---
Instructions
1. Bring water to a boil.
2. Add tea bags. Let steep for many minutes. (gets dark brown)
3. Add Cardamom
4.  Add jaggery cube and let dissolve. (to taste)(can use any type of sweetener)
5. Add Milk and let steep again for a few minutes.
6. Have a tea strainer if used loose leaf and strain in to tea cups as you serve.
Notes
If you are lactose intolerant you can use a milk alternative (almond milk, oat milk, etc) I do this often. However, to be honest, it is hard to get the right texture for the tea without some milk fat.
Is this how you make Afghan sheer chai? Are we going to have a sheer chai war like over on TikTok? lol. 
Recipe Card powered by