Afghans can't do without their pickles and pickled things. We eat a sour thing with just about every meal. This green sauce is hugely popular in Afghan restaurants and kebab shops. You can make it as spicy or as mild as you like. It's bracing with it's vinegar content and really is a nice addition to rich meat dishes or really, just about anything. Add yogurt to it and turn it into a creamier dipping sauce for bolani or for salads.
First, our website has a small affiliate store where you can shop for ingredients and kitchen items I use in all of my episodes. We get a small affiliate fee from Amazon if you buy from our links. We appreciate your support.
This is our most popular YouTube video with over 6,000 views and growing. This cilantro chutney is the best combination of easy to make / easy to use with everything. If you make one dish on Afghan Cooks first, make this one. If you make this recipe, and the garlic yogurt recipe we have, you'll have two basic toppings that can be added to almost any dish you can think of.
We hope you aren't one of those people where cilantro tastes like soap. 😉 When making this Afghan green sauce, feel free to adjust the recipe to make more or less sauce. The ingredients here will make one large mason jar's worth of chatney.
Did you know we are also on Instagram? If you aren't a "youtuber" you can catch lots of information and videos on our Instagram as well. We are "afghancooks."
Print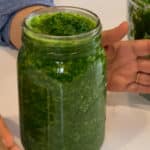 Afghan Green Sauce – Chatney – Cilantro Chutney
---
4

bunches cilantro roughly chopped (use the whole thing – stems and leaves)

8

cloves garlic peeled

1

jalapeno (optional. You can add more or less. 1 just gives you the hint of heat.)

2 tsp

salt

2 cups

vinegar (I use a blend of apple cider and white vinegar –

1 cup

of each. You can also use red wine vinegar. I would not recommend balsamic.)
A few grinds of black pepper
---
Instructions
Put the cilantro into a food processor or blender and pulse until it becomes very finely chopped. You may have to do this in batches. Once the cilantro is very finely chopped add the garlic and jalapeno and blend or process again. Slowly add the vinegar until it becomes a fairly think sauce. Put it in a tightly covered jar. It will be vibrant green when you first make it and will darken over time. 
Recipe Card powered by