Who had fried bologna sandwiches growing up? I did! If you did, you will love this breakfast sandwich that uses halal beef mortadella. You can find this mortadella in any "Muslim" grocery stores where you live. If you can't find any, hit me up on Twitter.
First, our website has a small affiliate store where you can shop for ingredients and kitchen items I use in all of my episodes. We get a small affiliate fee from Amazon if you buy from our links. We appreciate your support.
This breakfast sandwich recipe is the next in a series of Ramadan recipes over on our YouTube channel. We use these recipes so that the family can do well during long days of fasting. We need food that is filling but that is not too sweet or too fatty.
Even if you are not fasting, I think you will enjoy this meaty eggy breakfast sandwich and I think your family will too!
Print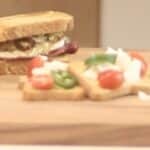 Ramadan breakfast sandwich recipe
---
Description
A solid breakfast sandwich is the key to any good suhoor. (really, isn't it the key to any great breakfast?)
If you think you like McDonald's breakfast sandwiches, then you really want to try this because you'll never need Mcdonald's again. 
Mortadella comes in many great flavors. Use what you like. Buy a few rolls and experiment.
If you like this meaty recipe go check out our spicy chicken sandwich recipe that is way better than Popeye's. 
---
slices of mortadella
egg
sliced bread
farmer's cheese
---
Instructions
1. toast bread (toast it well, you want it to hold up to the egg)
2. fry your mortadella.
3. fry your egg.
4. put these items on your toast and top with cheese.
Recipe Card powered by