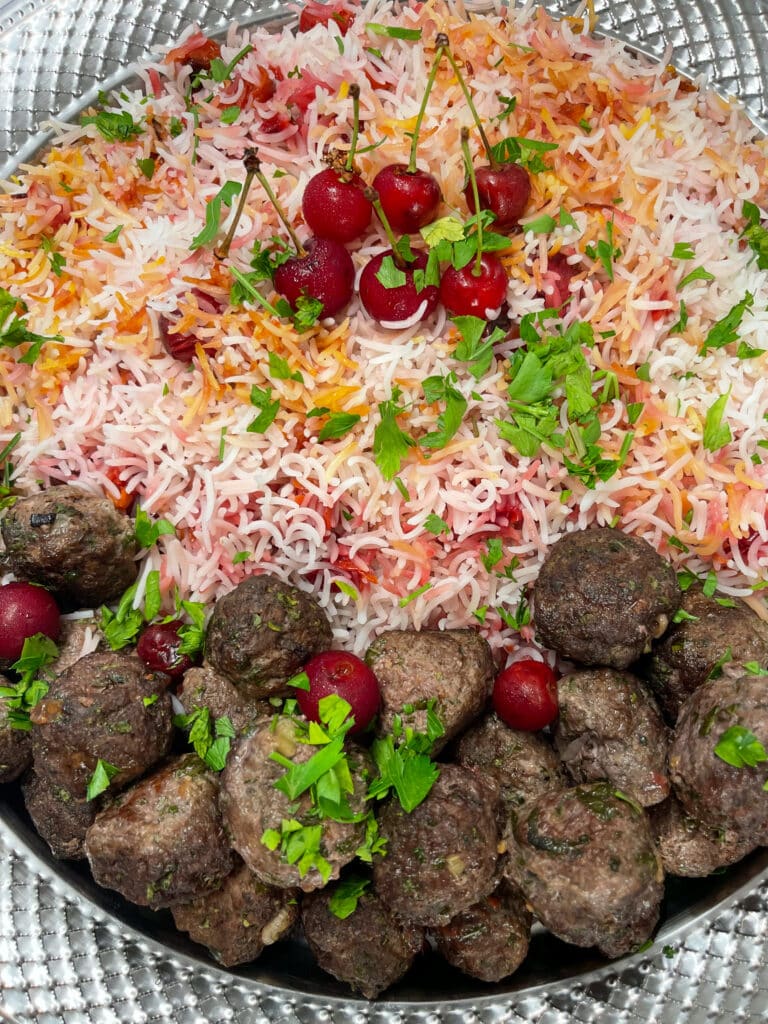 Aloo baloo palow is a dish popular in Afghanistan and Iran. Afghanistan has delicious sour cherries, with makes this dish a beautiful choice for special occasions.
The Aloo Baloo (sour cherries).
Sour cherries, also known as tart cherries, are a key agricultural product in Afghanistan, contributing significantly to the local economy. These cherries are famed not only for their distinct tangy flavor but also for their vibrant red color. They are extensively utilized both in local cuisine and for export, representing a blend of Afghanistan's rich cultural heritage and natural splendor.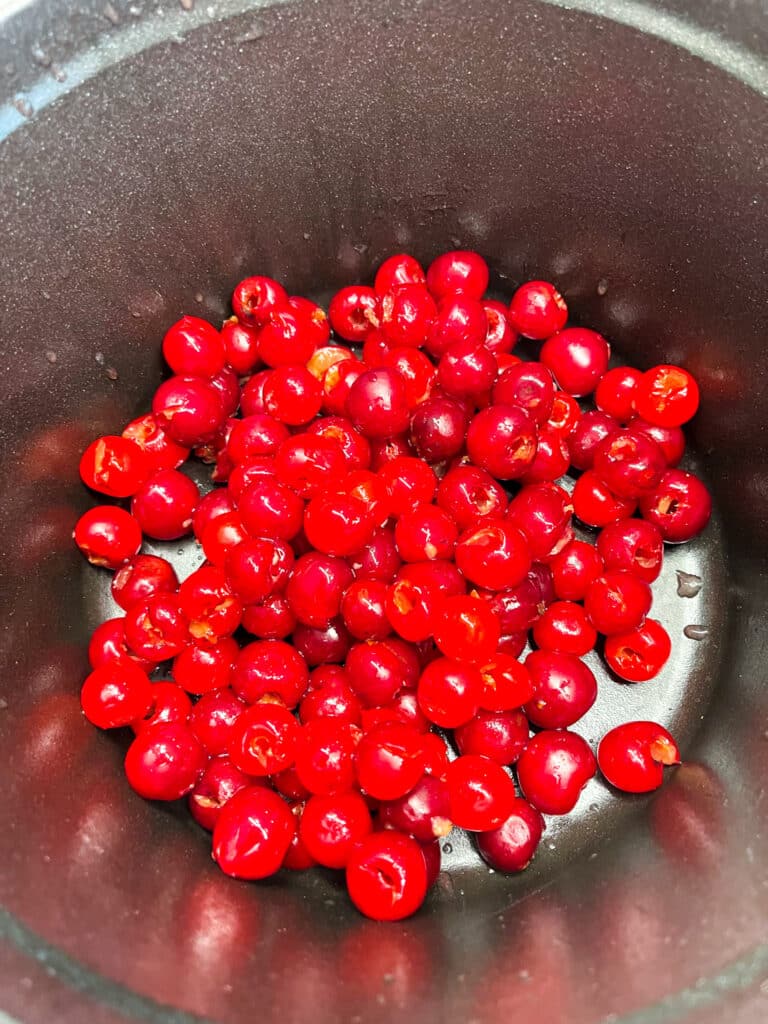 You will hear from Afghans that fruit never tastes as fresh as it does in their country, and having recently gone back for the first time in 45 years, they are right.
But don't despair; head to your local farmer's market and find the freshest sour cherries you can get your hands on.
The Meatballs for the Palow.
I use a good spice mix for my meatballs, and to make them super flavorful, I let them sit overnight. You can cook them immediately. However, if you take this extra time, you will get 10x the flavor and let them marinade.
You can use ground sirloin, ground chuck, or even ground lamb. I used a 50/50 mix of sirloin and chuck.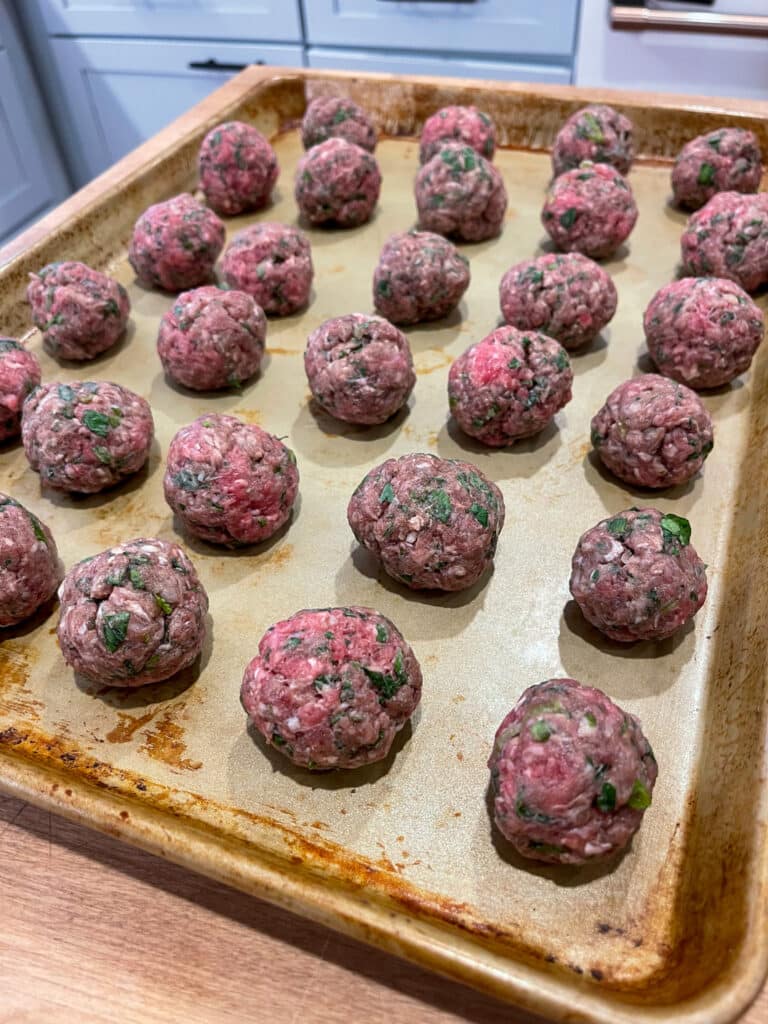 Easily Printable Recipe for Aloo Baloo Palaw.
As always, we make this recipe easy to print and replicate. I suggest you watch the video if you have any questions. Also, leave a comment. I always respond. Are you a fan of Afghan Cooks and want to help spread the word? Well, social media is critical. Finally, don't forget us on social media. We are on Tik-Tok, Instagram, and Youtube. We also have an excellent non-spammy Afghan Cooks Club. Sign up for that too!
Print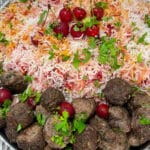 Aloo baloo palow – Sour Cherry Rice
---
Author:

Yield:

5

servings

1

x
Description
Aloo Baloo Palow, a cherry rice recipe from Afghanistan.
---
For the Meatballs.
2 lbs. ground meat (I used 1 lb. ground sirloin and 1 lb. ground chuck)
2 tsp. char masala
2 tsp Aleppo pepper
1 tbs garlic paste
¼ cup each of chopped cilantro, parsley, green spring onion (or chives)
2 tsp salt
A few grinds of black pepper
For the Rice.
2 cups extra-long grain sela rice (for this recipe, I use Aahu Bara organic sela rice)
5 cups water
1-quart sour cherries stemmed and pitted (leave them as whole as you can. Some will break down in cooking) You can use frozen sour cherries as well.
2 tbs sugar
1 tsp cardamom
2 tbs plus ½ tsp salt
1 tbs butter or oil
¼ cup boiling hot water
Pinch saffron
---
Instructions
1. Rinse and soak your rice
Put your rice into a large bowl and fill with water. Run your hands through the rice to release any starch from the rice. Drain the water and refill. Rinse and drain until the water starts to run clear and most of the starch is gone from the rice. This, combined with the sela rice itself, gives you those long, individual grains we seek. After the last drain, fill the rice bowl with water and set aside, allowing the rice to soak for at least 30 minutes. It can sit for several hours so don't be afraid to do this early.
2. Make the meatball mixture
Mix all the ingredients for the meatballs together until very well combined. Your meat mixture should feel like a fine paste with no discernable lumpy texture to the meat. Cover for at least one hour. I left mine overnight. This allows all the flavors to combine in advance of cooking. Alternatively, you can make the individual meatballs, put them on a baking tray and then refrigerate.
3. Prepare your cherries
De-stem and pit the cherries and place them into a saucepan or pot. Cook the cherries on a medium heat for about five minutes or until liquid releases. If you are using frozen cherries you will have a lot more liquid so it will take longer for the liquid to reduce. Add the sugar, cardamom and ½ tsp salt. Let it cook and reduce for another 5-10 minutes. Do not smush down the cherries. Some will break but leave most of them whole. Take it off the heat and set it aside.
4. Parboil the rice and prepare your saffron water
Add the five cups of water to your pot and add the 2 tbs of salt. Let it come to a rolling boil. Drain the water from your rice that has been soaking. Add the rice to the boiling water. Allow to come back up to a boil and allow it to boil for 5-8 minutes. If your rice has been soaking for a while, it will need less time.
While your rice is boiling, prepare your saffron water. Add the saffron to the hot water (you can use some of the water from the rice.) Stir until you get a beautiful golden color. Set aside.
Check the rice grains – they should break with some give. They should not be completely cooked but par-cooked. Strain the water out of your rice into a colander.
5. Layer your rice and steam it
Add the oil or butter to the bottom of a four- or five-quart pot. Add the saffron water to this melted butter/oil and stir. Add a layer of rice on top, some of the cherries, and a little bit of the cherry juice. Continue to layer this way – rice then cherries and cherry juice. Cover the top of the rice with paper towel or a clean kitchen towel and put the lid on the pot. Set the rice pot over medium-high heat for about five minutes or until you hear the pot start to tick. After five minutes, turn the heat to medium-low and let the rice steam while you cook the meatballs.
6. Cook your meatballs
Heat a large pan and add cooking oil of your choice. I use cooking-grade olive oil in this recipe. Use a scoop or two spoons and roll the meat into balls. Cook over a medium high heat until the outside of the meatballs gets a nice crispy golden texture. Place on a baking sheet. Once all the meatballs are browned, place them in your oven at 350 degrees for 20 minutes to finish cooking.
7. Plate and enjoy!
When you open your pot, remove the paper towel/towel and using a slotted spoon gently separate the grains. Get a large serving platter and arrange the rice and cherries into a mound on one side of the platter, with the saffron rice that you put on the bottom of the pot, at the top of the rice mound. Place the meatballs to the side. If you are making this completely vegetarian, put the meatballs on another serving dish (of course!) Top with some fresh cherries, chopped cilantro or other green and serve with rice and salata.
Recipe Card powered by