This summer peach tart recipe is so easy you'll make it repeatedly. I came up with this recipe due to a peach orchard haul I made recently in Virginia, about an hour south of DC. Here is how to make it.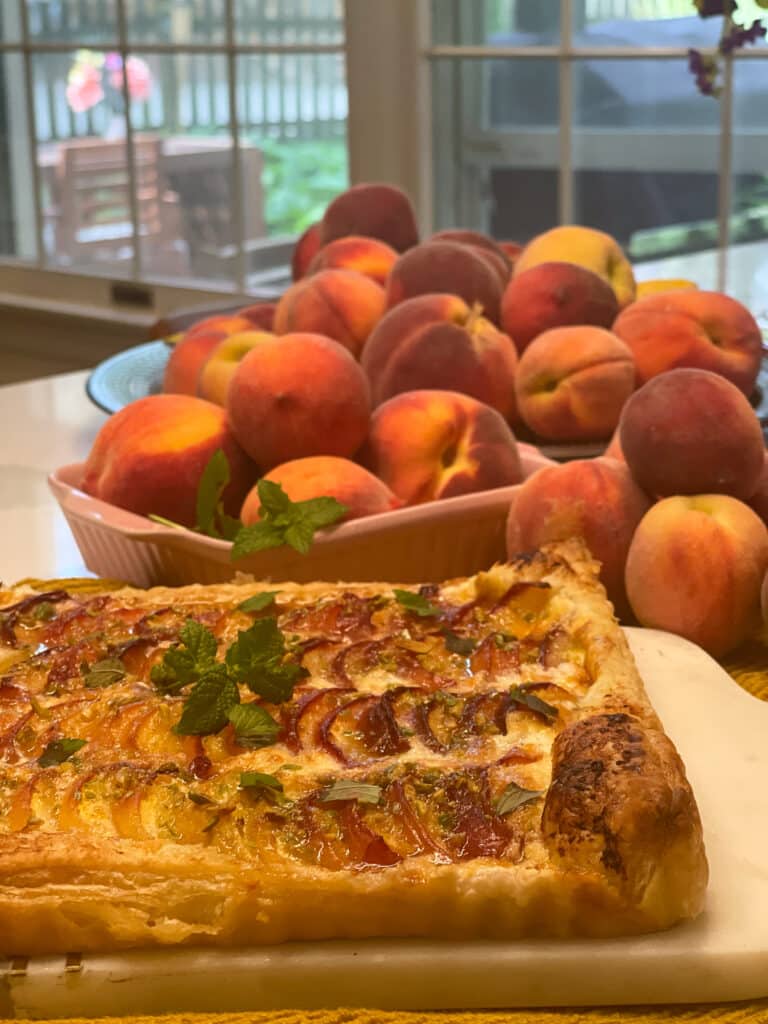 Why Did I Make This Peach Tart?
Afghans are known for their delicious fruit and sprawling orchards. The dry heat of Afghanistan is perfect for growing fruits of all kinds: grapes, mulberries, melons, and more.
I was just in Afghanistan and visiting some mulberry orchards. So, any time I see an orchard on the side of the road, I visit them. I ended up with too many peaches, so I decided to make this tart.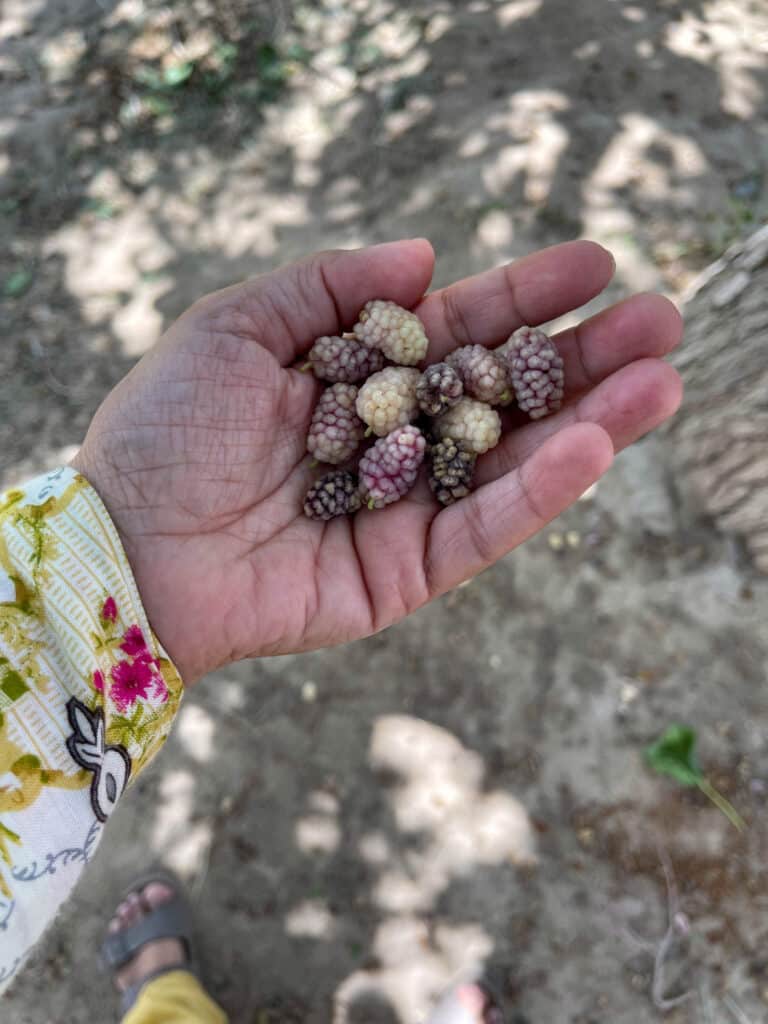 Keys to a Great Peach Tart
Creating an excellent fruit tart requires three key components: a buttery crust; a smooth, creamy filling; and a vibrant, fresh fruit topping. The crust should be perfectly baked to a golden brown, providing a firm yet delicate base.
The filling, often a custard or cream, should be rich and flavourful but not overly sweet to balance the flavors of the fruit. Here for my base, I use mascarpone.
The fruit topping is the star of the show, and ripe, quality fruits should be chosen for their freshness and color. Finally, a shiny glaze applied over the fruit will preserve the tart and give it a professional, mouth-watering finish. I use honey to finish off my peach tart here.
Easily Printable Summer Peach Tart Recipe.
As always, we make this recipe easy to print and replicate. I suggest you watch the video if you have any questions. Also, leave a comment. I always respond. Are you a fan of Afghan Cooks and want to help spread the word? Well, social media is critical. Finally, don't forget us on social media. We are on Tik-Tok, Instagram, and Youtube. We also have an excellent non-spammy Afghan Cooks Club. Sign up for that too!
Print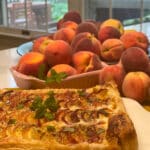 Easy Summer Peach Tart Recipe
---
Description
This easy summer peach tart recipe is a perfect hot-weather dessert.
---
1 Sheet Puff Pastry
1 Container Mascarpone Cheese (8 oz)
2 Tablespoons Heavy Cream/Mlik
1 egg (beaten well)
5 peaches (pitted and sliced)
1/2 Cup Honey
Crushed Pistachios
---
Instructions
1. Preheat your oven to 400 F.
2. Next, lay out one sheet of the puff pastry in a square 9×9 tart pan or cake pan. If you use a cake pan, use enough parchment paper around the bottom so that it comes out the sides, and you can use it to remove the tart when done.
3. Press the pastry lightly into the pan.
4. Stir together the mascarpone and the cream/milk until smooth. Then, spread it over the puff pastry.
5. Next, layer the peaches in rows. My tart pan fit four rows of peaches.
6. Pour the honey over the tart and sprinkle with pistachios. Then, brush the egg wash around the edges of the exposed puff pastry.
7. Cook in your preheated oven for about 15 minutes and then check. Cook until the puff pastry is golden brown.
8. Importantly, let the tart cool for 10 minutes. Then, gently remove it from the pan. Serve with fresh cream or ice cream.
Recipe Card powered by