There is no ranch dressing or shredded cheese in this recipe. The Afghan salad (salata recipe) is simple and refreshing. If you understand the purpose of an Afghan salad, the lack of processed cheese and dressing will make sense to you.
First, our website has a small affiliate store where you can shop for ingredients and kitchen items I use in all of my episodes. We get a small affiliate fee from Amazon if you buy from our links. We appreciate your support.
Afghan food is rich and filling. From fatty sumptuous lamb, glistening kabuli pulao, to fresh baked Afghan bread, we have our share of rich food dishes. When you have heavy foods, your mouth needs a refresh. That is where the salata recipe comes into play.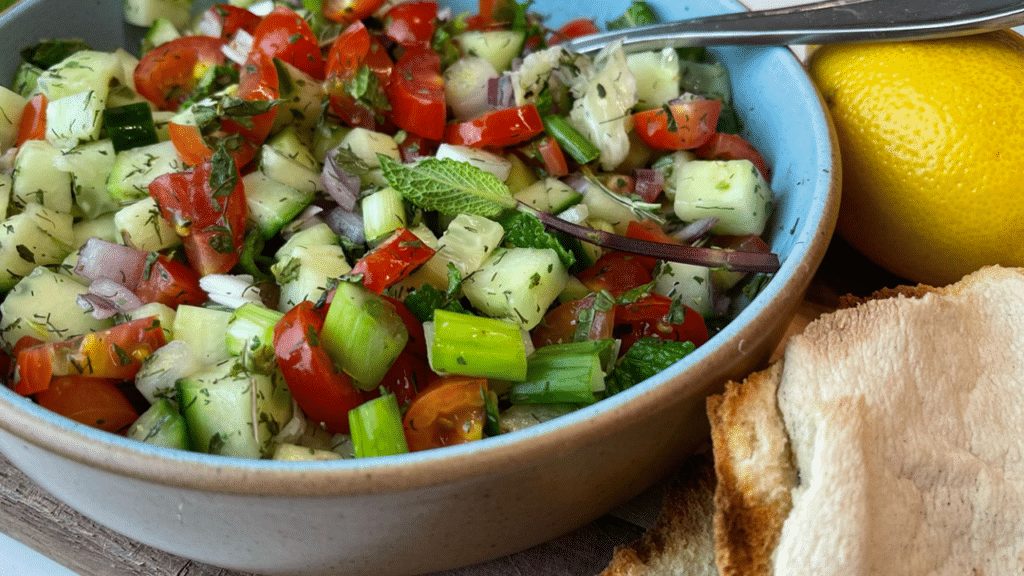 Think about it, when you go to an American steak restaurant you get a gigantic steak, baked potato, bread, and a salad. But sometimes that salad has thick ranch dressing, shredded cheese, and maybe even croutons on it! Although there is nothing wrong with any of those ingredients your mouth does not get any rest. Our Afghan salads are tart, crunchy, and herbal. On top of that, they are incredibly simple! I encourage you to swap out your normal salad recipe for an Afghan salad the next time you make a rich and hearty dinner for your family. I suggest you make Kabuli pulao for your next hearty dinner. 🙂
The main tricks to making an Afghan salad are 1) small dice for everything and 2) our simple lemon mint "dressing." Even if you are not having a rich dinner and you just want to have a light refreshing lunch, this salata recipe is a great option. Please take a minute to follow us on our Afghan Cooks Instagram account!
Print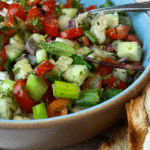 Salata Recipe – Afghan Salad
---
Description
Our Afghan salad (salata recipe) is the perfect pair for a hearty dinner or great as an extremely light lunch. You'll be done in 5 minutes!
---
Onion
Tomato
Cucumber
Garlic
Green onion
Dried or Fresh Mint (Dried is traditional)
Lemon juice (fresh if available)
Dill (optional)
Salt and Pepper to Taste
---
Instructions
Watch the video, but the key to success is small dice. Afghans have the original "chopped" salad. No big chunks or it isn't a proper salata recipe. Don't be stingy on the dried mint and lemon juice. It should be tart, herbal, and almost "bracing" for American tastes.
Enjoy!
Recipe Card powered by