"This is The Afghan Cooks website, why do you have a chocolate banana bread recipe?" Well, that is because I am an Afghan who cooks and I also happen to have the greatest Chocolate Banana Bread Recipe of all time. That is why!
First, our website has a small affiliate store where you can shop for ingredients and kitchen items I use in all of my episodes. We get a small affiliate fee from Amazon if you buy from our links. We appreciate your support.
Print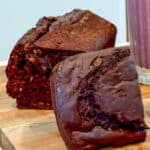 Best Chocolate Chip Banana Bread Recipe
---
Description
This Chocolate Chip Banana Bread Recipe is 100% authentic Afghan. You know why? Because *looks at hands* these hands made them.
I've tried to change this recipe from time to time. Try to make it more "Afghan" but my family won't have it. I try to add nuts, family won't have it.
This recipe makes two loaf pans and I can guarantee this chocolate chip banana bread will be gone in 48 hours.
This bread is a recipe that is part of my Ramadan recipe series that is here on YouTube. When I make this banana bread I am making to fill up the family before a long day of fasting. 
If you like sweets, try our rose ice cream. Mmmm.
Enjoy!
---
6 very ripe bananas
4 eggs
1/2 Cup yogurt + 1/2 Cup sour cream (combine)
1 C cocoa powder
2 C flour (w/ 2 tsp of baking soda + 1 1/2 tsp salt)
2/3 cup sugar
1 C chocolate chips
2 tsp vanilla
---
Instructions
1. Preheat oven to 350.
2. Mash the bananas.
3. Crack eggs, add to mashed bananas. 
4. Add vanilla. (mix)
5. Add yogurt mixture. (mix)
6. Add flour mixture. (mix)
7.  Add sugar. (mix)
8.  Add cocoa. (mix)
9. Add chocolate chips. (fold in)
10. Stick in oven and set for 45 minutes. When toothpick can come out clean, you are done.
8.
Recipe Card powered by