Our website has a small affiliate store where you can shop for ingredients and kitchen items I use in all of my episodes. We get a small affiliate fee from Amazon if you buy from our links. We appreciate your support.
Print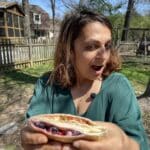 Tiktok Viral Wraps Afghan Style
---
Description
I must admit, I have been sucked into the TikTok phenomenon. Fun short videos with cool music, how can you not get a kick out of it?
This year, there has been a viral phenomenon for "wrap" videos. Thousands and thousands of videos on TikTok dedicated to this new style of "wrap." Once you see it you will absolutely want to try it. 
I made three wraps, each of which I tried to put an Afghan flavor spin on. We made one vegetarian, one meat, and one dessert.
Enjoy.
---
– large flour tortillas for all recipes
Veggie Wrap
– grilled eggplant
– chopped spring onion
-sliced tomatoes
Meat Wrap
-Feta Cheese
– small salad mix (tomatoes, onions, lettuce)
-sumac
Dessert Wrap
– mixture raspberries, blueberries, and blackberries (add orange blossom water and sugar and crush)
– nut mixture (pistachios, walnuts, almost)(crush in a bag)
– can of sweetened condensed milk (cook over stovetop until turns into Dulce de Leche)
– tahini paste (mix with Dulce de Leche)
– Himalayan salt (add to tahini and Dulce de Leche mixture to taste)
-sliced pears
---
Instructions
Vegetarian
1. Prep eggplant by slicing and salting to let the water out. Pat dry.
2. Stick under broiler for 5 minutes.
3. Heat wrap up to make it more pliable. 
4. Take knife (watch video) and make slit. This allows you to do the magical fold overs.
5.  Place eggplant, then yogurt, then onion, then tomato. 
6. Oil pan and  get the wrap a little crispy on the outside.
Meat
1. Slit Tortilla
3. Warm tortilla to make pliable.
4. Add keema, yogurt sauce, feta, then salad.
5. Top feta and salad with sumac.
Dessert Wrap
1. Heat wrap to make pliable.
2. Add ingredients to tortilla (pears, tahini paste, berry mixture, then nuts)
3. Add butter to pan and brown on each side until a little crispy.
Recipe Card powered by