This date milkshake recipe is the next recipe in our Ramadan recipe series. You can go watch the video over on YouTube. (please like and subscribe) A long day of fasting requires good balanced dishes in the morning. You want good carbs, but not a lot of added artificial sugar.
First, our website has a small affiliate store where you can shop for ingredients and kitchen items I use in all of my episodes. We get a small affiliate fee from Amazon if you buy from our links. We appreciate your support.
This date milkshake is sweetened with dates and other fruits. The added yogurt and protein powder makes sure that the energy levels don't spike or dip too strongly during the day. Obviously you don't have to be fasting or Muslim to enjoy this delicious date milkshake recipe. It is NOT a weight-loss recipe lol. However, if you are trying to help someone get calories, or perhaps on a weight gain or muscle gain regiment, this date milkshake is a terrific option.
Dates are a great sweetener and we use them a lot during Ramadan because this is traditionally what the Prophet (pbuh) used to break his fast. If you like sweets, check out our ice cream video and our chocolate banana bread video.
Print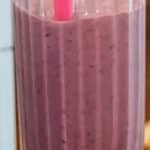 Best Date Milkshake Recipe
---
Description
Dates and milkshakes are a combination that rival peanut butter and jelly. If you don't eat dates very often I highly suggest you try this date milkshake recipe. Dates have such a deep and rich sweetness that you cannot find in almost any other fruit.
If you need a good milkshake for a long workout or fasting, this is the recipe for you. This is the best date milkshake recipe you will ever find.
Go checkout the rest of our recipes in the Ramadan recipe series here.
---
6 dates (remove pit)
1/2 frozen banana
3/4 cup frozen fruit of your choice
2 tbs peanut butter
1 scoop vanilla or plain protein powder
3/4 C yogurt
oat milk, almond milk, or mixture (oat milk is creamier)
---
Instructions
1. Add pitted dates to blender.
2. Add frozen banana and the frozen fruit.
3. Add peanut butter
4. Add protein powder
5. Add yogurt
6. Add oat milk (this is to consistency you like. start with 1.5 C until you like it)
Recipe Card powered by