Borani Banjan is one of the most popular Afghan dishes. Not only in Afghanistan, but around the world. If you love eggplant recipes, you have to add this to your rotation of dishes. It is vegetarian, but can even be made vegan with a plant-based yogurt.
This delicious Afghan vegetable dish is made with slices of fried eggplant that are simmered in an aromatic tomato sauce and served topped with a thick yogurt. For those that enjoy this type of dish, borani banjan is an exquisite blend of flavorful spices and moist eggplant.
I learned how to make this dish from my grandma (May Allah (swt) grant her Jannah). When she made eggplant everyone in my family would get excited. I asked my husband and he says that my version (he has tasted both) does her great honor. The blog "earthtoveg" gives a brief history on their blog:
Borani banjan is a popular Afghan side dish that stars eggplant as the central ingredient. The history of borani starts in Iran, where it's enjoyed as a cold starter dish. But unlike its Persian ancestor, this Afghan version is nice and warm, perfect for winter. Best of all, it's naturally vegan-friendly: no modifications are needed from the traditional recipe.

Earthtoveg.
I've run into two kinds of people. People who love eggplant and people who do not love eggplant. I think borani banjan is one of those dishes that could bring the negative people into liking eggplant. It is that good. Just make sure that you don't get hung up on the amount of oil in the recipe. It is a rich dish. If you spend all of your time patting the eggplant dry of oil your banjan is not going to be amazing.
I use yogurt but if you have some proper Afghan kashk, that will kick your dish up even higher. For those who do not know, kashk is a dried Afghan whey sold in balls. It is like yogurt x 100. You can buy it in our store.
Print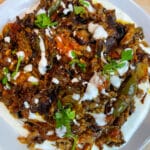 Borani Banjan – Easy Eggplant Recipe
---
Author:

Total Time:

50 minutes

Yield:

4

–

5

servings

1

x
Description
This is an Afghan recipe for borani banjan made with eggplant and yogurt. Eggplant is mixed with yogurt, garlic, and other spices and then either cooked on a stovetop, or baked in the oven. Afghan borani banjan is one of the most popular dishes in Afghanistan. It is usually served with rice and naan. The bread is absolutely necessary to soak up the rich eggplant sauce that runs all over your plate.
---
3

eggplant thinly sliced

1

medium onion sliced

1

potato sliced

2

tomatoes sliced

1 tsp

salt

1 tsp

black pepper

1 tsp

turmeric

1 tsp

cumin

3

cloves garlic (minced)

1 1/2

–

2

tablespoons of tomato paste

1

C plain yogurt

1

jalapeno

1/2

C water
Cooking oil (sufficient to fry eggplant)
---
Instructions
1. Slice your vegetables thin: eggplant, onion, potato, tomato. Also make your yogurt sauce. Take 1/2 tsp of salt, two cloves of garlic minced, and mix into your 1 C of yogurt. Making this earlier will allow the flavors to develop while your dish cooks.
2. Fry eggplant in oil in batches until brown. This is the longest step in the process. Don't overcrowd your pan with Eggplant or it it will not fry well. Little trick: I like to use the small thin Japanese eggplant. Traditional eggplant works well but I find the small Japanese eggplant get a very nice caramelization.
3. Once done frying the eggplant, take most of the left over oil out of the pan. Leave some, however. Add potatoes to the bottom of the pan. They will not only get nice and crisp on the bottom, but they will help protect the other ingredients while cooking.
4. Before the rest of the layers, make your tomato sauce mixture. For this mixture, in a bowl, mix the tomato paste, 1/2 cup water, cumin, coriander, turmeric, salt, and black pepper.
5. After the potatoes and making your mixture, layer tomatoes, then onions, then eggplant, then top with the tomato sauce mixture. Do two rounds of this.
6. This isn't as traditional, but my mom would take one jalapeno, quarter it, and place it on top of the banjan. (who am I to argue?)
7. Take the dish and cover it and place on low-medium heat for about 30 minutes. Keep an eye on the dish to watch that the potatoes don't go from crispy to burned. As an alternative, you can place in the oven for 325 F for 30 minutes.
8. Once cooked, take your platter and cover in the yogurt sauce that you have made. Then, cover the platter with the banjan. Drop the yogurt sauce around the top of the dish and then sprinkle with parsley for some color.
Notes
Tip: The dish goes well with any kind of bread. Afghan bread or store bought naan is best. I hope you enjoy our family's borani banjan.
Prep Time:

20 minutes

Cook Time:

30 minutes

Cuisine:

Afghan
Recipe Card powered by