Afghan creme roll are delicious. First, you can buy the creme roll molds at amazon here. This recipe goes amazing with our Afghan chai. You can watch me make that here.
Before you print the recipe off, please click the red box below and subscribe to the YouTube channel.
Print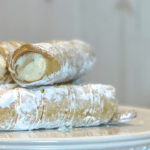 Afghan Creme Roll – cream rolls
---
Description
These light, crisp, cream-filled pastry horns are perfectly paired with Afghan chai or an other not-sweet tea. Or, for that matter, a nice cup of black coffee! Buttering between the layers makes for a crispy flaky dessert that is worth dreaming about. Here is what you need.
---
Pastry
3 1/2 C Flour
4 Eggs
1/4 C Sugar
4 tbs oil
pinch salt
1/2 C water
melted butter
Filing
heavy cream
2 tablespoons powdered sugar
1 teaspoon cardamom
crushed pistachios
2 teaspoon vanilla extract 
---
Instructions
1. Crack four eggs. Whisk.
2. Add oil.
3. Add granulated sugar and salt.
4. Mix all together.
5. Stir flour in.
6. Slowly mix water in. Watch video. But if flour is sticky, add flour a tablespoon at a time until good texture.
7. Knead dough. Put in cling wrap and let rest for 20 minutes.
8.  Preheat oven to 350 F.
9. Butter your creme roll molds.
10. Take rested dough, I cut it in half, and do two batches.
11. Roll into a rectangle.
12. Take melted butter and cover rectangle of dough. Fold over as shown in video. (creates layers)
13. Set in fridge and let rest 20 more minutes.
14. Take out, and roll into rectangle, again.
15. Take cookie cutter and cut into 1 inch strips. Take buttered mold and wrap around mold, overlapping. (see video)
16. Bake in oven for 20 minutes. Could be 25. Flip half-way through.
17. Make filling by putting heavy cream, powdered sugar (can sift), into bowl. I start with 2 tablespoons, 1 tsp cardamom, 2 tsp vanilla extract. Mix with stand mixer until creamed.
18. Prepare a plate with powdered sugar. You are going to roll the cream rolls liberally in powdered sugar. Can also cover in pistachios.
19. Take pastry bag, fill with cream, and fill cream rolls.
Recipe Card powered by