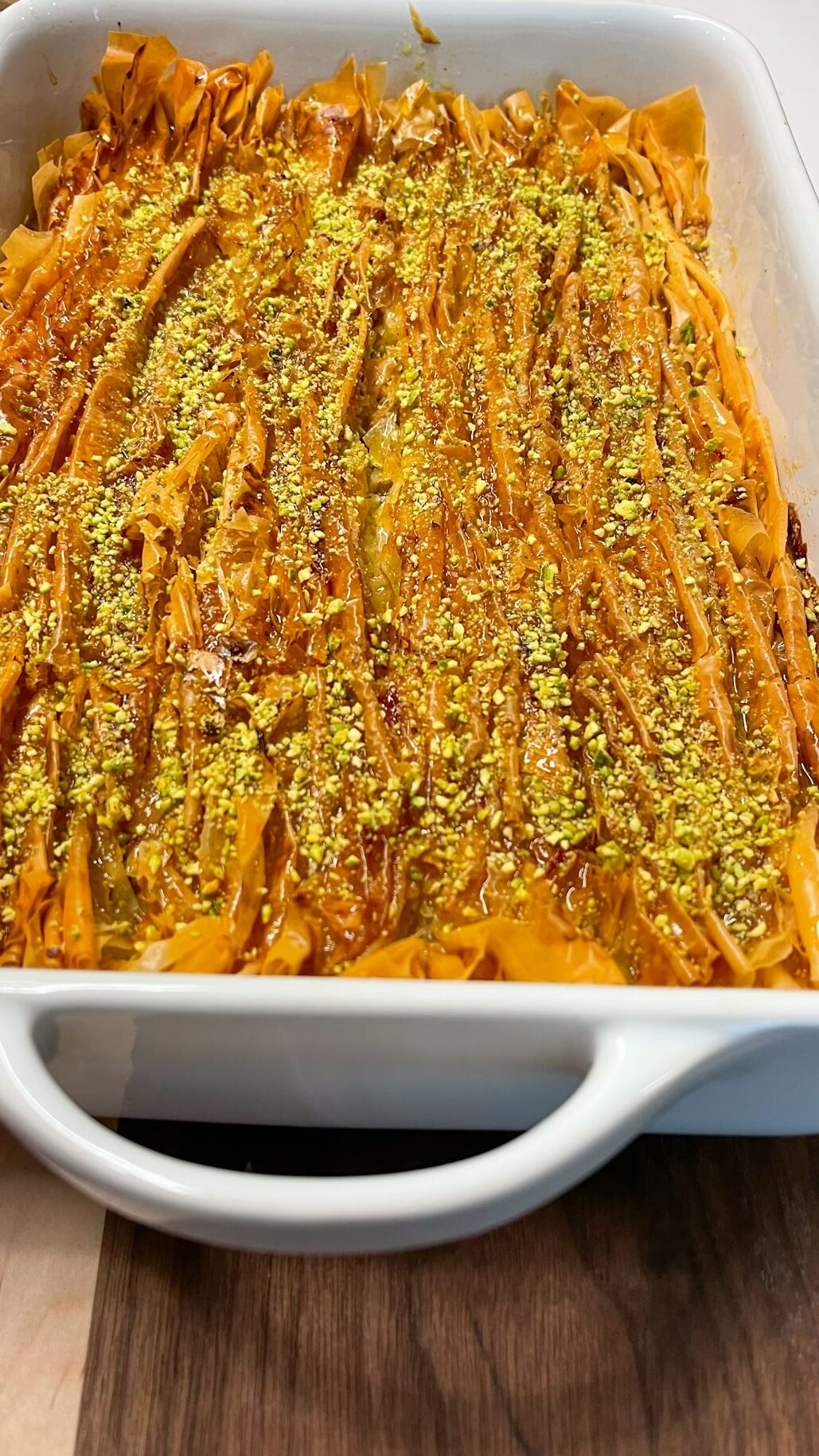 What is Crinkle Cake?
Crinkle cake is a creature of social media virality. If you haven't seen or heard about it, crinkle cake is a crunchy dessert made extra crispy by folding phyllo dough into little scrunched-up rows of deliciousness.
After some digging, it looks like Ramena posted the original recipe from @RamenaSaidWow. The video has more than 1.5 million likes on TikTok. Go give her a follow because this recipe is AMAZING.
It is made even more luscious with a rich and creamy custard pudding that's baked into it. To #MakeItAfghan, I added traditional Afghan flavors like Rose, Cardamon, and Pistachio.
Essential Tips on Making the Crinkle Cake Recipe.
To make this delicious, you want a good and flavorful custard, which I think is the best. The rose and cardamom flavor pair wonderfully with this rich custard mix.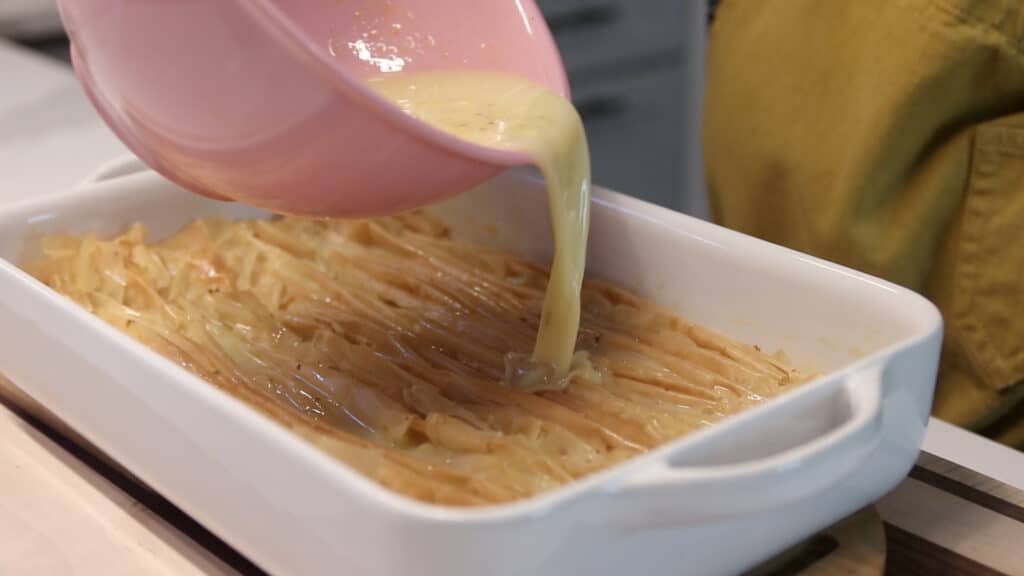 You also need to ensure you let this thing get nice and crispy during each recipe stage. If you don't get it crispy, the dough will give way under the custard and melted butter.
Finally, serve it with some great chai to make this extra special.
Easily Printable Crinkle Cake Recipe.
As always, we make this recipe easy to print and replicate. I suggest you watch the video if you have any questions. Also, leave a comment. I always respond.
Are you a fan of Afghan Cooks and want to help spread the word? Well, social media is critical. Finally, don't forget us on social media. We are on Tik-Tok, Instagram, and Youtube.
We also have an excellent non-spammy Afghan Cooks Club. Sign up for that too!
Want Secret Recipes? News Updates?
Subscribe to our Afghan Cooks Club now. (free secret recipe for signing up)
Print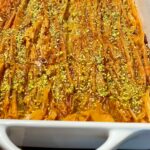 Crinkle Cake Recipe – Afghan Style
---
Description
A delicious crispy custardy phyllo dough recipe made Afghan.
---
9x13 baking dish
Butter or Cooking Spray
Two packages of phyllo dough (thawed)
1 Cup of melted butter
1 Cup of milk
2 Cups of sugar
1 teaspoon of rose water
1/2 teaspoon of cardamom
2 eggs
Saffron.
Crushed pistachios.
---
Instructions
1. Take your 9×13 baking dish and butter or generously spray with cooking spray.
2. Op your phyllo dough, take two pieces at a time and crinkle like an accordion (watch video). Cover the unused portion of phyllo dough so it does not dry out. Bake at 350 for about 10 minutes. This keeps your dough from wilting under the toppings later.
3. Take your melted butter and pour over the crinkled dough. Put back in the oven at 350 and bake. Your oven time will vary, but you want it golden brown. It could be 12-17 minutes. Don't walk away. It will brown quickly at the end.
4. Next, while that is baking again, make your custard. Add milk, rose water, 1 Cup sugar, cardamom, and eggs in a mixing bowl. Mix thoroughly.
5. Pour the custard mixture over the dough and cook at 350 for about 30 minutes. The custard should not run. That's how you know it's done.
6. We should make our simple syrup while that custard cooks. Take 1 Cup of water, 1 Cup of sugar, and some saffron. Bring your syrup to a boil and then reduce to a simmer. You want this to be thick; this should take about 10 minutes. You need the syrup to cool before pouring it over.
7. Take your cake out of the oven, pour the simple syrup over it, and add some crushed pistachios.
8. Let sit and then serve with some Afghan chai.
Recipe Card powered by