Some people are surprised when they hear that one of the most popular dishes in Afghanistan is pumpkin. Borani Kadoo – Kaddo is a delicious mix of roasted pumpkin (or other squash) mixed with creamy yogurt and rich fried onions.
How could that go wrong? No need to have the same old boring side dishes at dinner. Enjoy this pumpkin dish that you don't even have to carve.
Quick note: our website has a small affiliate store where you can shop for ingredients and kitchen items I use in all of my episodes. We get a small affiliate fee from Amazon if you buy from our links. We appreciate your support.
The video is the best way to learn this recipe. The way the cool yogurt plays off of the crispy onions and smokey pumpkin is to die for.
I didn't grow up eating this dish because, allegedly, my dad didn't like it. But, I have to say, he must never had it made well because it is delicious and I'm a little upset that I went this long without making it. This dish is very popular at Afghan restaurants, and there are a lot of variations – some are sweetened, some fry the pumpkin first and others are made the way I make it here. Pumpkin grows in Afghanistan, but it is hard to get eating pumpkins in the States this time of year, but you can use any winter squash. I used butternut squash and it turned out really well, if I do say so myself. Make sure you have a batch of garlicy Afghan yogurt sauce because this dish needs it.
Borani Kadoo is a dish you will make again and again. Check out our yogurt sauce recipe here.
Print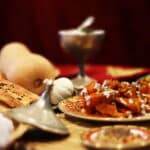 Borani Kadoo – Kaddo – Afghan Pumpkin
---
Author:

Total Time:

1 hour

Diet:

Vegetarian
1 winter squash or pumpkin, peeled and cubed
2 tblsp oil
1 large onion, chopped
2 tomatoes, chopped
1 1/2 tblsp ginger-garlic paste of 4 cloves garlic, minced and 2 tsp ginger, minced
2 tblsp tomato paste
about 1 to 1 1/2 cups water
salt
black pepper
2 tsp turmeric
1 tblsp coriander
1 tblsp cumin
red pepper flakes or aleppo pepper
---
Instructions
Heat oil in large saucepan.
When oil is hot, add onions and cook over medium heat for about 5 minutes until the onions are translucent and some start to brown. Stir frequently.
Add chopped tomatoes, tomato paste and ginger garlic paste. Cook and stir for another 3 minutes until the tomato paste gets a deep red color.
Add the turmeric, salt, black pepper, cumin and coriander. Cook for 1 minute stirring frequently. 
Add about 1/2 cup water and stir to combine all ingredients. You want to make sure the tomato paste is fully incorporated and there are no lumps of it in the sauce. 
Add another 1/2 cup to 1 cup of water to the saucepan. The consistency of the sauce should be similar to heavy cream or half and half. It should be thick but still easily pourable. Cover and let simmer over medium-low heat for about 15 minutes. Check and stir frequently to make sure the sauce doesn't get too thick. If it does, add more water so it remains that same consistency. 
Cook until the tomatoes are completely broken down. 
Add squash. Stir so that all of the squash is covered in the sauce. Set on medium heat, cover and cook for about 25 minutes. Stir and check on it frequently. The squash is done when it is fork tender. You do not want it to turn into mush.
To Serve
Pour a thin layer of garlicky Afghan yogurt sauce on the bottom of a large serving platter.
Add the squash on top of the yogurt sauce.
Drizzle more yogurt sauce on top of the squash.
Top with chopped parsley or cilantro.
Serve with rice, Afghan bread or pita.
Enjoy! 
Notes
Borani Kadoo will win friends and influence people. If you make the dish, make sure you tell us on the Gram!
Prep Time:

20

Cook Time:

40

Category:

Side dish

Cuisine:

Afghan
Keywords: Pumpkin, vegetarian, squash, winter, vegetable, sauteed vegetables
Recipe Card powered by