How do you know you've found the best Lamb Kebab Recipe? Well, you know when I tell you I called my Afghan mom for her secrets. 🙂 For any family holiday my mother's lamb kebab recipe is legendary. She has not shared her secret until now. So, let's find out how to make this delicious Afghan classic. You can't have Afghan cuisine without kebab.
What Makes Mom's Kebab So Good?
The first trick is to think acidic. Almost every ingredient we are adding adds a certain amount of acidity. Yes, some of the spices are for flavor but the rest: kiwi juice, yogurt, vinegar, etc are all to break down the meat. The other secret ingredient. Are you ready? Onion juice! Onion juice is a great method of tenderizing meat. Make sure you watch my very hilarious instructions on using onion juice.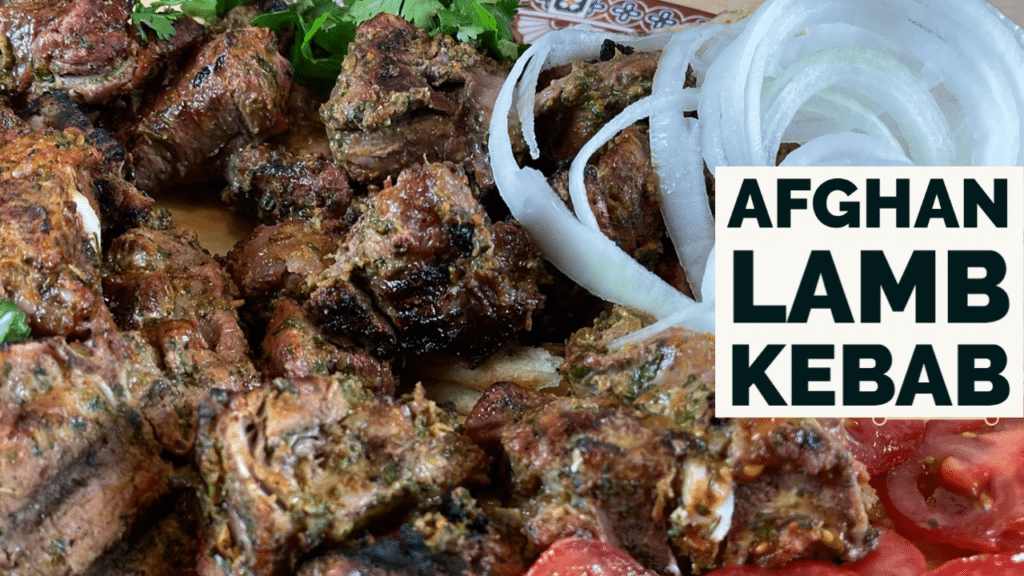 Kebab or Kabob: What's Correct?
Also, we say kebab. Lot's of Americans say kabob. Also, there is one thing that Americans do to their kebab that is fairly tragic: they shove vegetables onto the same skewers as meat. Don't you guys know these two things don't cook at the same temperature and length of time? You've seen it right? Undercooked meat or overcooked veggies or vice versa? Don't do that. Make your veggies separately.
Well, I shared my Afghan mom's secret Lamb Kebab Recipe. What else do you want from me? Now go watch that video.
A link to our char masala recipe is here. The green chutney and yogurt sauce recipes also. You need it all for a happy night of lamb kebab.
Printable Lamb Kebab Recipe
As always, we have a quick and easy printable recipe below. If you like this recipe, please leave a review. The more reviews you leave, the better the search engines like our videos. Also, take a minute to go subscribe on our YouTube video channel.
Did you see a kitchen appliance that I used and loved it? I've put all the things here in my influencer store. If you buy anything, I get a small commission, and you help support these free recipes!
Print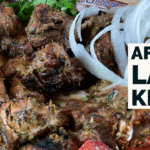 Lamb Kebab Recipe – Afghan Marinade Secrets Inside
---
Description
This Lamb Kebab Recipe is a secret in our family. My mom authorizes you to use this recipe but you may not share the recipe. You must convince your friends and family that you magically came up with this recipe on your own. It's all in the marinade for this lamb. If you marinade right, you can't hardly go wrong.
---
– Lamb (Cut into chunks)
– 1 jalapeno
– 2 cilantro bunches
– lemons
– kiwi
– onions (for onion juice)
– vinegar
– oil
– ginger garlic paste
– salt
– pepper
– char masala (see recipe above)
– coriander
– zataar (not-traditional, but I like it)
– cumin
– tumeric
---
Instructions
1. Make the onion juice. pulverize onions in food processor, press onion juice through sieve)
2. Food process the following: cilantro, jalapeno, kiwi, lemon juice, spices, ginger garlic paste, avocado oil, vinegar, onion juice.
3.  Let marinade for 1, preferable 2 nights.
4. Grill over charcoal, wood, or a combination.
5. Served with fresh onions, tomatoes, and Afghan bread. Would be great with our salata recipe.
Notes
– Do not marinade less than 24 hours.
– Do not skip onion juice step.
– Do not put veggies on your meat kebabs.
Recipe Card powered by