Kabuli pulao is the Afghan national dish. Unmistakable in its appearance with its glistening carrots and large tender chunks of lamb, Kabuli pulao is an unforgettable dish.
First, our website has a small affiliate store where you can shop for ingredients and kitchen items I use in all of my episodes. We get a small affiliate fee from Amazon if you buy from our links. We appreciate your support.
This recipe can be scaled up for large occasions. Wikipedia has this to say about our national treasure:
Kabuli palaw is considered a festive and important dish due to the price and quality of the ingredients as well as its tradition of being Afghanistan's national cuisine. The dish is traditionally placed in the center of the meal with other foods making up the rest of the perimeter.
Yes some spell it kabuli palaw, kabuli pulao, or qabli pilau. However you spell it, this will be a family favorite soon enough. The Gourmet Traveler says this:
"Kabuli palaw is a staple at any Afghan gathering," says Durkhanai Ayubi. "Rice is very precious for Afghans – it forms the centrepiece of the meal, and all the other food is presented around it."
Some key pointers when making pulao are 1) don't let your rice get sticky and 2) don't think of this as some kind of "health dish." The dish should be rich and delicious. It is a special occasion food.
Let's talk "masala". You've heard that word a lot I'm sure. It just means some kind of spice mixture. Here, we use our char masala recipe. This masala includes: black cardamom, cinnamon, clove, and cumin. The one spice in there you might not have tried before is the black cardamom. It has an intoxicating aroma. Black cardamom pods have a rich smoky aroma. They are dried over a fire. You can find them at Penzy's here.
I recommend having some of our Afghan green sauce and our garlic yogurt sauce to pair with this. This will balance the richness of the dish. If you like this recipe, please leave a review. The more reviews you leave, the better the search engines like our videos. Also, take a minute to go subscribe on our YouTube video channel. Leave a comment!
Print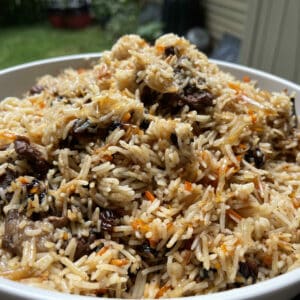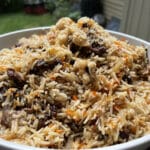 Kabuli pulao recipe
---
2–4 tbs char masala (recipe here)
1.5 lb lamb (Cut into pieces, stew meat)
350 grams julienned carrots
250 grams of raisins
3/4 C cooking oil
2  sliced onions
4 chopped garlic cloves
salt
900 g rice
---
Instructions
1. Rinse your rice. You want to make sure the water runs clear. This cloud water is the starch you that don't want. Makes for sticky rice. (Good for other dishes, not this one)
2. Let the rice soak in the water while start your frying. Put a good bit of frying oil in your pan (or pressure cooker). Fry the carrots for about 6 minutes. Fry raisins even shorter, like 2 minutes. Then, fry your onions and garlic. You want the onions to be translucent. Take each of those out after you fry.
3. Then use the oil to brown your pieces of lamb. As you are browning the lamb, throw in 1 tbs of your char masala. 
4. Then, add water so you can pressure cook it. I highly suggest pressure cooker. It'll only take 10-12 minutes. Otherwise you will need to just make sure the meat is tender before you proceed.
4. Next, you want to put everything back in the pressure cooker or whatever has your meat in it. Add the rice, then just enough water to cover. Cook rice about 10 minutes or until water is absorbed.
5. This last step is key. Take 1 tbs of your char masala and sprinkle it over the rice. Cover the rice with foil and put the lid back on. Put it in the oven at 300 F for about 20 minutes. This last step draws out that last bit of moisture and adds a little more flavor.
6. The rice will glisten because of the oil and fat, but you don't want it wet. This will take a few times to get exactly how you like. Because it has sweetness, just remember to salt along the way. Kabuli pulao is a great way to celebrate an occasion or just being with family.
Recipe Card powered by