Kabuli pulao is the Afghan national dish. Unmistakable in its appearance with its glistening carrots and large tender chunks of lamb, Kabuli pulao is an unforgettable dish.
*Update* I have modified my recipe! Yes, after some testing in the kitchen, I have updated my Kabuli pulao recipe. I hope you enjoy it. I've also uploaded a brand-new full-length video with captions on YouTube here.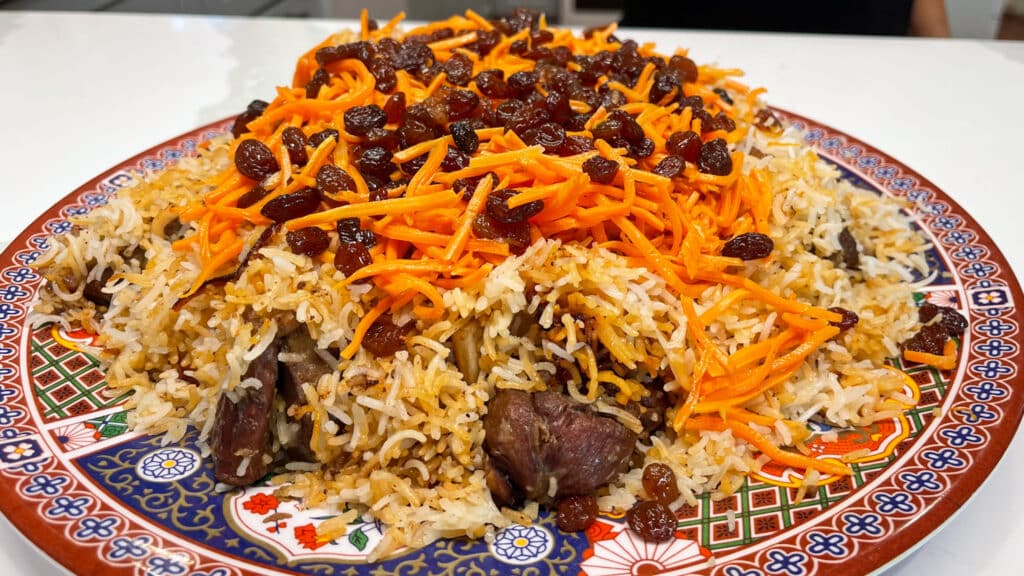 This recipe can be scaled up for big occasions. Wikipedia has this to say about our national treasure:
Kabuli palaw is considered a festive and important dish due to the price and quality of the ingredients as well as its tradition of being Afghanistan's national cuisine. The dish is traditionally placed in the center of the meal with other foods making up the rest of the perimeter.
Yes some spell it kabuli palaw, kabuli pulao, or qabli pilau. However you spell it, this will be a family favorite soon enough. The Gourmet Traveler says this:
"Kabuli palaw is a staple at any Afghan gathering," says Durkhanai Ayubi. "Rice is very precious for Afghans – it forms the centrepiece of the meal, and all the other food is presented around it."
Tips When Making Kabuli Pulao
Some key pointers when making pulao are 1) don't let your rice get sticky and 2) don't think of this as some "health dish." The dish should be rich and delicious. It is a special occasion food.
Let's talk about ingredients. Below, you can see the main stars of the dish: carrots, raisins, lamb, and one last secret ingredient I added in this new recipe…..sesame oil! I have researched this recipe for hours. I have read dozens and dozens of videos. Sesame oil is truly a secret ingredient that most people overlook. But trust me, it is crucial.
Let's talk "masala". You've heard that word a lot, I'm sure. It just means some spice mixture. Here, we use our char masala recipe. This masala includes black cardamom, cinnamon, clove, and cumin. The one spice you might not have tried before is black cardamom. It has an intoxicating aroma. Black cardamom pods have a rich, smoky aroma. They are dried over a fire. You can buy black cardamom on our website here.
What to Serve With Your Pulao
I recommend pairing some of our Afghan green sauce and garlic yogurt sauce with this. This will balance the richness of the dish. I would also recommend adding an Afghan salata and some of my easy naan.
You can't have rice without bread in Afghanistan; you need your salad to ensure you get your veggies in.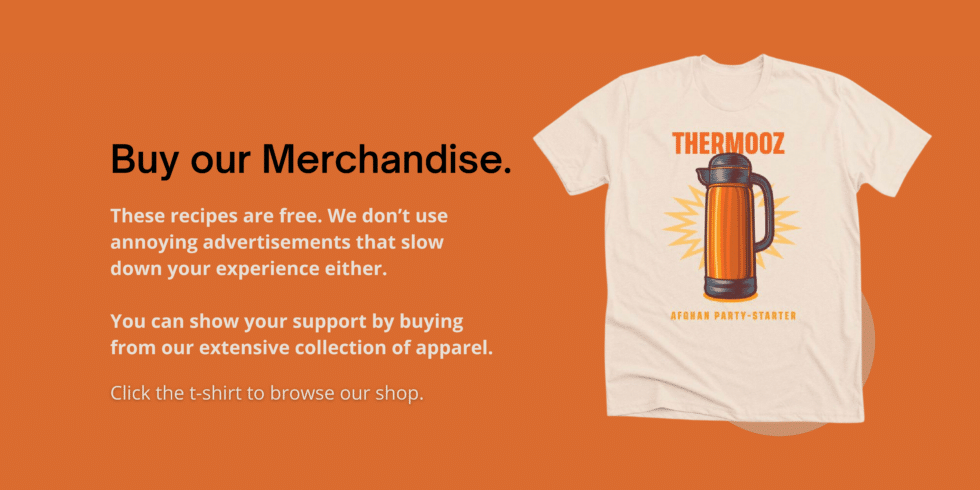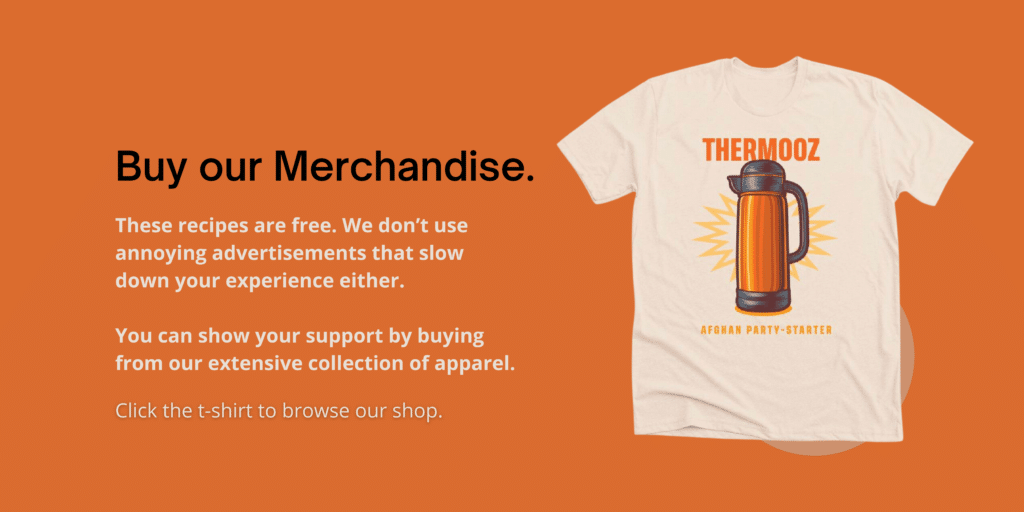 Printable Kabuli Pulao Recipe
As always, we have a quick and easily printable recipe below. If you like this recipe, please leave a review. The more reviews you leave, the better the search engines like our videos. Also, please take a minute to subscribe to our YouTube video channel. Leave a comment!
Did you see a kitchen appliance that I used and loved it? I've put all the things here in my influencer store. I get a small commission if you buy anything, and you help support these free recipes!
Print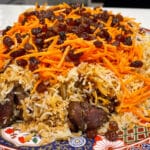 Kabuli pulao recipe
---
Description
I hope you enjoy this Afghan national dish, Kabuli Pulao.
---
2–4 tbs char masala (recipe here)
2 teaspoons cumin seeds
1.5 lb lamb
350 grams julienned carrots
250 grams of raisins
1/4 C sesame oil
2  sliced onions
4 chopped garlic cloves
salt
2 Tablespoons of sugar
3 Cups Rice 
---
Instructions
1. Rinse your rice. You want to make sure the water runs clear. This cloud water is the starch you that don't want. Makes for sticky rice. (Good for other dishes, not this one) Let the rice soak.
2. Next, we are going to prepare the lamb. Break out your instapot, pressure cooker, or regular pot. Add your sesame oil and heat.  Add your onions. Add your roughly cut garlic. Cook for 30 seconds and then add cumin.
3. Next we will add our lamb. Then add tablespoon of salt. Finally, add 3 Cups of water. I cook in my instapot for 25 minutes on high pressure. If you cook in a regular pot it will probably take about an hour. You want the meat to be fork tender.
4. While your meat is cooking, next cook your carrots and raisins. Add to pan some vegetable oil. Then, add your shredded carrots. This will not take long, cook until soft. Place on your foil. 
5. Next, your raisins. I soak mine in hot water for about 5 minutes. Then, you will drain and add to the same pan you cooked the carrots in. This will go quick. Only cook for about 30 seconds. Then add them to the foil with your carrots and wrap into your foil packet to add to rice later.
6. Boil a large pot of salted water. Take your rice that you have rinsed and soaked and add to the boiling water. This is a step you have to watch. I can't give you an exact amount of time to cook the rice. But, you are only partially cooking your rice. If you fully cook it you will have mushy pulao. On average 4 minutes should get you there. If you can break the rice in your finger you are done. Then, drain your rice.
7. Next, we are going to make our sugar solution to add a caramel color to our rice. In a pan add quarter cup of vegetable oil. Add your sugar. Let the sugar darken. Add 1/2 Cup of water, set aside.
8. Take your meat out of the broth when done cooking. Now it is time to assemble everything. Take a big pot and add half of your rice to the bottom. Then, add your lamb. Then add last of the rice. After that, use a few scoops of the lamb broth, add the sugar mixture, and char masala.
9. Poke some holes in the rice with the handle of a spoon. This will allow steam to release better. Take your packet of raisins and carrots and place in pan on top of your rice. I cover mine with more foil then put lid on rice.
10. Cook on stove top on medium-low heat for about 25 minutes.
Recipe Card powered by