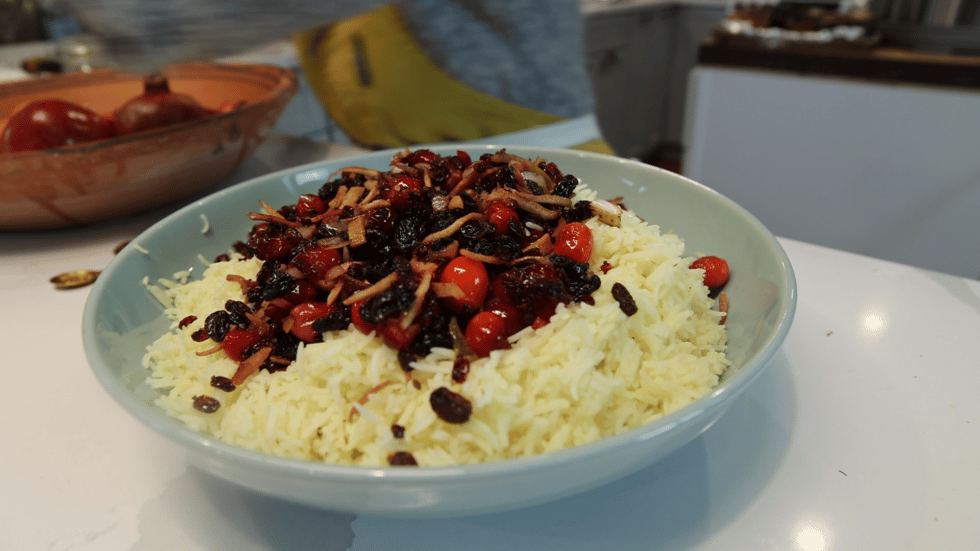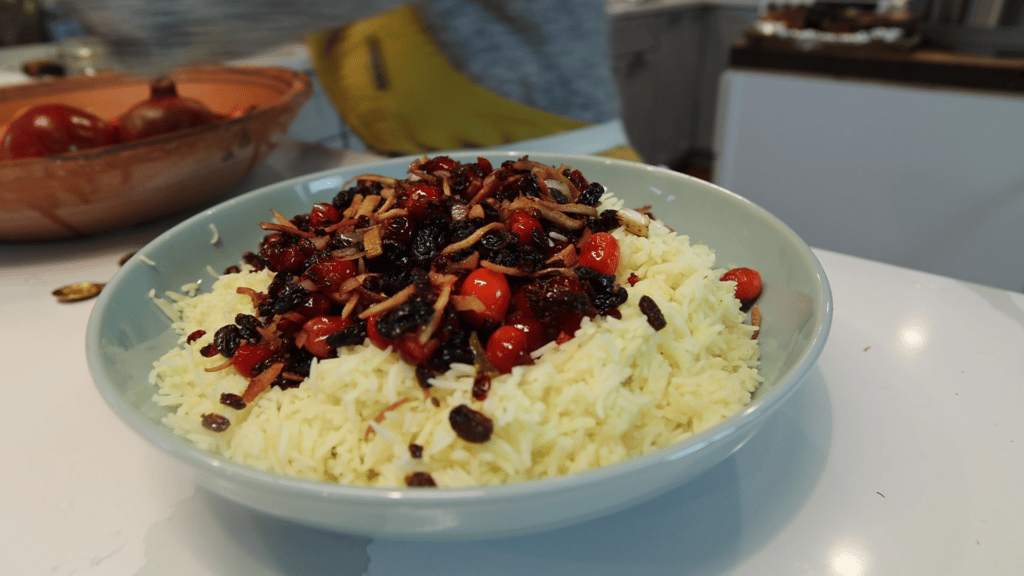 Fall is in the air, so it's time for some delicious rice dishes! One of our favorites is shireen palaw, a sweet rice dish served in Afghanistan and Iran.
This dish generally has orange or other fruits and nuts, making it perfect for the fall or winter. If you're looking for a new rice dish, check out shireen palaw!
I made a few adaptations, including serving it in a roasted acorn squash.
What is Shireen Palaw?
This delicious dish traditionally consists of basmati rice, sugar, orange zest, cardamom and saffron. It also often includes chopped almonds or pistachios, giving it a crunchy texture. The combination of sweet and savory flavors makes shireen palaw a memorable and delicious meal that is sure to please!
Making shireen palaw is relatively easy but can take some time. This is a weekend recipe.
Add Your Jewels.
The various fruits are supposed to shimmer like jewels in your rice shireen palaw. I used every dried fruit I had, along with the orange zest. And, because it is the fall/winter, I cooked down some cranberries and threw those in too.
Cranberries offer a delicious tart flavor and look spectacularly served with saffron's golden rice.
Stuffed into Acorn Squash.
Now I stuffed my jeweled rice into acorn squash. That is not traditional. But, I have seen people stuff squash with all kinds of things like meat and cheese, and I thought I would "make it Afghan" and use our jeweled rice.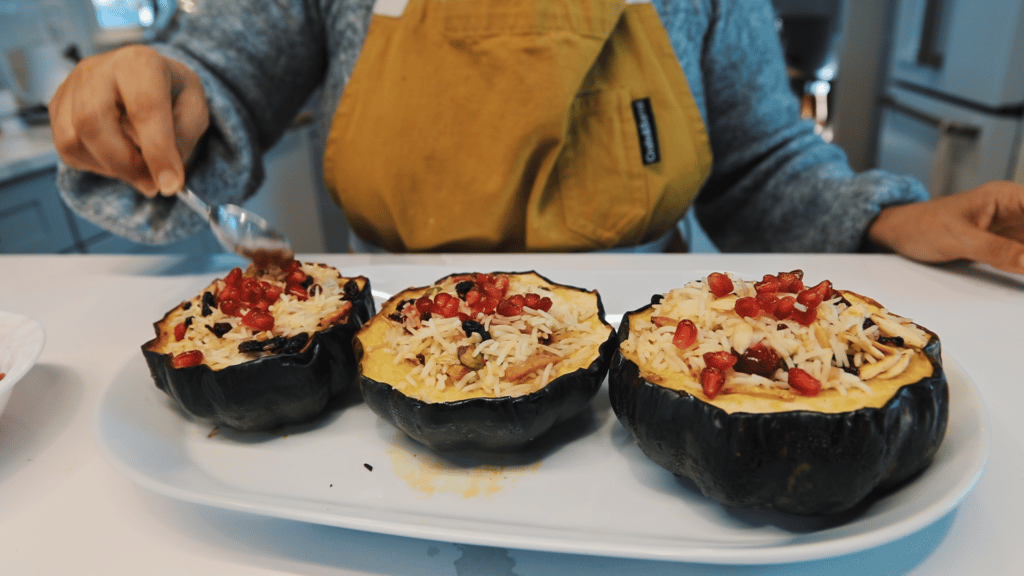 The roasted buttery squash goes quite well with your jeweled rice here.
Easily Printable Shireen Palaw Recipe
As always, we make this recipe easy to print and replicate. I suggest you watch the video if you have any questions. Also, leave a comment. I always respond.
Are you a fan of Afghan Cooks and want to help spread the word? Well, social media is critical. Finally, don't forget us on social media. We are on Tik-Tok, Instagram, and Youtube.
Print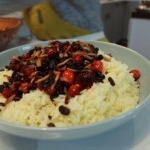 Shireen Palaw: Jeweled Rice Recipe
---
Description
Shireen Palaw is a delicious jeweled rice with dried fruits, orange. peel, and nuts.
---
2 Cups Basmati Rice
3 cardamom pods
3 cloves
1 star anise
Nutmeg
1/4 Cup of orange peels (rehydrated)
Dried fruit of your choosing (cranberries, raisins, barberries)
1 handful of slivered almonds
1 handful of pistachios
2 Shallots
1 Teaspoon of Sugar
1 Teaspoon of Rose Water
If want to do the stuffed acorn squash:
3 Acorn Squash
Butter
Brown sugar
salt
---
Instructions
1. Drain and rinse your rice. Let soak.
2. Heat water to boil your rice. Before you add your rice, add your masala. Here, add your star anise, cardamom, cloves, and saffron. I shaved some nutmeg into the water as well.
3. Next, add your rice to the boiling water. Cook until done. Drain the water off of your rice and set rice aside.
4. Now, we add your jewels. We will cook and toast the things we are adding to the rice. Heat a skillet with some cooking oil. Finally, make sure you soak your orange peel ahead of time.
5. Next, to your oil, add pan. Add any dried fruit you like: cranberries, raisins, etc. Add your shallots. I want to add barberries which are prevalent in Afghanistan. Next, add your rehydrated orange peels—Cook all of that for a few minutes.
6. Add sugar, one teaspoon of salt, and rose water.
7. Finally, before assembly, for about 30 seconds, toast some almonds and pistachios.
8. Finally, stir your jewels and nuts into your rice. Cover it in a pot, add a little water, and cook on med-low heat for 15-20 minutes.
Bonus Steps
9. If you want to do the acorn squash, before making your rice do the following:
10. Cut three acorn squash in half. Melt a half stick of butter and drizzle over the squash, and add one teaspoon of brown sugar and a pinch of salt to each half squash.
11. Roast the acorn squash on a cookie sheet in the oven at 400 for 45 minutes.
12. Take the squash out. Now you know how we steamed the rice above when we didn't use the acorn squash? Ok, skip that step and cook it this way if you use acorn squash. Stuff the squash with rice, cover it with foil, and put it in the oven for about 20 minutes at 350 degrees.
Recipe Card powered by