Our website has a small affiliate store where you can shop for ingredients and kitchen items I use in all of my episodes. We get a small affiliate fee from Amazon if you buy from our links. We appreciate your support.
Print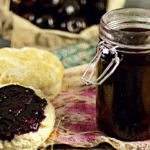 Sour Cherry Jam
---
Description
This sour cherry jam is quick! We wanted to show you how simple it is by doing a YouTube #shorts video in under a minute! The depth of flavor on this recipe is special. The honey, lemon, and salt send your tongue in all kind of directions.
Enjoy!
---
400 g Frozen Cherries
1/2 C Sugar
1 tsp Salt (coarse)
2 Tbs Honey
Juice of one lemon
1/2 Blood Orange segmented (can be regular orange)
Then, Juice of the other half of orange
---
Instructions
Bring all to a rolling boil.
Let it reduce until thickened.
Notes
Before you started, put plate in freezer. 
Once you think reduced enough, put jam on plate. If jam drips down plate too fast, let it reduce more.
Recipe Card powered by