Afghan nachos do not have deep historical roots in Afghanistan. I was just being silly. But, they are delicious. The idea for Afghan nachos came after a brainstorming session with my Afghan Cooks team. I wanted to find a way to make nachos that had a distinctly Afghan taste to them. So, piece by piece, we tried to recreate nachos in an Afghan way.
What about Chips for Afghan Nachos?
A good order of nachos is difficult. On the one hand everyone loves that messy bite that includes everything: cheese, sour cream, jalapenos, and maybe even some ground beef. But, you need some breaks from the sloppy bites or otherwise it just becomes nacho soup. You need some space between your toppings so that you can enjoy the crispy bits of chips in between the rich saucy nibbles.
Here, we use Afghan bread for our "chips". We sliced them up and fried them in a pan. They turn out perfectly crisp and are similar to a pita chip. They hold up well to the toppings we used on these nachos.
Instead of Chili, How about some Lamb Shank and Afghan Lubya?
Nachos are delicious with some meat or chili on top. We wanted to find a way to make this extremely Afghan so, duh, we added lamb! No only did we add the lamb, but we used the juices from the pressure cooked lamb and made an Afghan lubya topping with pinto beans. The rich fatty lamb along with the texture of the beans makes for a unique Afghan experience that also feels very true to the nacho experience.
Afghan Nacho Toppings: Chutney, Qurut, and Salata
I don't know about you, but I love toppings on my nachos. We decided not to use cheese because there is no way to make this dish taste Afghan with cheese. WHAT?!!! Nachos without cheese. (Trust me)
After deep contemplation, we decided on using Qurut. What makes cheese and sour cream great on nachos? Well, they give you that umami-type taste while also adding a creamy texture. What is Qurut?
Kashk or qurut is a range of dairy products used in cuisines of Iranian, Afghan, Pakistani, Turkish, Kurdish, Mongolian, Central Asian, Transcaucasian and the Levantine people. Kashk is made from drained yogurt or drained sour milk by shaping it and letting it dry.

Wiki
Qurut does all of that on steroids. It is quite tart, and a perfect texture. Using Qurut makes it super Afghan but also still feel very nacho-y.
Some people put salsa on nachos and, well, Afghan green chutney (click for our recipe) is a natural replacement. It is a perfect salsa replacement. Last, I like a few veggies on my nachos. Some people have chopped onions, jalapeños, or tomatoes. We essentially use the basic Afghan ingredients for our salata but without the cucumbers. (too much moisture)
Easy to Print Afghan Nachos Recipe
As always, we make this recipe easy to print and replicate. I suggest you watch the video if you have any questions. Also, leave a comment. I always respond.
Are you a fan of Afghan Cooks and want to help spread the word? Well, social media is critical. Finally, don't forget us on social media. We are on Tik-Tok, Instagram, and Youtube.
We also have an excellent non-spammy Afghan Cooks Club. Sign up for that too!
Want Secret Recipes? News Updates?
Subscribe to our Afghan Cooks Club now. (free secret recipe for signing up)
Print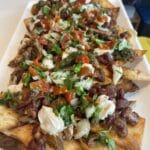 Afghan Nachos – An Afghan Cooks Exclusive
---
Lamb Shank Prep Ingredients
Two Lamb Shanks
1 Carrot Chopped
1 Onion Chopped
Oil for Sautee
1 Teaspoon Salt
1 Teaspoon Chili Powder
2 Teaspoons Ground Coriander
2 Teaspoons Ground Cumin
1 Teaspoon Tumeric
Cracks of Black Pepper
1 Tablespoon Ginger-Garlic Paste
Water
2 Tablespoons of Tomato Paste
Afghan Green Chutney (click for recipe)
Qurut (or Kashk) (click to buy in store)
Rest of Ingredients
1 Onion
2 Large Tomatoes
Dried Mint
Lemon Juice
Afghan Bread (can substitute pita chips if no Afghan bread)
2 Cans Red Kidney Beans
---
Instructions
1. Turn Instant Pot or pressure cooker on for sauté. Put oil in and sauté onion and carrot. Then add spices, ginger garlic-paste and tomato paste. Put in your lamb shanks to brown on outside. 
2. Once browned, add your water so that you can properly pressure cook your meat. Add water and scrape all the good bits off the bottom of your cooker before cooking. I pressure cooked mine on an instant pot for almost 30 minutes. It fell off of the bone.
3. While that is cooking, soak your cut up onions in some water, a little salt, and a splash of white wine vinegar. This will take the edges off the onions. After they sit for a while when ready drain the salt mixture out.
4. Cut up your tomatoes.
5. Take drained onions and combine with tomatoes, add dried mint, and lemon juice. These are your fresh veggies for the nachos. 
6. Cut your Afghan bread up into chip size pieces. Fry in a skillet until crispy. Drain. Then go back to the lamb.
7. Take your lamb out and pull it off the bone with a fork and shred.
8. Make your lubya or simple bean mixture using your kidney beans in a pot with your juice from the lamb shank mixture. Stir that around for a few minutes and make sure the beans have taken on the flavor of the meat juice. Salt to taste. 
9. You have all your toppings ready except the green chutney and qurut (kashk). You can purchase these, or use our recipe for the chutney. It is delicious freshly made.
10. Assemble your nachos just like American-style!
Recipe Card powered by