Shor Nakhod Dip was inspired by the beloved Afghan food, shor nakhod. This simple chickpea and potato dish is most comparable to an American potato salad. I was looking to make an interesting dip that I could share for family gatherings and it dawned on me that the flavors of Shor Nakhod would make a perfect dip with some crispy chips or crisp vegetables. My son, who is usually reserved on complimenting my food said that the dip is "bangin".
Here is a video of Shor Nakhod and some pakora served on the street in Jalalabad, Afghanistan.
I hope you enjoy our Shor Nakhod Dip. Please go follow us on all of our social channels and leave us a comment. We just made a recipe for Afghan nachos. Go check it out.
Before you print the recipe and leave me, click that little red box below and subscribe to my channel.
Print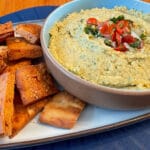 Shor Nakhod Dip – An Afghan Cooks Original
---
1 Small Potato Boiled / Peeled
I Can Chickpeas (drained)
1/2 Teaspoon Garlic Powder (used Burlap and Barrel of course)
1/2–3/4 Teaspoon of Salt
2–4 Tablespoons of Apple Cider Vinegar
1/2 Bunch Cilantro
1 Tablespoon Dried Mint
Olive Oil
Salata for Topping
Crispy Vegetables or Chips to Dip
---
Instructions
Place all of your ingredients except the olive oil into your blender or food processor. Pulse until well combined. Make sure to scrape down the edges.
I give a range for salt and vinegar. Start with the minimum and work your way up to the level that tastes good to you. It should be tart.
The last step in the blender is to drizzle the olive oil into the blender or processor until you get a smooth dip consistency.
Top with the salata and serve with crispy chips or vegetables.
Recipe Card powered by