Afghan rice pudding is a staple dessert in Afghanistan. But Afghans are not alone in their love of rice pudding. Rice puddings of different styles are available all around the world. From China to the US to Eastern Europe, everyone has rice pudding.
First, website has a small affiliate store where you can shop for ingredients and kitchen items I use in all of my episodes. We get a small affiliate fee from Amazon if you buy from our links. We appreciate your support.
You will recognize all of our typical flavors: cardamom, rose water, pistachios, etc.
This recipe is best to let age overnight in the fridge. The flavors really get a chance to fuse together.
Rice pudding is a great dessert any time of the year. But, the summer time is especially a great time to have chilled Afghan rice pudding. If you want to try another dessert, try our delicious ice cream recipes here and here.
Enjoy this sheer birnij.
Print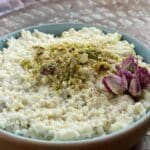 Afghan Rice Pudding – Sheer Birinj
---
Description
This Afghan Rice Pudding recipe is just how my family has always made it. You get all of the lovely Afghan flavors from the rose water to the pistachios. 
How do you make your rice pudding? Leave me a comment on the YouTube Channel.
---
1 Cup Arborio (or any short grain rice)
3 Cups Half and Half
1/2 Cup Sugar
1 teaspoon cardamom
1 tablespoon rosewater
1 tablespoon orange blossom water.
1 pinch saffron threats
hot water for saffron
1 teaspoon of salt
Pistachios for garnish
---
Instructions
1. Start by soaking the Arborio rice in water. Give it about an hour or so.
2. I think like to cook it ever so slightly in the water. You want most of the cooking to happen in the half n half mixture. Add just enough water to cover rice. Cook about 10-15 minutes.
Bring some water to boil then steep saffron in the water. You will add this later.
3. Add the half and half stir. Bring to slow boil (bubbles), turn down to medium. Do not leave. Keep stirring. Really low-medium heat. You want to rice to soak up the half and half. Cook for about 15-20 minutes. Keep testing the texture to your liking.
4. Add the saffron infused water, cardamom, rose water, orange water, salt, and sugar.
5. You will want to cook the rice  another 10-15 minutes. Testing the flavor. Add more sugar if you like.
6. Once at the texture and flavor you like, cool down. The sheer birinj gets better the longer it sets. Overnight in the fridge is the best.
Recipe Card powered by