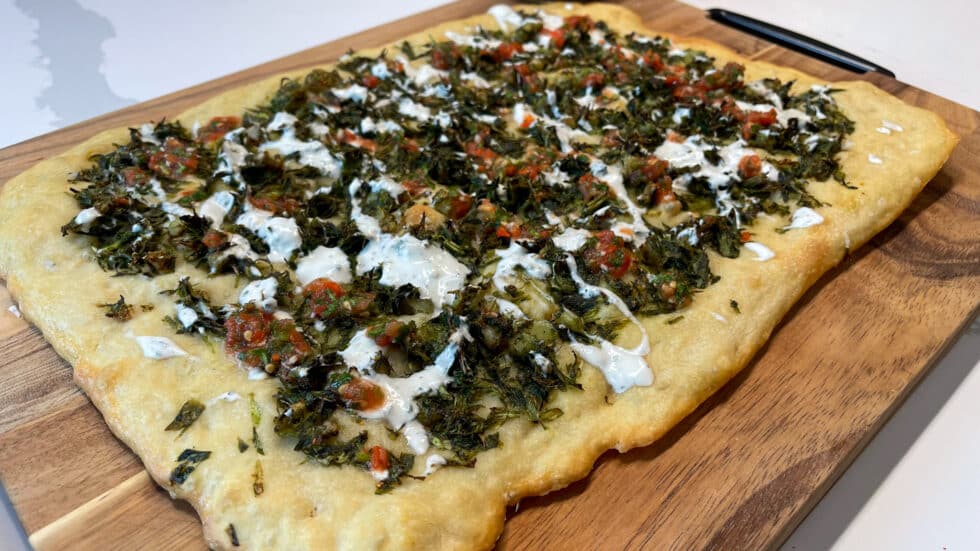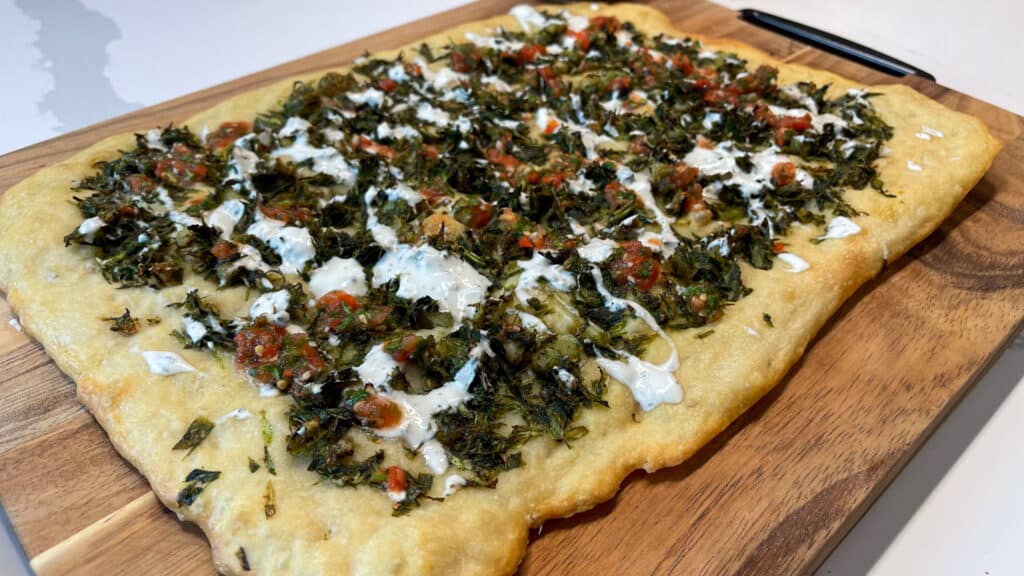 If you are looking for a bolani pizza recipe, that's impressive. If you come across this recipe because you want to make bolani, give this pizza a try. It is crispy, tangy, and delicious.
What is Bolani?
If you have not made bolani before, make my bolani recipe sometime. Bolani is an Afghan dish made of dough stuffed with potatoes, pumpkin, or leeks.
My grandmother, may she be granted the highest level of Jannah (heaven) hated potatoes in her bolani. She thought it was cheap to fill bolani to save from buying more leeks lol.
I like using primarily leeks, but I add a little potato to beef up the toppings on this pizza.
What Kind of Dough do You Use for Bolani Pizza?
For my dough, I used my friend's recipe. Lacebakes is over on Instagram, and you can find her dough recipe on her whisk profile here.
I highly recommend you follow her on Instagram. She is the queen of dough recipes. If you need one, she has one.
Gotta Have the Afghan Yogurt Sauce and Tomato Chutney
You can't have a bolani pizza without our delicious Afghan yogurt sauce and tomato chutney.
The yogurt sauce adds a creamy cooling vibe, while the chutney does the opposite.
This tomato chutney adds a nice little zip to each bite of pizza.
Easy Printable Bolani Pizza Recipe
As always, we make this recipe easy to print and replicate. I suggest you watch the video if you have any questions. Also, leave a comment. I always respond.
Are you a fan of Afghan Cooks and want to help spread the word? Well, social media is critical. Finally, don't forget us on social media. We are on Tik-Tok, Instagram, and Youtube.
We also have an excellent non-spammy Afghan Cooks Club. Sign up for that too!
Want Secret Recipes? News Updates?
Subscribe to our Afghan Cooks Club now. (free secret recipe for signing up)
Print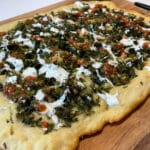 Bolani Pizza Recipe: Afghans know best.
---
Description
This tasty bolani recipe brings all the best flavors from Afghan bolani and makes it into a pizza.
---
Boiled Potatoes (1-2)
1 to 1 1/2 Cups Chopped Chinese chives (leeks or green onions are fine)
Olive Oil
1/2 Sumac
1/2 Aleppo pepper (or can substitute)
1/2 Cumin salt (or just cumin and salt)
1/2 teaspoon of salt
---
Instructions
1. Start by making your dough. This is overnight so do that right now.
2. The next day, start boiling your potatoes, prepare your Afghan yogurt sauce, and make your tomato chutney.
3. Preheat your oven to 450 F. Grease your cookie sheet with olive oil.
4. Drop your pizza dough onto the cookie sheet. Do not attempt to do this with cold dough. Make sure you let it get to room temperature, or it won't be relaxed.
5. Take your boiled potatoes, mash them, add your spices and salt, and mix it into your chive mixture.
6. Next, drizzle olive oil onto your dough. Then, add your chive/potato mixture.
7. Put into the oven for around 15 minutes. You want the dough to be done and crispy on the edges. Don't be stingy when greasing your cookie sheet.
8. After cooking, drizzle with your Afghan yogurt sauce and tomato chutney.
Recipe Card powered by