This chocolate banana bread recipe is not Afghan, but I'm Afghan and I made it. Plus, it is delicious. You will never make another banana bread recipe again.
Epicurious has an entire article on four things that they think make a delicious banana bread. My recipe does not have nuts, and I disagree with them on not using chocolate, but I certainly agree with them that the use of dairy is key. That is why I insist on using either sour cream or yogurt in this banana bread recipe.
As you can see from my well-worn cookbook, I've tweaked and reworked this recipe a few times. There are a few key ingredients that make this bread gooey and yummy.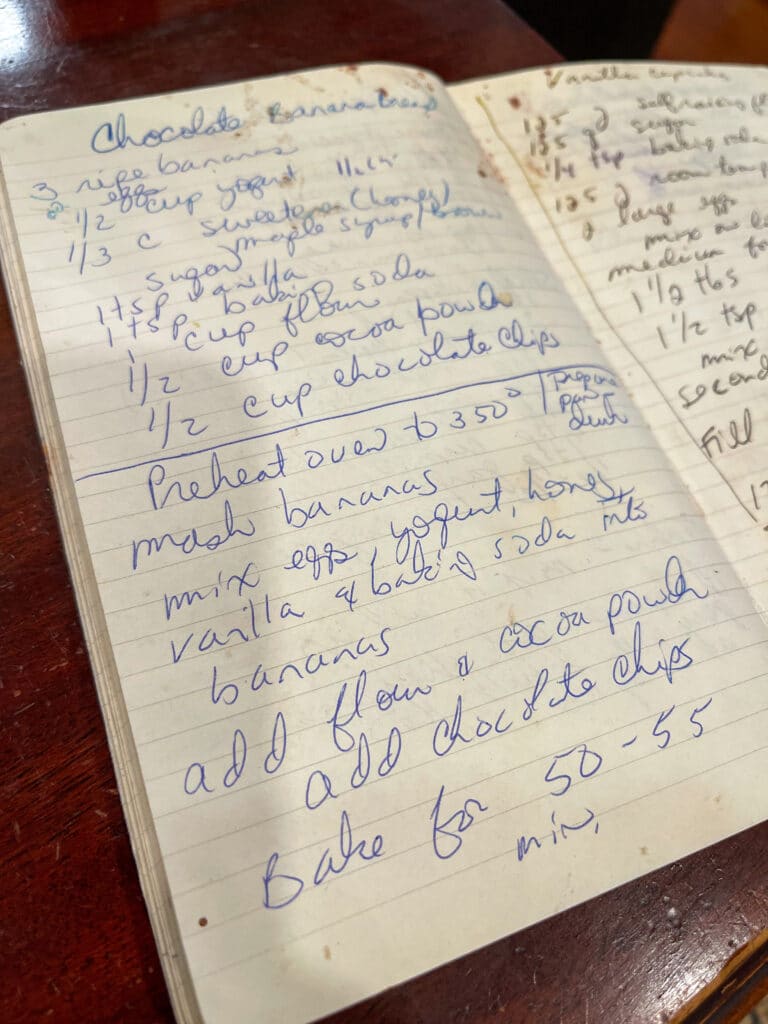 You need very ripe bananas. When a banana darkens that means that the fruit is breaking down to more and more of a simple carbohydrate. Essentially, it gets sweeter and sweeter. Don't be afraid to use very soft bananas for this banana bread recipe.
Also, the sour cream. You can use yogurt too. But the key to using either one of these is the slight sour note that you get from it.
I mean, look at this clip. See how gooey that is? I recommend you pair this very sweet bread with some Afghan chai.
I hope you enjoy this chocolate banana bread as much as my family does. Don't forget, you can buy almost everything you see on my channel at our store here. Also, go check out my TikTok.
Finally, and most importantly for me, click the red box below to subscribe to the YouTube.
Print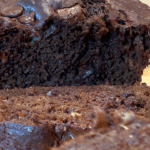 Chocolate Banana Bread Recipe
---
Description
You are gonna love this chocolate banana bread recipe. Super moist, made with sour cream or yogurt, and no oil.
---
3 ripe bananas
2 eggs (room temperature)
1/2 Cup sour cream (or yogurt)
1/2 C sugar
1 tsp vanilla
1/2 tsp of baking soda
1/2 tsp salt
1 tsp baking powder
1 Cup of flour
1/2 Cup of cocoa powder
1/2 Cup of chocolate chips
Cooking spray
---
Instructions
1. Spray down loaf pan with cooking spray and preheat oven to 350 F.
2. Smash ripe bananas.
3. Put all wet ingredients in bowl w/ sugar (sour cream, two eggs, sugar, vanilla) then mix.
4. Now to your dry ingredients. Sift flour, cocoa powder, baking powder, baking soda, and salt into wet ingredients.
4. Stir it all together.
5. Add your mashed bananas. It will make the dough nice and loose and shiny.
6. Fold in chocolate chips. I always add some on the top also.
7. Pour into your greased dish and set for 45 minutes in your oven.
Notes
This is a beefy cake. Let it cook all the way through. Also, make sure you use sour cream or yogurt and very ripe bananas for this chocolate chip banana bread recipe.
Recipe Card powered by