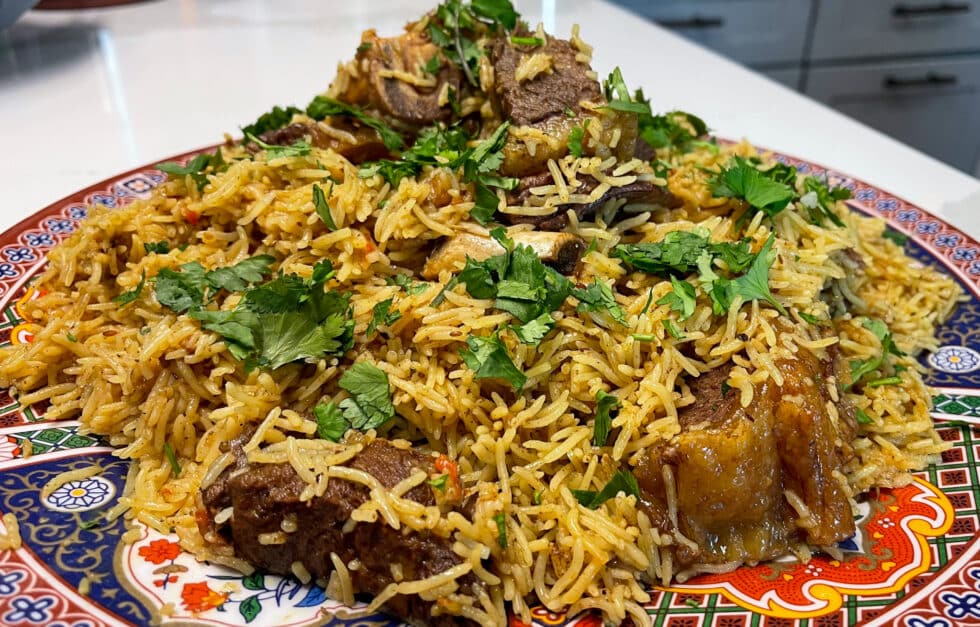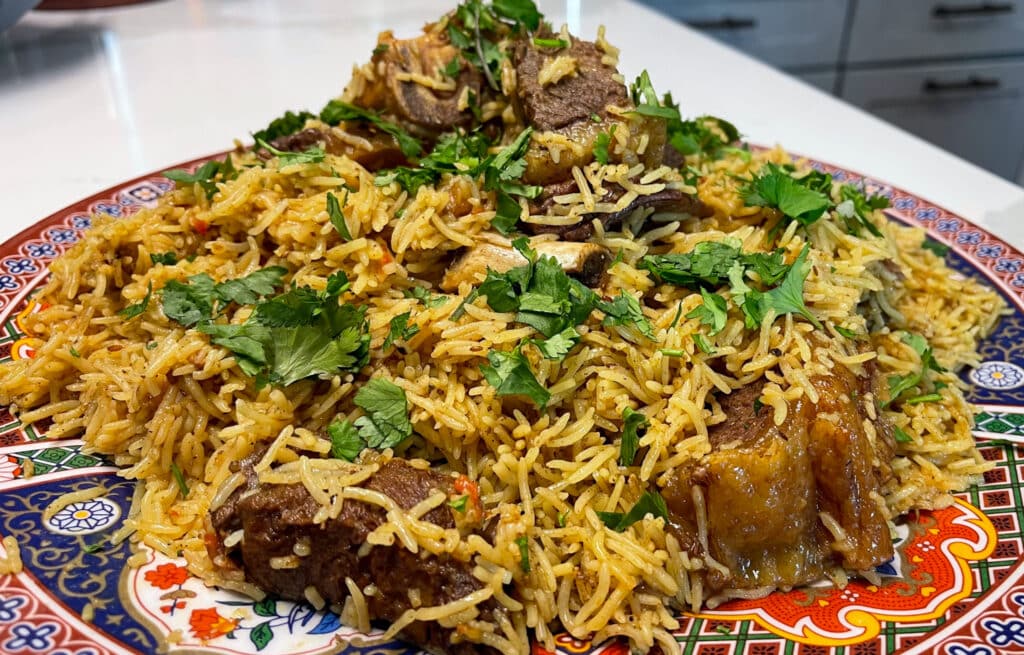 Intro to Dum Pukht.
Let's make a classic Afghan dish, dum pukht. Traditionally, this is a slow-cooked dish over fire. Afghans use lamb, sometimes even older lamb. (mutton)As a result slow-cooking the dish is the way to go. (unless!)
Unless you have a pressure cooker or Instant Pot, this dish typically takes hours and hours, but I cut the time in half by about 200% percent using my Instant Pot. You will still get all the fantastic flavors, but much more quickly.
Dum Pukht is similar to an Indian biryani, as the meat is mixed with rice. The benefit is getting the flavors soaked into the rice and having a "one-pot" meal.
One last note, in my YouTube video, I use beef. Bone-in beef is an ok substitute if you don't have lamb. The key is to have the bones, and you want to pack all that flavor in.
Keys to Success with the Dum Pukht.
The first key is to make sure that when you add your meat, you brown it on all sides. If you don't brown the meat, you are going to lose a lot of flavors.
The second key is bones. Don't get meat with no bones. Boneless meat tends to toughen up when pressure cooked for long periods.
Lastly, add something refreshing as a side. This is a rich and fatty dish. I recommend a super easy Afghan salata.
Easily Printable Dum Pukht Recipe.
As always, we make this recipe easy to print and replicate. I suggest you watch the video if you have any questions. Also, leave a comment. I always respond.
Are you a fan of Afghan Cooks and want to help spread the word? Well, social media is critical. Finally, don't forget us on social media. We are on Tik-Tok, Instagram, and Youtube.
We also have an excellent non-spammy Afghan Cooks Club. Sign up for that too!
Want Secret Recipes? News Updates?
Subscribe to our Afghan Cooks Club now. (free secret recipe for signing up)
Print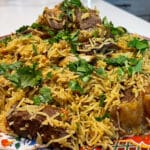 Dum Pukht – An Afghan Classic (made easy)
---
Description
A traditional Afghan dish, Dum Pukht. Made easy in the Instant Pot.
---
1/4 Cup of cooking oil (or extra fat if your butcher will give it to you)
2 Cups of Aahu Barah rice (soaked and rinsed)
2.25 lb of bone-in meat (lamb or beef)
2 Tablespoons ginger garlic paste
1 chili pepper, diced (optional)
2 teaspoon coriander powder
2 teaspoon cumin seed
1 onion chopped
1 teaspoon salt (to start, must be adjusted as you cook)
1 chopped tomato
1 bouillon cube (optional)
1 Cup of water (adjust for your experience)
Cracked black pepper (to taste)
---
Instructions
1. Set your instant pot or pressure cooker to saute. If you are using fat, render the fat. If oil, heat until ready to use. Make sure you have rinsed your rice, and it is soaking.
2. Saute your onions. Cook until nice and golden brown.
3. Add your ginger garlic paste. Cook for about 1 minute. Then add your chili pepper. Cook another 30 seconds.
4. Now add your spices of coriander and cumin.
5. Add your meat and ensure it's covered in spices. Add salt. You want to brown the entire outside of the meat.
6. To build your pressure, add 1 Cup of water. Scrape the bottom. Add a bouillon cube if you wish. Cover and cook on high pressure for 30 minutes.
7. Uncover the rice, salt test, and add some cracked black pepper.
8. Add the soaked and rinsed rice. Also, add your chopped tomato. Cover and cook on high pressure for 20 minutes—the "brown rice" option if you have it.
Recipe Card powered by