The Instant Pot is so popular these days, why would we not have an Instant Pot Oatmeal recipe? We all live busy lives and we try to feed ourselves and our families nutritious food. That's not always easy.
If you are Muslim you know that suhoor (the morning meal before a long day of fasting) is important. You need healthy nutrient-dense meals. This Instant Pot Oatmeal recipe is perfect. It is quick, simple, hearty, and if you make an "oatmeal bar" you can make it super fun with endless flavor combinations. I have some other Ramadan recipe ideas here.
The Ratio of Oatmeal to Liquid is Key.
When making this instant pot oatmeal all you really need to remember is the oatmeal to liquid ratio. The best ratio is 3-1. 3 parts liquid to 1 part oatmeal.
For example, in the video, I use 1 Cup of oatmeal. Because of that, I then add 3 Cups of liquid. I used almond milk but it is delicious with regular cow milk or any other non-dairy milk of your choosing.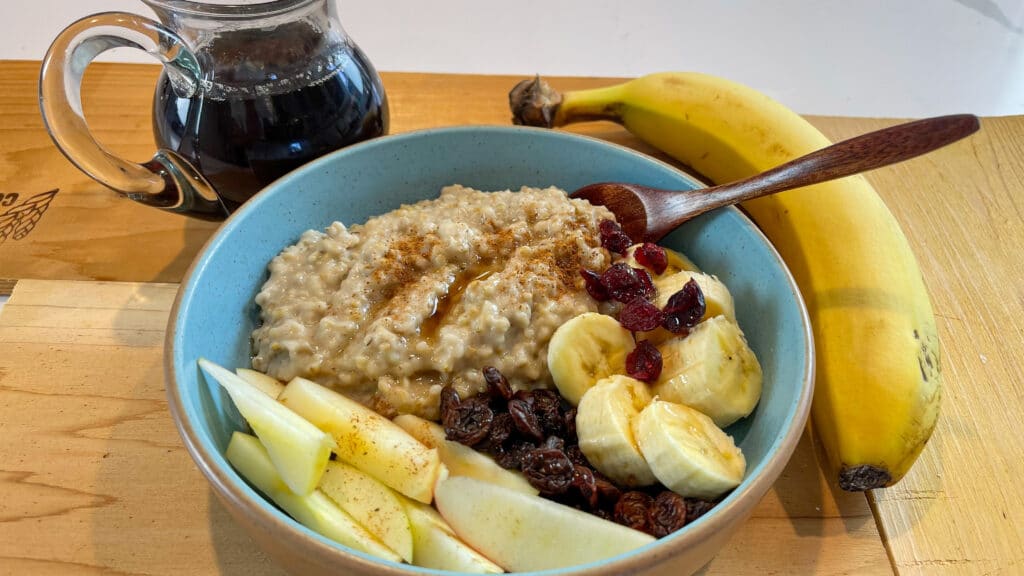 The Flavor Combinations is Where the Fun Comes in with Instant Pot Oatmeal
The video is the best place to see all of my flavor combination ideas. Here are some of my favorite Instant Pot Oatmeal flavor combinations:
Fresh Berries and Cocoa Nibs.
Peanut Butter and Jelly
Almond Butter, Fresh Berries, Pistachios, and Cocoa Nibs
Fresh Apples, Cinnamon, and Syrup Drizzled
If you have grumpy people in the morning, setting up a fun oatmeal bar is a great way to bring some sunshine to anyone's face. The oatmeal toppings bar gives everyone the freedom to make what they want to make.
Please join our Afghan Cooks Club and learn more about me. The Club includes special releases and exclusive videos not released anywhere else.
Also, find us on TikTok, and Instagram. We love it when you share your pictures and videos making our recipes. Finally, click that little red button below and subscribe to my YouTube.
Print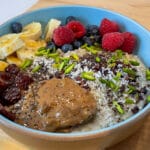 Instant Pot Oatmeal Recipe – Quick & Easy
---
Description
This Instant Pot Oatmeal Recipe is probably the simplest recipe we will ever put on Afghan Cooks. Just remembering the liquid to oatmeal ratio is the key.
---
Non-Instant Oatmeal
Milk (or non-dairy milk alternative)
Salt
Choice of Toppings
---
Instructions
1. Take Non-Instant Oatmeal and place into pressure cooker. Always use a 1-3 ratio. 1 part oatmeal to 3 parts liquid. I used 1 Cup in the video.
2. Since we used 1 Cup of oatmeal, we use 3 Cups of liquid.
3. Next, let it pressure cook for about 5 minutes. Allow pressure to release naturally.
4. Add 1/4 teaspoon of salt.
5. Add the rest of your toppings and enjoy.
Notes
Make sure you watch the video to check out all of my toppings ideas. From Peanut Butter and Jelly, to Fresh Berries and Cocoa nibs, and more.
Recipe Card powered by