Afghan bolani is a signature dish if Afghanistan. You can find bolani sold all along the markets in my country. If you are Afghan and reading this post you are probably like "what, ground beef and sweet potato?" Before the bolani police come after me, I have the traditional bolani recipe here on my website.
Afghan Bolani Basics
Wikipedia has the following to say about Bolani:
Bolani (Dari: بولانی), also called Periki (Pashto: پارکی) is a stuffed flat-bread from Afghanistan,[1] fried with a filling.[2] It has a thin crust and can be stuffed with a variety of ingredients, such as potatoes or leeks but also graced pumpkin, chives, red lentils or with minced meat. It can be served with plain yogurt or mint yogurt and is usually served with a doogh drink
https://en.wikipedia.org/wiki/Bolani
I love bolani, in fact, I was out eating bolani at the Afghan mini-market when I was out getting ground beef for this recipe. Now it was cold that day so I was having some sheer chai, but normally, you would have a cold drink with your bolani. 🙂
Why Use the Air Fryer for Bolani and Why Sweet Potato and Beef?
Why did I make this recipe so much differently than the traditional Afghan bolani? Well, two reasons. First, I wanted to experiment to see if the air fryer would be a good method to prepare bolani. Bolani can be baked, but it is has historically been fried. To be honest, it tastes better fried but sometimes it can be too oily. I was hoping that air frying it might give you the best of both the baked world and the fried world. And, I was right! You are going to love the texture of these bolani after pulling them out of the air fryer.
My second reason for trying this recipe is that I wanted to make a bolani that was nutrient dense and filling. Ramadan is coming up soon and Muslims will be fasting all during the day. Suhoor, the meal before fasting starts during the days of Ramadan, is critical. If you don't have a healthy meal your day is going to be challenging. The ground beef adds more substance and the sweet potato are rich in vitamins and minerals. Also, by air frying, you are able to get full without getting too much oil in your stomach early in the day.
Of course you don't need to be Muslim or fasting to need a good meal to start your day. This meal is a great way to start or end any day of the week.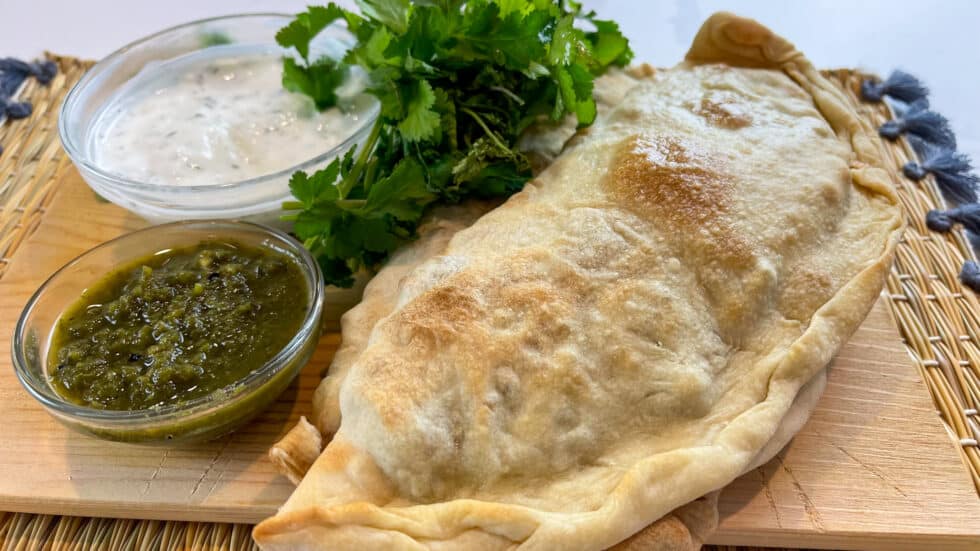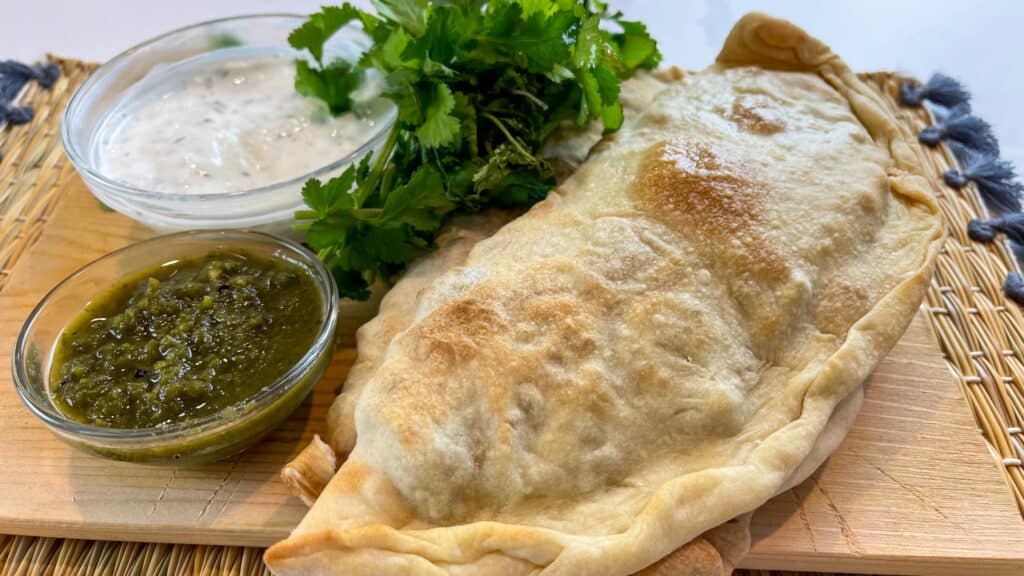 Afghan Bolani Recipe
Now, the part you all have been waiting for, the recipe! But before you read the recipe, just click that little red YouTube block and subscribe to my channel!
Print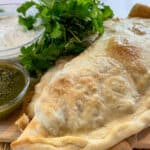 Afghan Bolani – Air Fryer – Ground Beef and Sweet Potato
---
Description
Afghan bolani is a stuffed bread recipe. Traditionally fried, more recently baked for health reasons. I've decided that there has to be a happy medium so I tried air frying. It is perfect. You can keep the crispy without all of the oil.
Traditionally your bolani would be filled with leeks or potatoes. Leeks mainly. This one has ground beef and sweet potatoes for a more nutrient dense and filling mixture.
---
Bolani Filling Ingredients
1 Large Sweet Potato
1.5 lb Ground Beef
3 Onions finely diced
1 tbs oil
1 tsp turmeric
2 tsp cumin
2 tsp coriander
1 tbs Ginger Garlic Paste
1 tsp Salt
1/2 tsp black pepper
Dough Ingredients
3 Cups Flour
2 tsp oil
2 tsp salt
1 1/4 Cups water
---
Instructions
Bolani filling
1. Microwave or boil your sweet potato until fork tender.
2. Brown your meat in all of the spices.
3. Next, 0nce meat and spices are done, add onion. Cook for 3-5 minutes or until slightly translucent.
4. Drain the water from your softened sweet potato and mash in a bowl. Add 1/4 tsp of salt.
5. Pour cooked meat mixture over sweet potato mash and mix. The mixture must cool before you make your bolani.
Dough steps
6. Add flour to mixing bowl.
7. Next, Add oil and salt to flour.
8. I use a stand mixer. Use the dough hook attachment. Slowly add your water to bowl with mixer on low.
9. Your dough will form and it should be fairly dense. Knead dough in mixer for about 3 minutes in mixer, or 5-6 minutes if by hand.
10. After that, wrap dough in plastic wrap and let rest for 20 minutes.
Final Assembly of Bolani
11. Preheat your air-fryer.
12. Take your dough and cut into 8 equal pieces. Then roll each piece into a ball and cover all but one in plastic wrap on a baking sheet.
13. Next, take your first dough ball and roll out with rolling pin into circle.
14. After this take your filling and place onto one half of your dough. Wet edges of dough lightly with finger, folder dough over, and crimp edges with a fork or your finger.
15. Make sure your Air Fryer is now on 380 degrees F.
16. Spray oil into air fryer tray and then place your bolani in the air fryer. Also lightly spray top of bolani with oil or brush with oil.
17. Let bolani cook for about 8 minutes or until the top is lightly golden brown.
18. Serve your bolani with Afghan yogurt sauce and our green chutney. (mandatory step 🙂 )
Notes
1. Filling must be cooled before assembling bolani.
2. Make sure to let that dough rest.
3. Truly it must be served with our yogurt sauce and chutney. You can make my recipe it is so easy.
Recipe Card powered by