This mulberry kulfi recipe requires no ice cream maker and has all the lovely flavors from my home country, Afghanistan. I hope you enjoy it. Let's make it!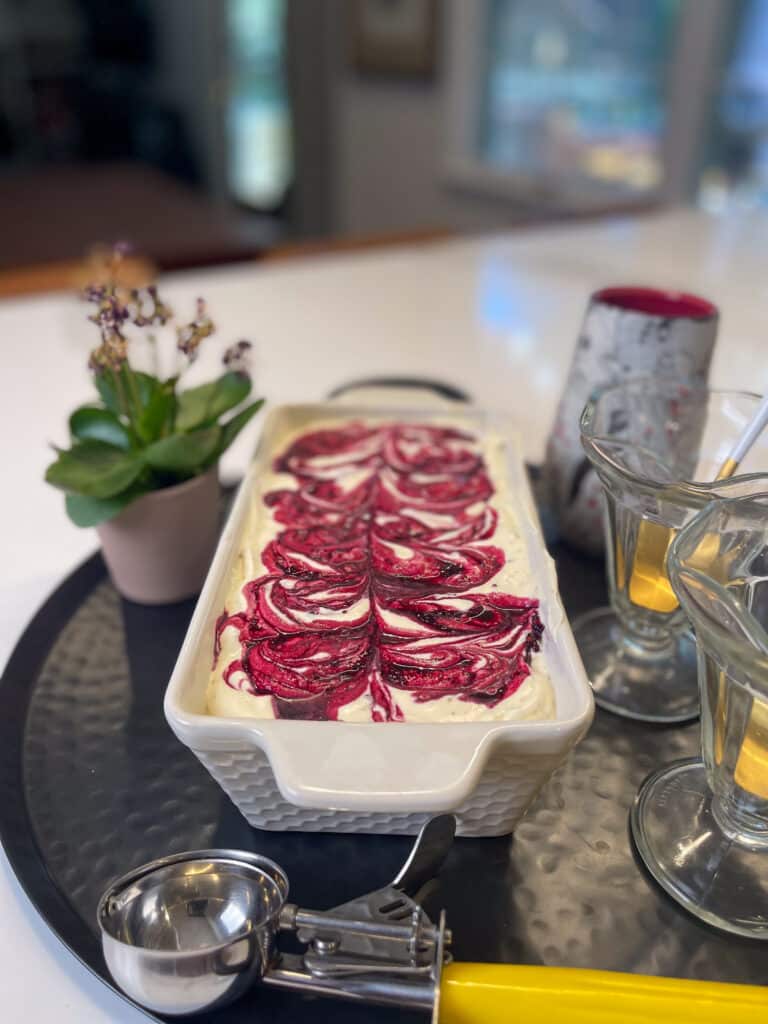 What are Mulberries?
Mulberries are small, sweet fruits from deciduous trees in the Morus genus. Typically ripening in the late spring or early summer, these fruits are cherished for their unique flavor.
They are often consumed fresh or used in various culinary applications, such as jams, pies, and, like Afghans, eaten plain or dried. (They go great with your cornflakes, too) In this recipe I used some delicious frozen mulberries from Frog Hollow Farms.
Depending on the species, mulberries come in multiple colors, from white to red to a deep purple-black. Beyond their culinary use, mulberries are also recognized for their potential health benefits, as they are rich in vitamins, minerals, and antioxidants.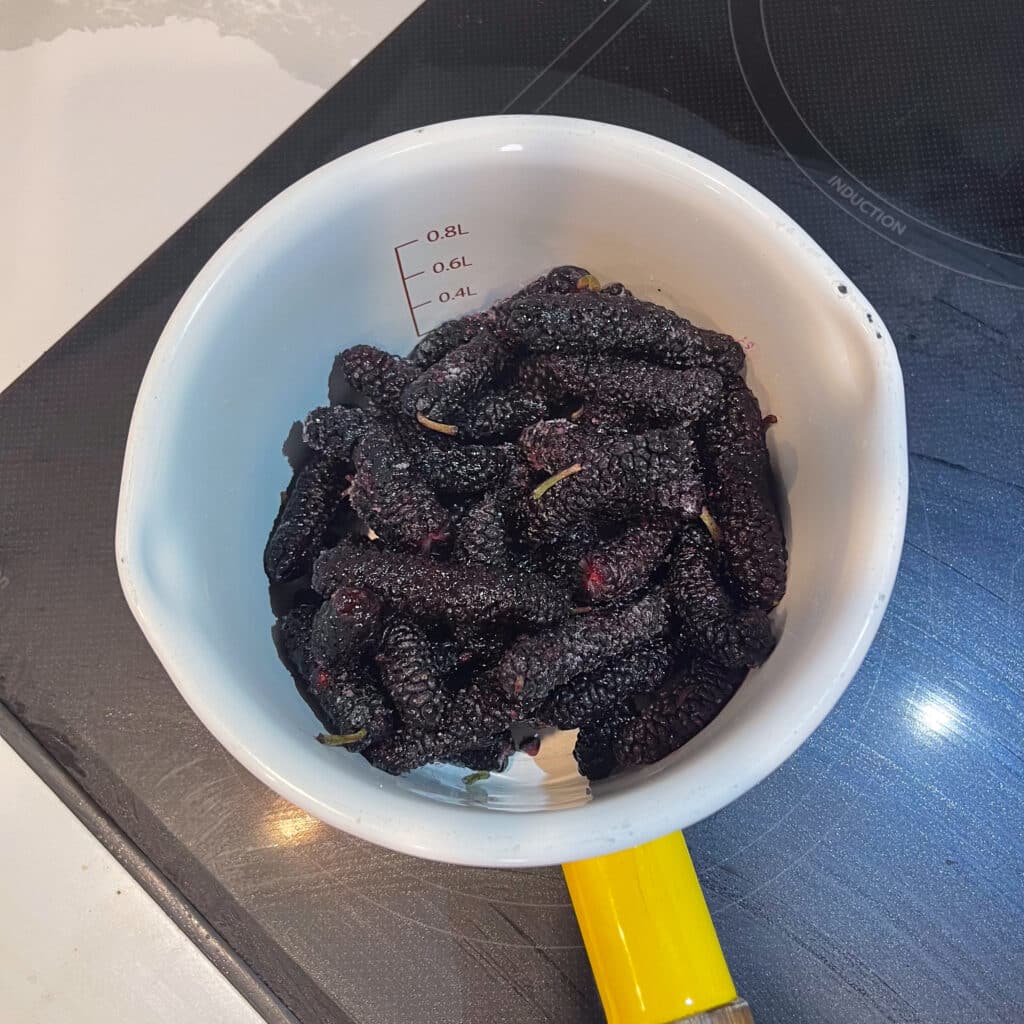 What is Kulfi?
Kulfi is a popular frozen dessert originating from the Indian subcontinent, often described as the traditional Indian ice cream. Unlike Western-style ice cream, Kulfi is not churned during freezing, resulting in a dense, creamy texture.
The base is typically made by slowly simmering milk until it thickens, intensifying the flavor and contributing to the dessert's distinctive richness.
Sugar, spices like cardamom or saffron, and flavorings such as fruit or nuts are added to the reduced milk. The mixture is poured into molds and frozen until set.
Similar to the no-churn ice cream method, this process does not require any special equipment.
As a variant, which we are doing in this recipe, incorporating pureed mulberries into the kulfi mixture can provide a delightful twist to the traditional recipe, infusing it with a unique flavor and nutritional boost.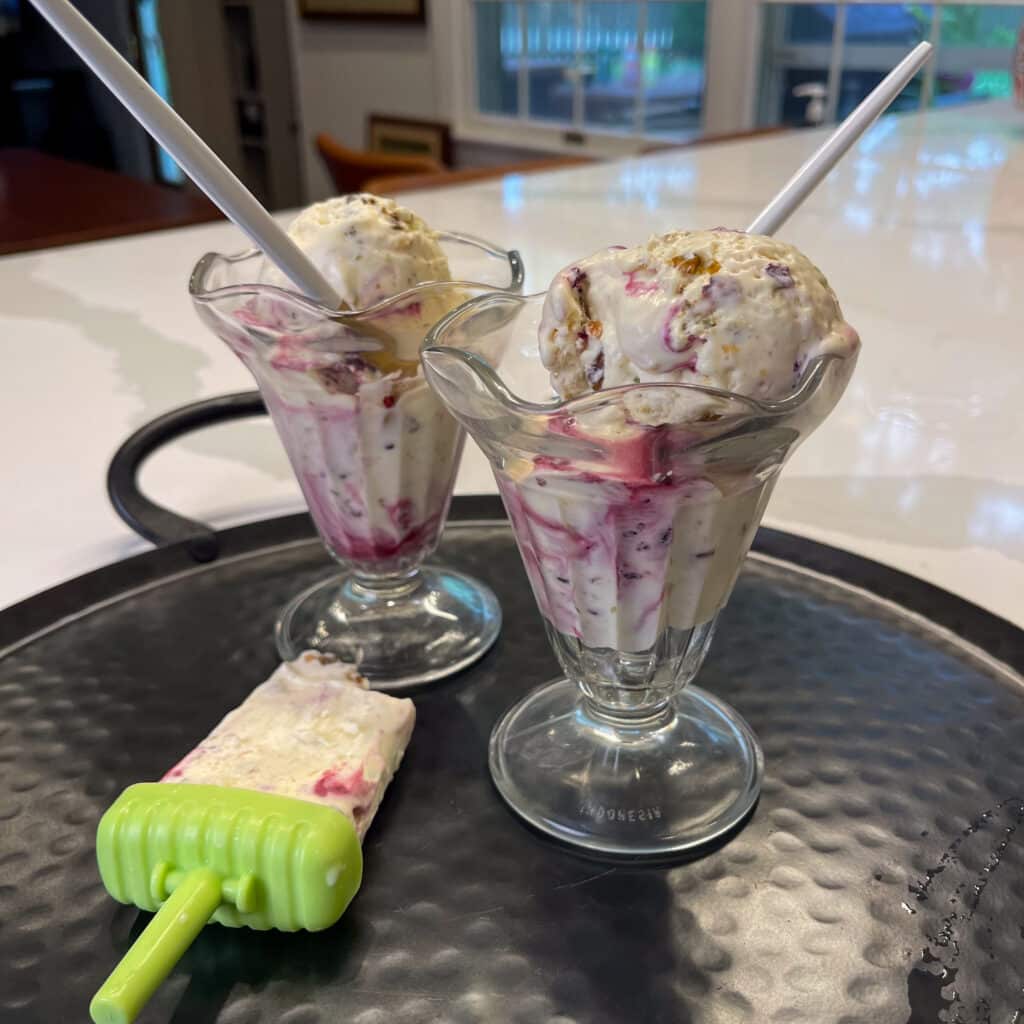 Easily Printable Mulberry Kulfi Recipe.
As always, we make this recipe easy to print and replicate. I suggest you watch the video if you have any questions. Also, leave a comment. I always respond. Are you a fan of Afghan Cooks and want to help spread the word? Well, social media is critical.
Finally, don't forget us on social media. We are on Tik-Tok, Instagram, and Youtube. We also have an excellent non-spammy Afghan Cooks Club. Sign up for that too!
Print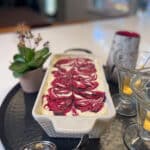 Mulberry Kulfi Recipe (No Churn)
---
Description
People around the world have been making kulfi recipes for a long time. They were no churn before the no-churn ice cream was a thing. Enjoy this mulberry recipe.
---
2 Cups Heavy Cream
1 Can of sweetened condensed milk
1 bag of frozen mulberries from Frog Hollow Farms
1 Pinch of Salt
1 1/2 Cups of Crushed Salted Pistachios (crush different sizes for good texture)
1 Tablespoon Lemon Juice
---
Instructions
1. Put Frozen mulberries into a saucepan over med-low heat. Cook until mulberries release all of their juice – this will take about 5-7 minutes.
2. Place a sieve or strainer or cheesecloth over a bowl and push the mulberries through. You want the mulberry juice, so push hard.
3. Once you've extracted all the juice, put the juice back into the saucepan and add the lemon juice. Allow to simmer for about 2 minutes. Then, take off the heat and allow to cool in your fridge.
4. Now, prepare your cream. Put your cream in a bowl. Beat the cream until it is think and has nice peaks. It should be the consistency of whipped cream.
5. Add your can of sweetened condensed milk to the whipped cream. Whip that into the cream. Next, fold in your pistachios.
6. Take a pretty dish and pour the kulfi (whipped cream mixture) into the dish. Pour your mulberry liquid over it and run a toothpick around it to make a pretty swirl.
7. To avoid ice forming, press saran wrap over the kulfi tightly, and then cover it with foil. Let harden in the freezer.
Notes
Goes great with a cup of Afghan chai.
Recipe Card powered by