Learning a mantu recipe is key to mastering Afghan cuisine. Unfortunately, this dish takes some time and making it is reserved for special occasions. However, I share some tips below on how to make it easier.
What is in a Mantu Recipe?
The mantu is a thin dough that is filled with beef or lamb mixed in onions and spices. The steamed foodstuff then tops it off with an orange sauce made from chaka (thick creamy strained yogurt), giving this dish its unique taste!
There's a specific pattern in which the dough of each dumpling is twisted and closed around the filling. But, I like the simple opposite corners technique. (watch video for details)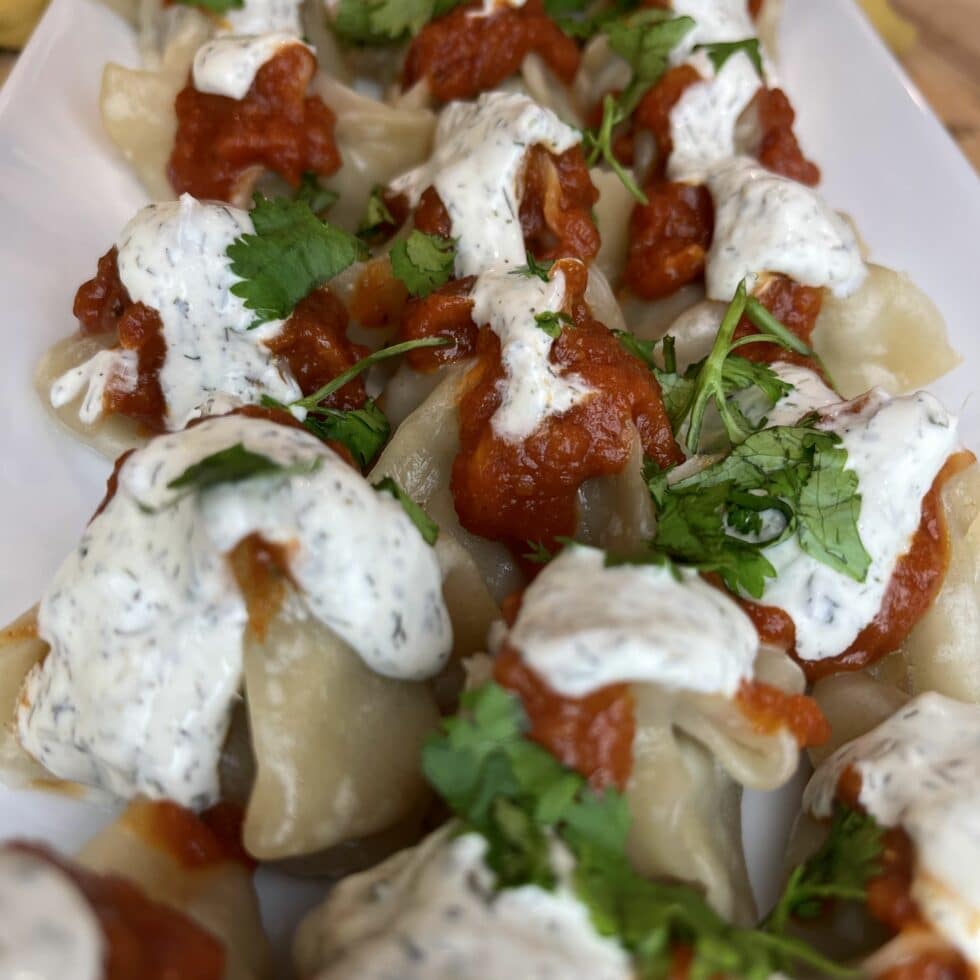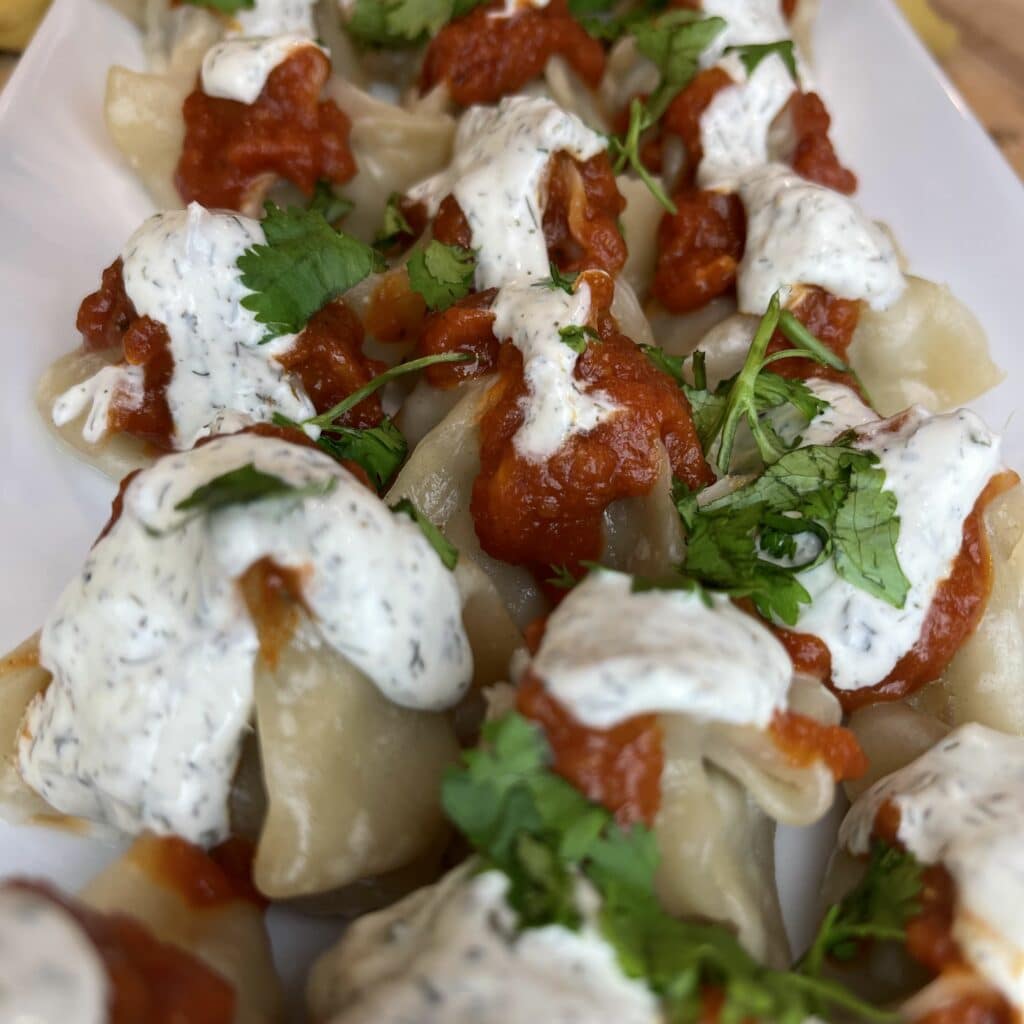 How to Save Some Time.
In the video and the recipe, I give the dough ingredients. There is nothing like homemade dough. But the important thing is actually to make the recipe.
If dough intimidates you, don't worry. Just use wonton wrappers to wrap your mantu. There is no problem with it, and even Afghans use these wrappers when in a rush.
Get Embed Code
A Few Final Tips for this Mantu Recipe.
I make mantu the traditional way. Traditionally, the meat filling is wrapped up still raw. That means that your dumplings will take quite a bit longer.
I think it is worth it. The taste is more authentic. If you don't feel comfortable doing it, you can cook your meat, and then the dumplings will only take 3-4 minutes to steam and be ready.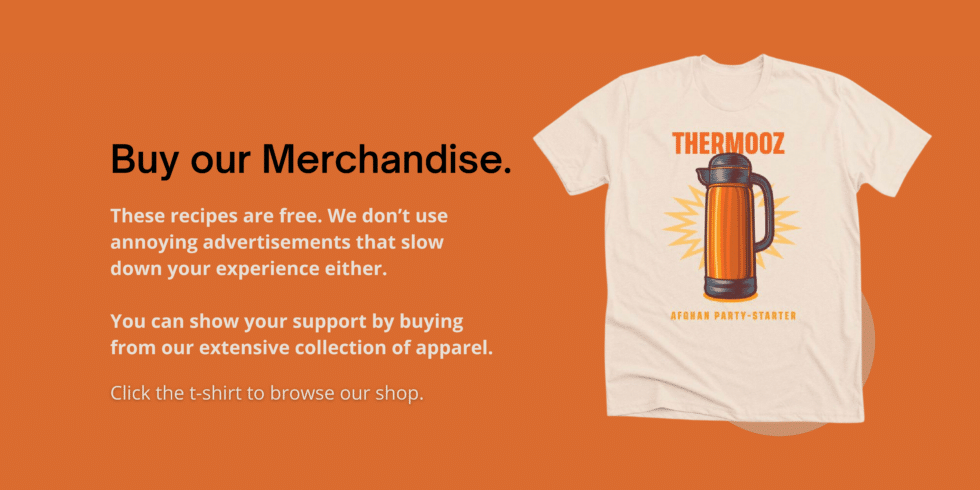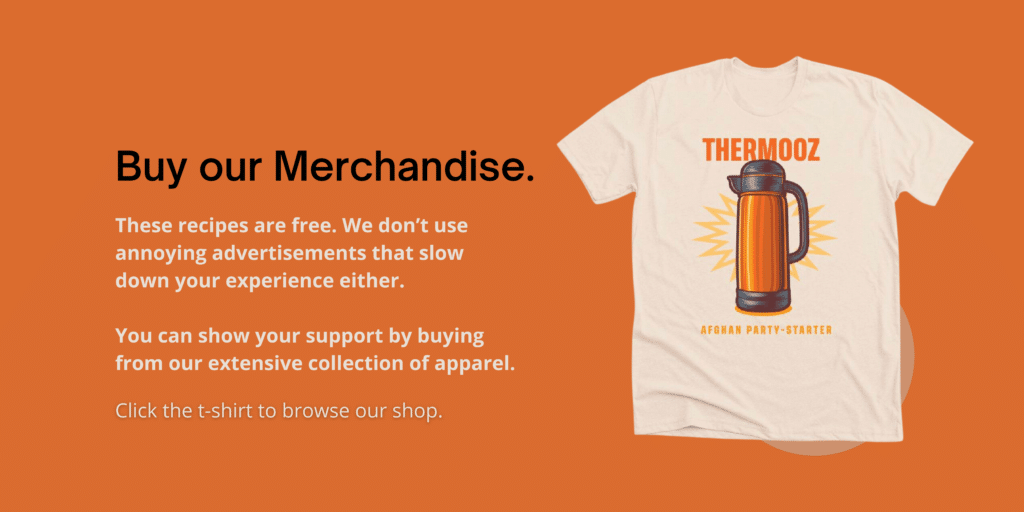 Finally, this recipe is not complete without a topping of Afghan yogurt sauce. You can use our recipe here.
Print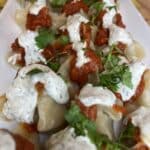 Mantu Recipe – Afghan Dumplings
---
Description
This recipe is for Afghan mantu dumplings. 
---
Meat Ingredients
1 Lb Ground Lamb (can use beef)
2 Cups finely diced onions
1 spicy green chili
2 tsp salt
1 Tablespoon of ground coriander
1 Tablespoon of ground cumin
1 teaspoon of black pepper
Dough Ingredients
3 Cups All-Purpose Flour
2 Tablespoons Vegetable Oil
2 Teaspoons of Salt
1.25 Cups of Water (Customize to your flour and weather conditions)
Sauce Ingredients
1 Tablespoon of vegetable oil
1/4 Cup finely diced onion
1 8 oz can tomato sauce
1 Tablespoon white vinegar
1 tsp garlic powder
1 tsp black pepper
salt to taste
---
Instructions
Dough
1.  Add flour, salt, and oil to the mixer bowl. 
2. Next, start your mixer slowly and slowly add water. Don't rush it. (Alternatively, you can knead by hand and slowly add water as you go)
3. After that, you will have to start trusting your eye. You have to let the water incorporate with your dry ingredients. You can eventually turn the mixer on high.
4. After a few minutes, you should notice the dough coming together. It will start to look like a stretchy piece of dough and will begin to grab your dough hook.
5. Want to knead by hand for about 6-7 minutes—mixer about 4.
6. Even if using a mixer, I like to take the dough out and onto a flour surface and hand knead a few minutes to make sure the dough is firm.
Sauce
7. Add oil to pan. 
8. After the oil is heated, add onion. Sautee onion for about 2 minutes.
9. Then, add tomato sauce and spices. Stir and simmer for an additional 5 minutes.
10. Finally, add vinegar, cook for 2 minutes, set aside.
Filling
11. Mix meat ingredients from above until thoroughly combined. This will take several minutes.
Assembly of Dumplings
12. Divide dough into four pieces.
13. Next, roll out one portion of dough until it is about almost see-through. It should be rolled into a rectangular shape. It should be pretty thin if you don't mind a thicker or chewier dough (and I don't :)), get it to where you can barely see the surface underneath. 
14. As an alternative step to rolling it out entirely by hand and with a roller, you can use a pasta machine attachment.
15. Next, use a knife or pizza cutter and divide the rolled-out dough into equal-sized squares. 
16. Once that is done, put a scoop of filling into the center of one square. For the folding method, take opposite corners and pinch them together. (Watching the video is critical for this) This is the easiest way. 
17. Next, grease steamer basket place dumplings in the greased steamer basket. Cover steamer basket and let steam for approximately 30-35 minutes.
18. Finally, to serve, place the dumpling on a platter top with the reheated tomato sauce, our yogurt sauce, and garnish with cilantro.
Notes
Make sure you prepare some Afghan yogurt sauce with our recipe here.
Recipe Card powered by