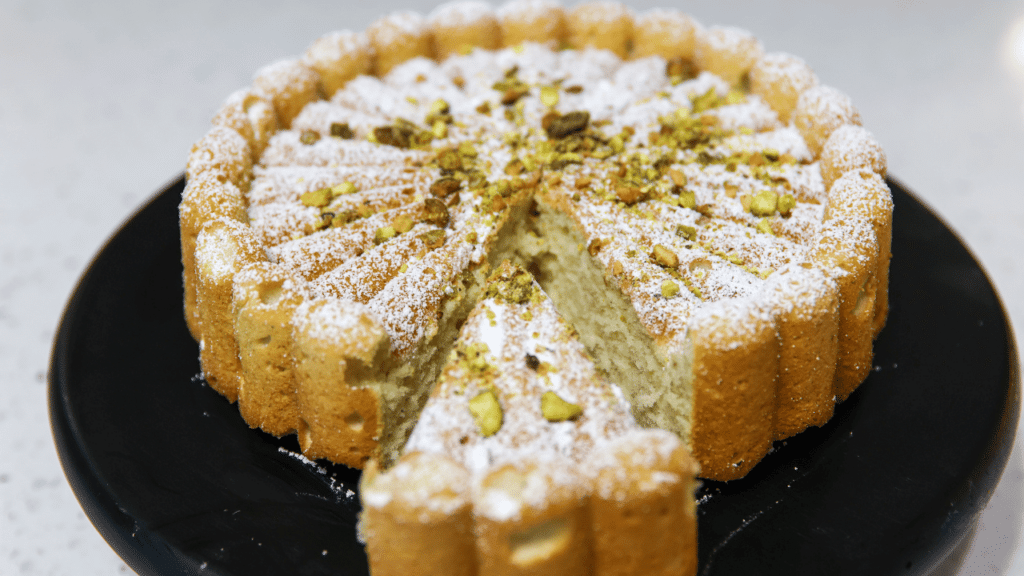 This lemon cake is bright, moist, and tasty and includes many traditional Afghan flavors.
Let's make it.
Basics Tips for Making a Great Cake
Making a perfect cake requires careful attention to detail and adherence to some fundamental baking rules. First, always ensure that all your ingredients are at room temperature, which helps mix them well.
Second, accurately measure your ingredients. Too much or too little of a component can affect the taste and texture of the cake.
Third, avoid overmixing the batter, which could lead to a dense cake. Fourth, preheat your oven before baking.
An adequately heated oven cooks the cake evenly and helps it rise appropriately. Lastly, practice patience during the cooling process. Allow the cake to cool completely before applying frosting to prevent it from melting and making a mess.
Afghan Flavors in this Lemon Cake Recipe
When I made a lemon cake, we'd have to make it a little Afghan.
In this cake, we add cardamom and pistachios to give it a real Afghan vibe.
Get a Pretty Baking Pan for Your Lemon Cake
Take a minute and look at various cakes you admire. I'm not talking about the goofy fondant cakes that look like candy bars and coffee makers. I'm talking about old-school pretty.
The ones you like are probably because of a fancy baking pan. I love Nordicware. They don't sponsor me; I've used them since I was a food content creator.
This is the one I use in the video, but get creative. Pick one you like, and you'll look like a pro.
Easily Printable Lemon Cake Recipe with Cardamom
As always, we make this recipe easy to print and replicate. I suggest you watch the video if you have any questions. Also, leave a comment. I always respond. Are you a fan of Afghan Cooks and want to help spread the word? Well, social media is critical.
Finally, don't forget us on social media. We are on Tik-Tok, Instagram, and Youtube. We also have an excellent non-spammy Afghan Cooks Club. Sign up for that too!
Print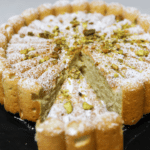 Moist Lemon Cake with Cardamom
---
Description
This lemon cake is easy, tasty, and moist. The cardamom and pistachios give a true Afghan vibe.
---
1/2 Cup butter (soft)
3/4 Cup sugar
1 tablespoon lemon zest
2 eggs
1/2 teaspoon salt
1 teaspoon baking powder
1 teaspoon cardamom
1 1/2 Cup flour
2 tablespoons cornstarch
1/4 cup milk
t tablespoons lemon juice
2 tablespoons sour cream
1/2 teaspoon vanilla
---
Instructions
1. Preheat oven to 350 F.
2. Combine butter, sugar, and lemon zest. Cream for about 2 minutes.
3. Add eggs, one at a time. whisk.
4. In a separate bowl, whisk flour, salt, baking powder, cornstarch, and cardamom.
5. Next, mix lemon juice, milk, and vanilla.
6. Add flour, stir, then add milk, stir. Then add flour, stir.
7. Next, stir in sour cream and mix until combined. Do not overmix. Overmixing can ruin a great cake.
8. Grease your pan, well.
9. Next, bake for 30-35 minutes. Use the toothpick method. If you can put a toothpick in the cake and it comes out clean, it is done.
10. Allow the cake to cool in a pan for about 10 minutes, then turn out onto a cake plate. Then, let cool for another 10 minutes. After that, sprinkle with powdered sugar and pistachios.
Recipe Card powered by