Everyone needs a no churn peach ice cream recipe for the summer, and I've got a great one for you here.
What is No Churn Ice Cream?
No-churn ice cream is a variation that does not require the traditional churning method to achieve its creamy texture. Instead, it typically relies on a combination of sweetened condensed milk and whipped heavy cream to create a smooth and luscious ice cream.
The mixture is then frozen until firm. This method has gained popularity due to its simplicity and ease, making homemade ice cream accessible to anyone without needing an ice cream machine.
Why Peach Ice Cream?
Peach ice cream stands out as a delightful variant of the no-churn method and is especially relished during the warmer months. Its fresh and fruity flavor makes a beautiful contrast to the rich creaminess of the ice cream base. The light tanginess of peaches cuts through the sweetness, providing a beautifully balanced taste.
Furthermore, including peaches enhances the taste and adds vibrant color to the ice cream, making it visually appealing. This makes peach ice cream a treat for the taste buds and a feast for the eyes!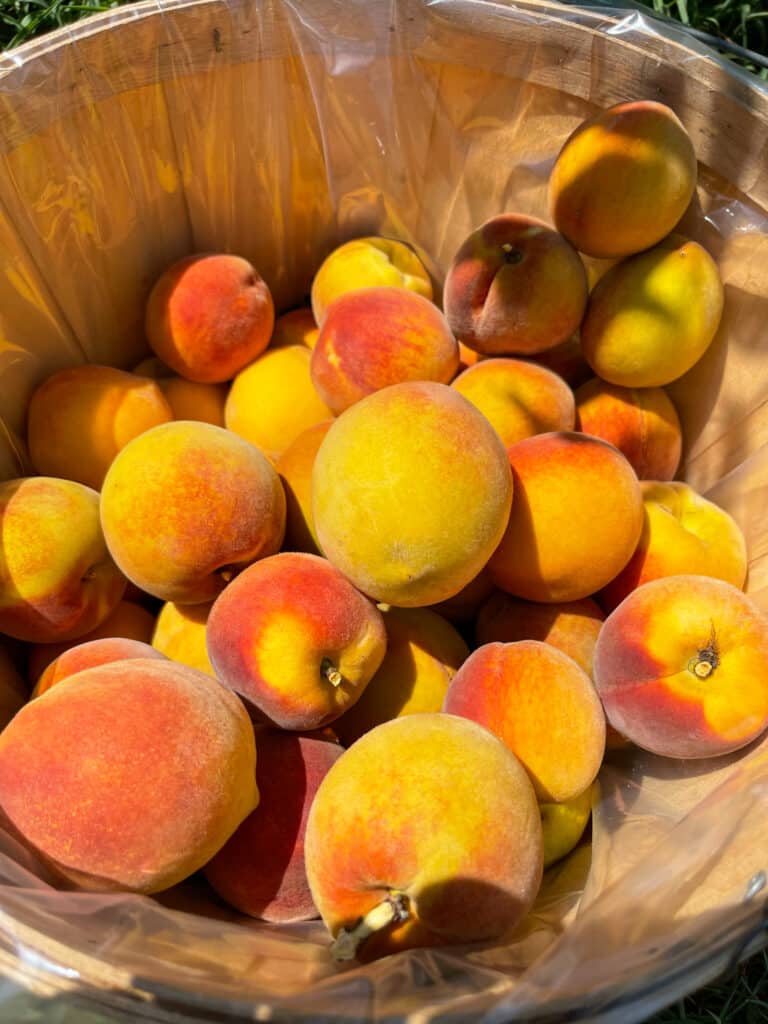 Easily Printable Recipe for Peach Ice Cream
As always, we make this recipe easy to print and replicate. I suggest you watch the video if you have any questions. Also, leave a comment. I always respond. Are you a fan of Afghan Cooks and want to help spread the word? Well, social media is critical. Finally, don't forget us on social media. We are on Tik-Tok, Instagram, and Youtube. We also have an excellent non-spammy Afghan Cooks Club. Sign up for that too!
Print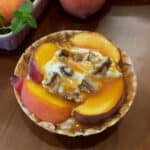 Easy No Churn Peach Ice Cream
---
Description
You don't need an ice cream maker for this delicious peach ice cream. This makes 1 quart.
---
5 ripe peaches
Pinch saffron
2 tsp vanilla extract
1 tbs honey
1 tsp salt
2 cups heavy whipping cream
1 can sweetened condensed milk
---
Instructions
1. Bring a pot of water to a boil. Add your peaches and allow to boil for just about 1 minute.
2. Remove and run under cold water so you don't burn your hands. The peach skins should come right off.
3. Chop the peaches, removing and discarding pits and place in a saucepan.
4. Add honey, vanilla extract, salt and saffron.
5. Heat on medium low until the peaches begin to really break down, releasing the liquid. Cooking the peaches gets rid of the water and makes sure you have a creamy and not icy ice cream.
6. When the peaches have broken down almost completely, give them a final mushing and set them aside to cool. You can put them in the refrigerator as well.
7. Make sure your whipping cream is very cold. Add it to your bowl and whip until you have nice peaks. You don't it too stiff but you don't want it runny either!
8. Add the sweetened condensed milk and whip again for a minute. Fold in the peaches.
9. Pour into a container, cover with plastic wrap (make sure the wrap touches the ice cream so no ice can form) and then cover with foil or another layer of plastic. If you have an insulated ice cream container that's even better.
10. Place in freezer for a minimum of four hours. After four hours you will have a nice, soft ice cream. The longer you leave it, the harder it gets.
 11. I served this in a waffle bowl with fresh peach slices, homemade caramel sauce and nuts. 
Recipe Card powered by