Let's make vegan biryani.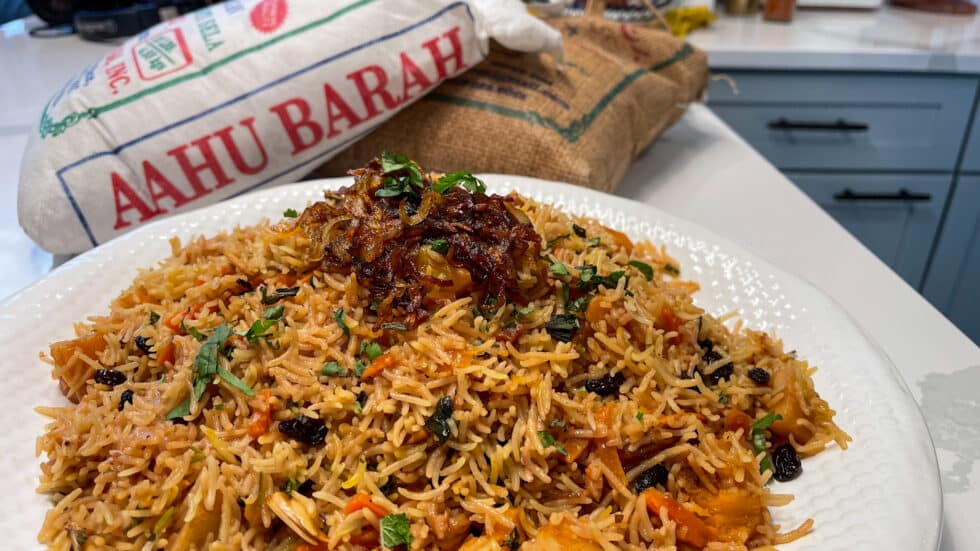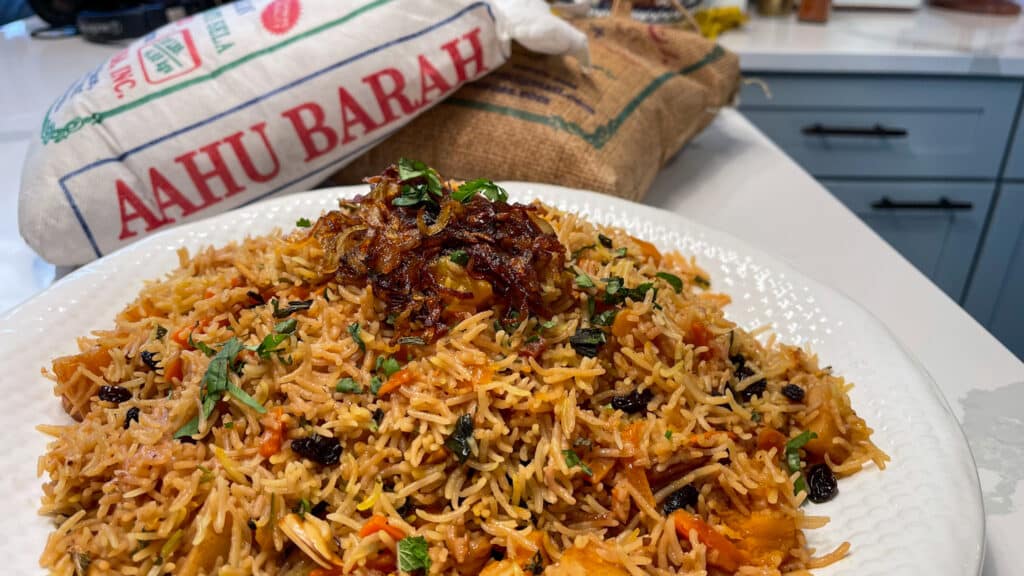 It is the time of year for Thanksgiving in the United States. As someone born in Afghanistan but who moved to the US at 18 months old, I have experienced all the traditional Thanksgiving dishes: stuffing, turkey, and cranberry sauce. (stuffing the best)
As the US becomes more and more diverse, so should the food dishes at our holidays become. I thought, why not make a rice dish that would look familiar on a Thanksgiving day table?
That's when I came up with this vegan biryani with root vegetables and saffron.
What is Biryani?
Biryani is a popular dish in India, Pakistan, Afghanistan, and Iran. It's a rice dish traditionally cooked with meat or vegetables and spiced with garam masala, or in Afghanistan, char masala.
Here is a snippet from Wiki:
is a mixed rice dish originating among the Muslims of the Indian subcontinent. It is made with Indian spices, rice, and usually some type of meat (chicken, beef, goat, lamb, prawn, fish) or in some cases, without any meat, and sometimes, in addition, eggs and potatoes.

Biryani is one of the most popular dishes in South Asia and among the diaspora from the region. Similar dishes are also prepared in other parts of the world such as in Iraq, Thailand, and Malaysia. Biryani is the single most-ordered dish on Indian online food ordering and delivery services

https://en.wikipedia.org/wiki/Biryani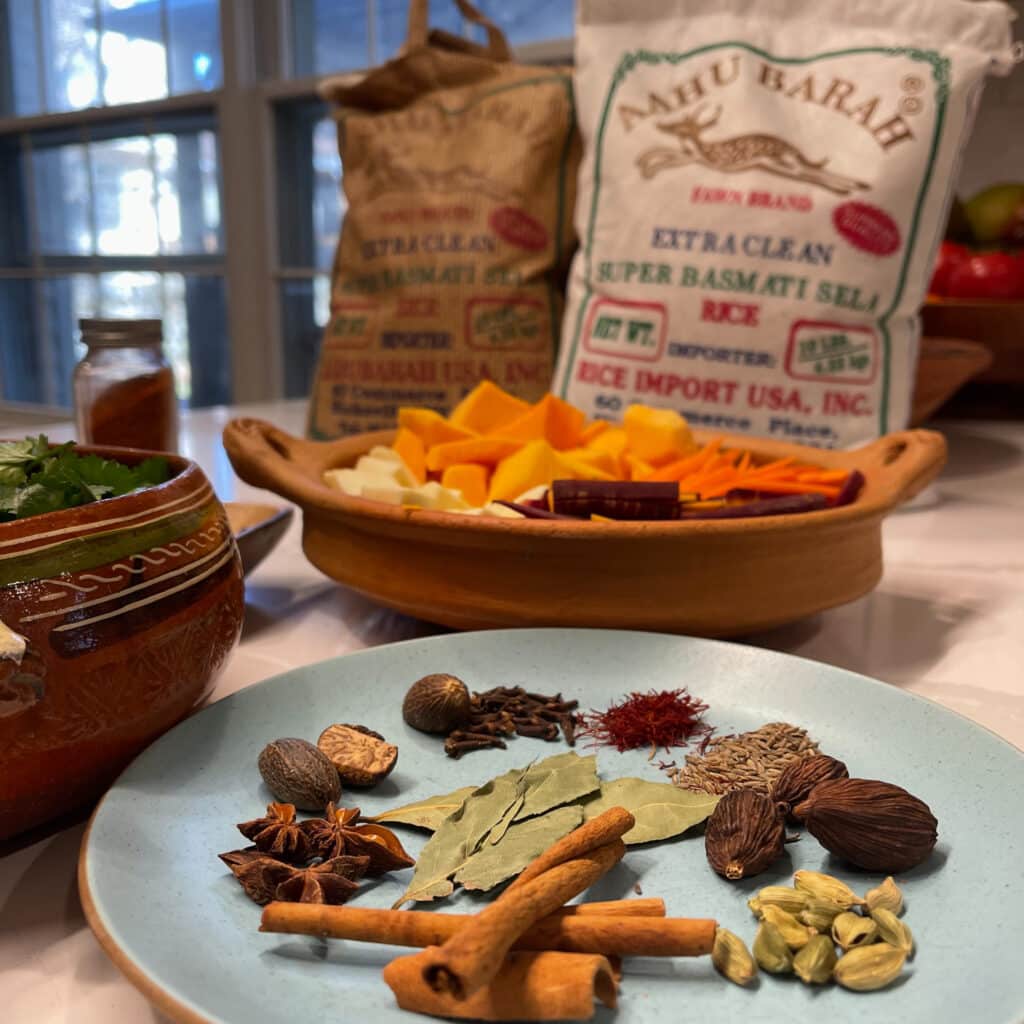 My Creation: The Root Vegetable Biryani with Saffron
This vegan biryani is the perfect Thanksgiving meal because it combines flavors from around the world in one delicious dish. The vegan ingredients add an earthy flavor to the dish, while the spices add to the rich aromas.
Because we use all vegan ingredients, I make a homemade "broth" infused with rich spices. Your house will smell heavenly.
So if you're looking for something unique to serve on Thanksgiving this year, vegan biryani is a perfect choice. It's easy to make and will surely be a hit with everyone at the table. Enjoy!
What to learn something cool? Check out our exclusive recipe for Afghan Nachos.
Tip: For best results, use long-grain basmati rice for this vegan biryani recipe. Basmati rice gives the dish a light and fluffy texture that is irresistible!
Specifically, we recommend Aahu Barah rice. If you watch the video on Youtube, we have a 10% off coupon for your first order in their store!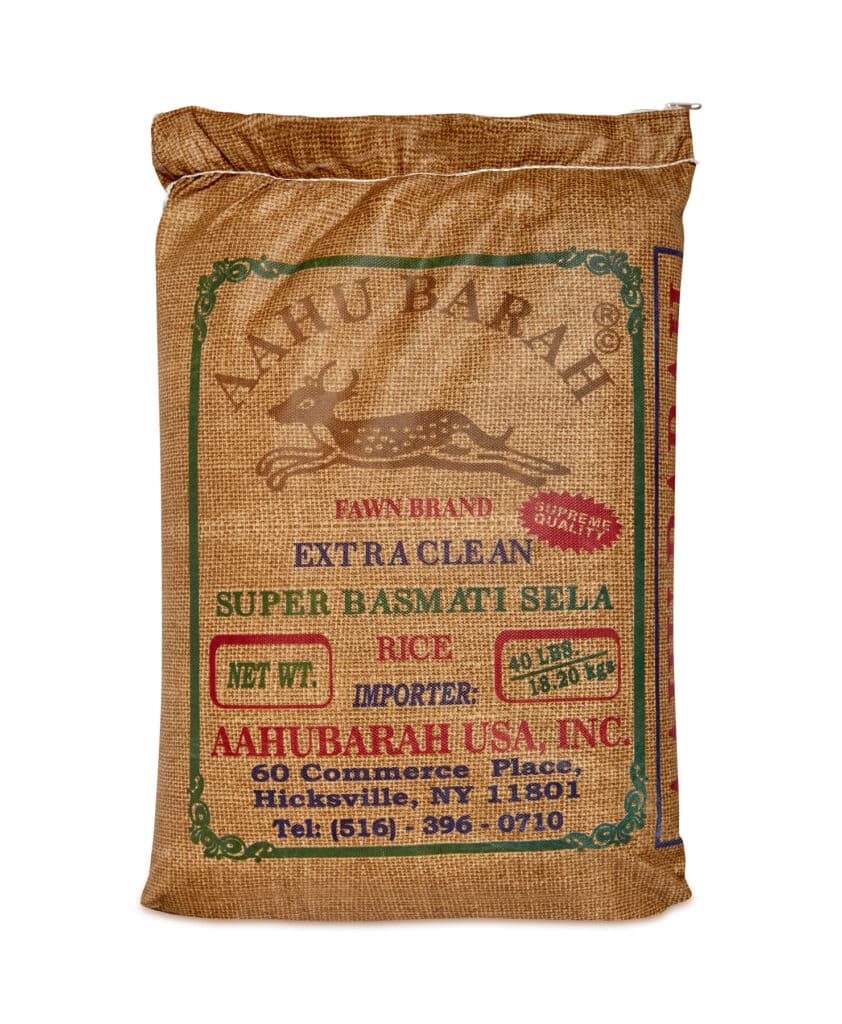 Printable Vegan Biryani Recipe and Coupon!
As always, we make this recipe easy to print and replicate. I suggest you watch the video if you have any questions. Also, leave a comment. I always respond.
Are you a fan of Afghan Cooks and want to help spread the word? Well, social media is critical. Finally, don't forget us on social media. We are on Tik-Tok, Instagram, and Youtube.
We also have an excellent non-spammy Afghan Cooks Club. Sign up for that too!
Want Secret Recipes? News Updates?
Subscribe to our Afghan Cooks Club now. (free secret recipe for signing up)
Print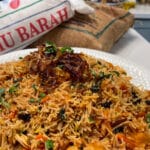 Thanksgiving Vegan Biryani – A Fusion of Flavors
---
Description
I am Afghan and American. I wanted to come up with a dish that Afghans would love to eat any time of the year but that also could fuse with a Thanksgiving dinner table. This dish uses the best long-grain basmati from Aahu Barah along with roasted root vegetables, fried onions, and saffron. A real people-pleaser.
---
Cooking Oil
3 Cups Aahu Barah Long Grain Basmati Rice
1/4 Cup of Raisins
1/4 Cup Slivered Almonds
Water for Broth
1 Cinnamon Stick
1 Star Anise
1 Black Cardamom (or sub 2 green cardamom)
1 Star Anise
4 Cloves
Nutmeg (grated)
Saffron
1/2 Teaspoon of rose water
2–3 Onions (finely sliced)
2 Tablespoons Ginger Garlic Paste
1 Teaspoon Cumin Seeds
2 Cups Butternut Squash
1 Parsnip
2 Large Carrots
2 Teaspoons Char Masala
1 Teaspoon of Salt
Black Pepper
Fresh Mint
Fresh Cilantro
2 Bay Leaves
---
Instructions
1. First, soak your rice for help in learning how to rinse and soak rice, and watch my how-to on rice.
2. Heat some oil in a pan and then cook the raisins. Be very careful that you don't burn them. They will start to plump up. Then, you will add your slivered almonds. Again, you want the almonds slightly toasted, not burned. Then, set aside.
3. Next, we make a broth. You usually use a meat broth in biryani, but we won't do that here since vegan. Let's make our own! Heat 3 Cups of water in a saucepan. Crush star anise, cumin, and cloves in a mortar and pestle. Or use a spice grinder. Also, grate nutmeg into your "broth." Add 2 Teaspoons of salt. Bring your broth to a boil and simmer for 5 minutes, then sit aside and let steep to continue building flavor.
4. Now, we will make our saffron-infused water. Back to your saucepan, you will add a half-cup of water. Bring to a simmer. Add a generous pinch of saffron. Add the rose water When the water turns bright gold, remove from the heat and set aside.
5. Now, we fry the onions. Add 1 Cup of oil to your pot. Once heated, add your sliced onions. You will want to fry them. Do not sautee. Please watch the video. You want to be fried, not wimpy and soft. This takes a while. If you can access well-fried onions in an ethnic grocery store, go for it. (not French's) Once fried, remove from your pot, set aside, but then go back to the pot so we can cook our root vegetables.
6. Now, back to your pot. Add your ginger paste and cumin seeds. Add all your root vegetables. You can use whatever root vegetables you like. I used parsnip, carrots, and butternut squash.
7. Next, add char masala, salt, and a few cracks of black pepper. Now, add your drained rice over the top. Then add bay leaves and some fresh mint and cilantro.
8. Now you will, with a strainer, pour your "broth" over the rice and then pour your saffron-infused water over the rice as well.
9. Now, let your mixture come up to a boil, then turn it down to low heat and let it cook for 40 minutes. Please watch the video to see how to tie a dish towel around your lid before you let it sit for 40 minutes.
10. Take some of your extra fried onions and place them over the top of the dish. Sprinkle some fresh cilantro and mint over the top for looks.
Recipe Card powered by