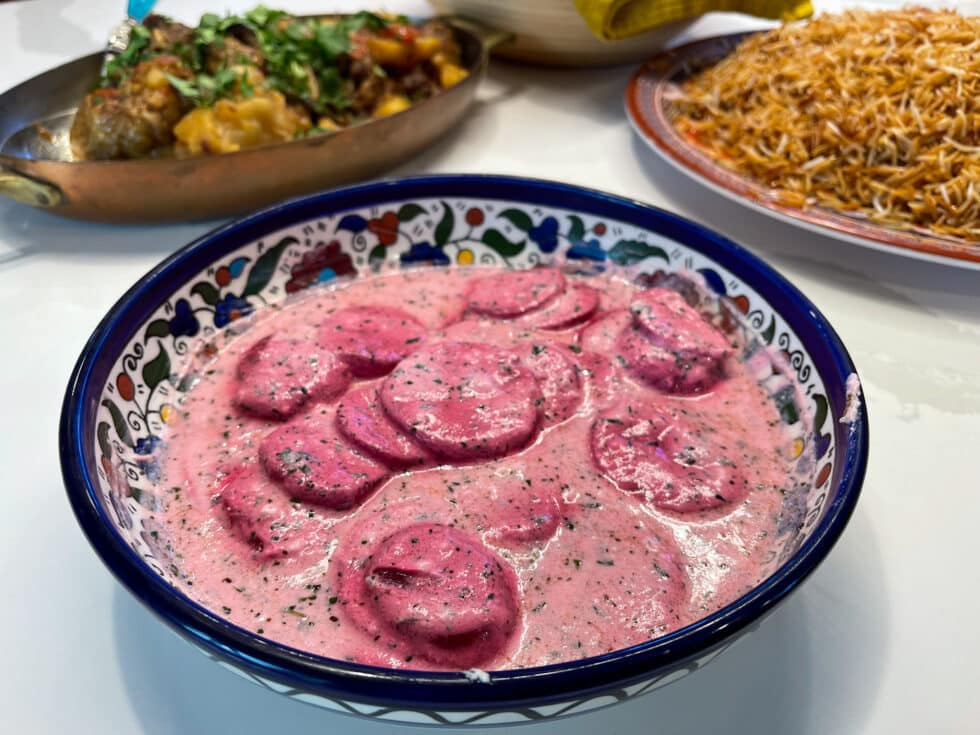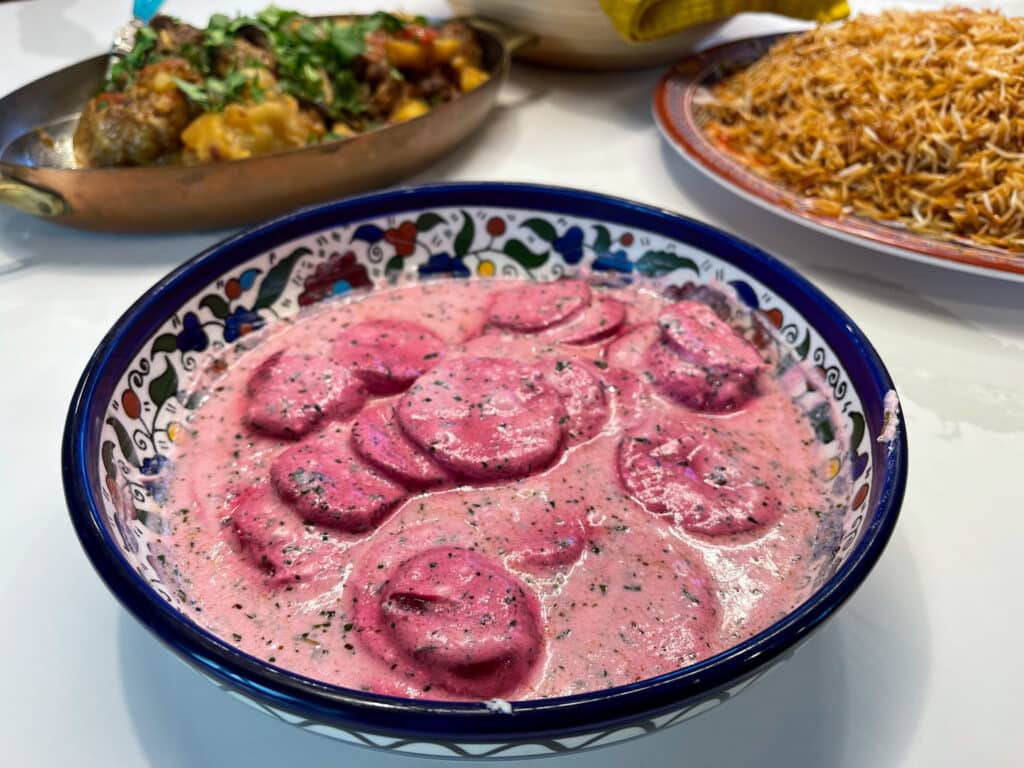 Beets are a delicious root vegetable served hot or cold, sour or savory. This Beet salad recipe is popular in Iran and Afghanistan. We love our veggies, and more particularly, we love to combine them with a yogurt sauce.
For another veggie dish with yogurt, try the world-famous borani kaddo.
Beets in Afghanistan and Iran
Beets are harvested in Iran and Afghanistan. In Iran, they are grown widely in the Herat province.
In Iran, hot beets are served as street food from wheeled carts. (gari) The same is true in Afghanistan. Afghans will typically eat these warm beets on a cold winter day.
Over the last few years, Beets have become one of Afghanistan's most significant agricultural exports. In 2021, sugar beet production for Afghanistan was 3,541 tonnes.
Health Benefits of a Beet Salad Recipe
Not only are beets delicious, but eating recipes like this gets you all of the incredible health benefits of beets:
Anti-inflammatory properties
High in fiber.
High in nitrates.
Excellent source of potassium.
Contains anti-oxidants
Easily Printable Beet Salad Recipe
One of the shallow reasons that beets are great to cook with is that they always offer a stunning color. Adding beets to your dinner table can add a nice aesthetic touch.
As always, we make this recipe easy to print and replicate. I suggest you watch the video if you have any questions. Also, leave a comment. I always respond.
Are you a fan of Afghan Cooks and want to help spread the word? Well, social media is critical. Finally, don't forget us on social media. We are on Tik-Tok, Instagram, and Youtube.
We also have an excellent non-spammy Afghan Cooks Club. Sign up for that too!
Want Secret Recipes? News Updates?
Subscribe to our Afghan Cooks Club now. (free secret recipe for signing up)
Print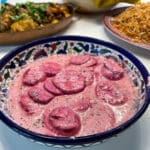 Beet Salad Recipe – Borani Laboo
---
1/2 Cup Yogurt (non-Greek is best)
2 Handfuls of Dried Mint
1/2 Teaspoon Garlic Powder
2 Tablespoons Olive Oil
1/2 Teaspoon of Salt
Juice of 1/2 Lemon
---
Instructions
1. Take all of your ingredients except for the beets and mix into a bowl.
2. Add your beets, then make sure and. cover all of your beets with the yogurt mixture. Let sit for 1-2 hours in the fridge.
3. Serve as you would any side dish or vegetable.
Recipe Card powered by