Chicken Karahi is a recipe that Afghans love but did not originate in Afghanistan. The different ethnic groups of Afghanistan are far more ancient than any recent political borders. I made this as a "quick" recipe that is meant to be able to make during a busy week.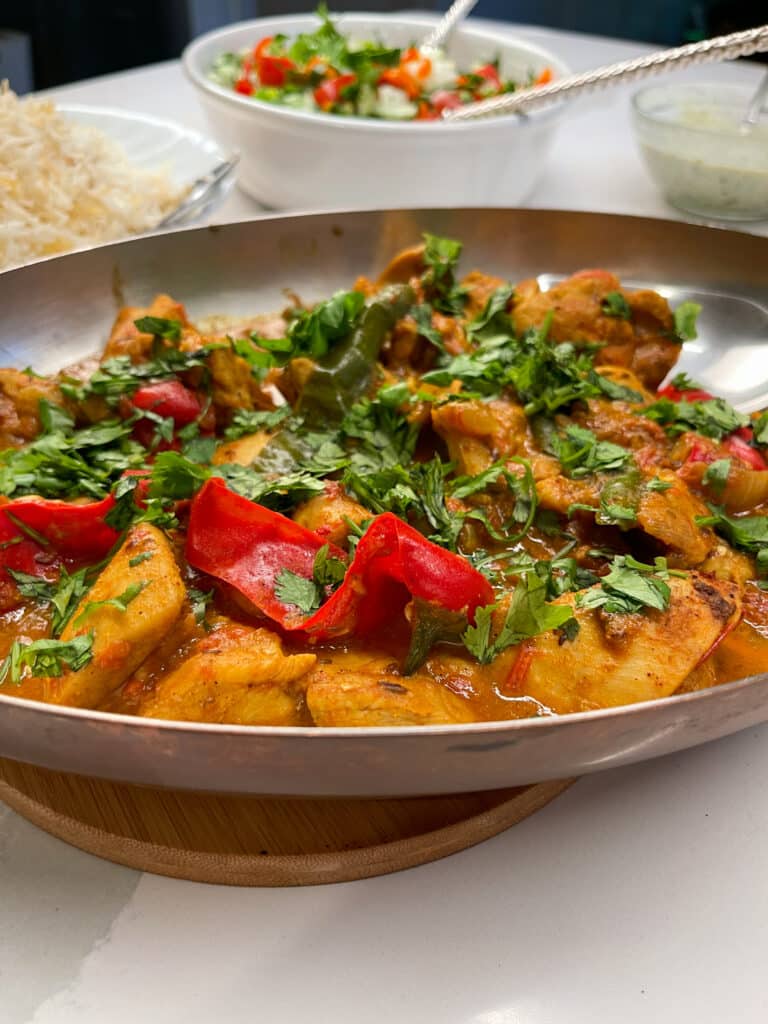 How is this a "weeknight karahi"?
Chicken karahi is typically a long slow, cooked dish that isn't conducive to busy working parents. I have taken shortcuts to keep the flavor and make it easier.
The main "hack" here is to use skinless, boneless chicken. Bones add lots of flavors but, unfortunately, add a lot of cooking time.
With this recipe, by the time your rice is ready, your chicken will almost be prepared, too!
History of Chicken Karahi.
Chicken Karahi, or Kadai Chicken, is popular in South Asian cuisine, particularly in India and Pakistan. Its name is derived from the Kadai, a thick, circular cooking pot traditionally used in the Indian subcontinent. This dish stands out for its rich, spicy flavor, characterized by the use of various spices and herbs such as ginger, garlic, chilies, and garam masala.
Although the exact origins of this dish are unknown, it is believed to have been first created by the nomadic tribes of North India and Pakistan, who needed a simple and quick method of cooking their meals while on the move. Over time, Chicken Karahi has become a staple in South Asian households and restaurants, loved for its deep flavors and versatility.
Easily Printable Recipe.
As always, we make this recipe easy to print and replicate. I suggest you watch the video if you have any questions. Also, leave a comment. I always respond. Are you a fan of Afghan Cooks and want to help spread the word? Well, social media is critical. Finally, don't forget us on social media. We are on Tik-Tok, Instagram, and Youtube. We also have an excellent non-spammy Afghan Cooks Club. Sign up for that too!
Print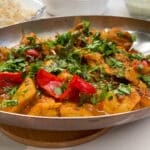 Chicken Karahi
---
Description
Chicken karahi is typically made with bone-in chicken, but try this recipe for a busy weeknight.
---
1 1/2 – 2 pounds boneless skinless chicken thighs (cut into bite-size pieces)
2 tomatoes
1 onion, chopped
1 tablespoon ginger garlic paste
1 1/2 teaspoon cumin
1 1/2 teaspoon coriander
1 1/2 teaspoon salt
1 teaspoon tumeric
1 teaspoon paprika
1 teaspoon black pepper
1 teaspoon chili powder
1 teaspoon garam masala
2 tablespoons oil
2 chilis, sliced (optional)
cilantro, chopped (for garnish)
---
Instructions
1. Heat pan on medium to medium-high heat. Add oil until it starts to shimmer. Add onions and saute until lightly browned.
2. While onions are browning, grate your tomatoes on a cheese grater to remove the skins. Discard skins.
3. Set aside tomatoes. Then, add ginger garlic paste to onions and cook for one minute.
4. Add all of your spices except the garam masala. Then, add your chicken until slightly browned. (use up to 1 tsp of spices per each pound of chicken)
5.  Cook chicken for about 3 minutes until the chicken is covered in all the spices. Next, add your tomatoes and stir. Cover for 15 minutes. Stir occasionally. (Note: if your tomatoes are not juicy enough, can add a little water. You want to have a sauce)
6. Add your sliced chilis and garam masala and cook another 5-7 minutes. Finally, serve with the cilantro garnish and some challow and salata.
Recipe Card powered by