Afghan samosas are unique and delicious. These are not like the ones you have had before. Let's make them.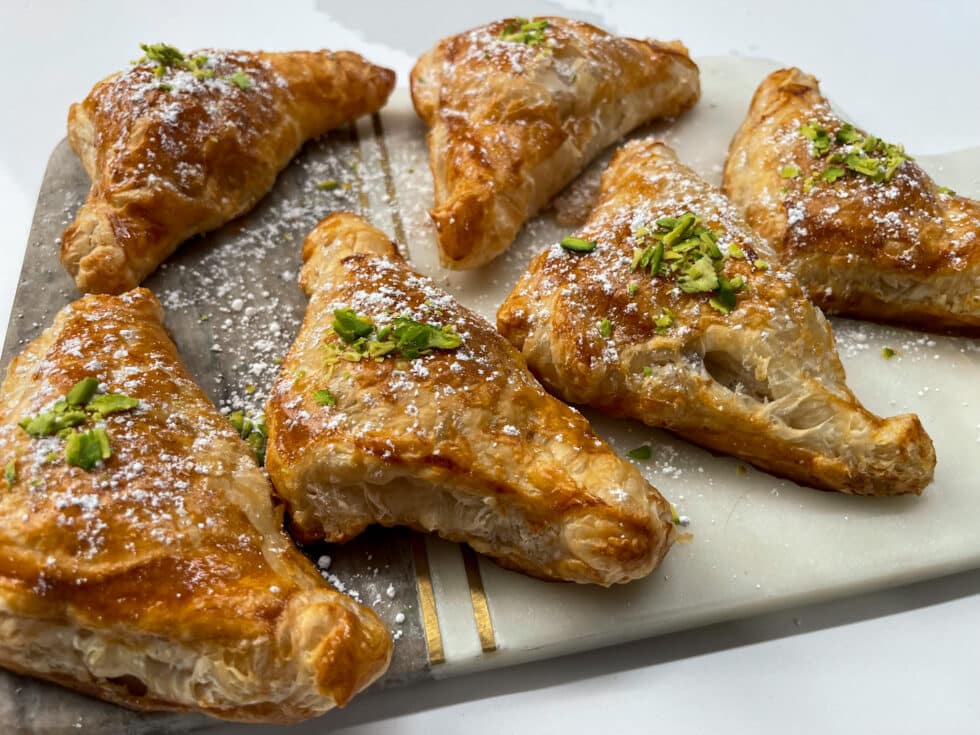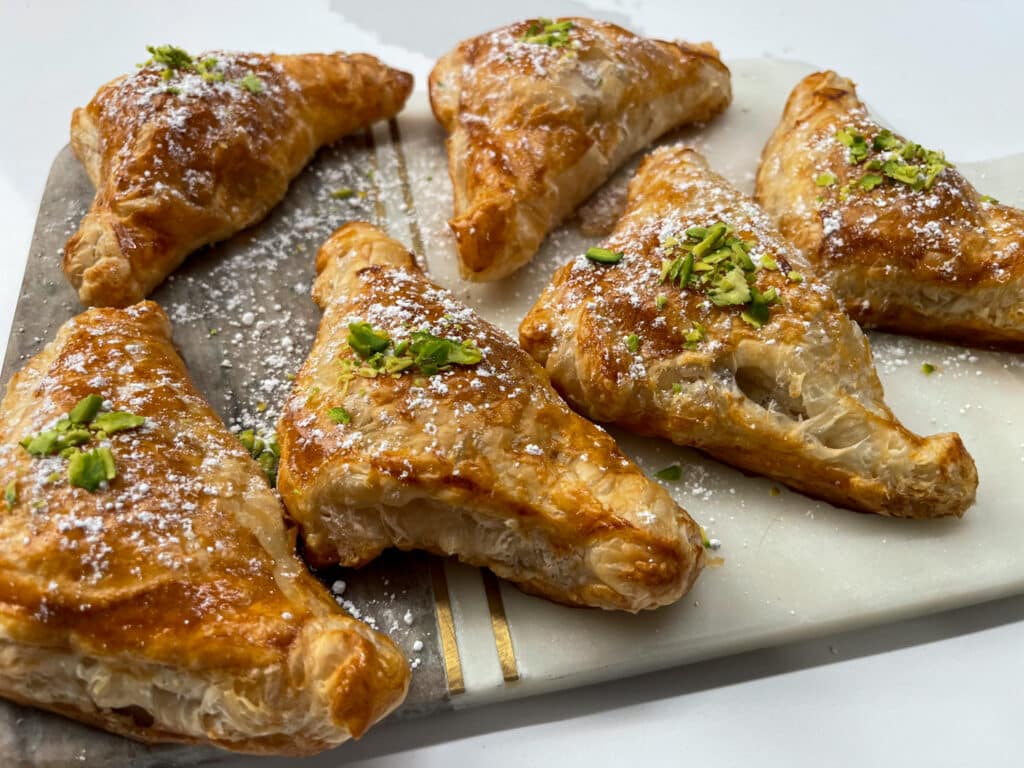 What is a Samosa?
First, you are probably more familiar with Indian samosa. A samosa is a popular snack originating from the Indian subcontinent. It's a fried or baked pastry with a savory filling, such as spiced potatoes, onions, peas, lentils, and sometimes meat.
The filling is enclosed in a triangular or tetrahedral dough shell, deep-fried or baked until it achieves a golden, crispy exterior. Samosas are typically served hot and accompanied by mint or tamarind chutney.
They are loved for their satisfying crunch, delicious filling, and the burst of flavors they provide. Samosas have gained widespread popularity across the globe, becoming a staple in many cuisines thanks to their versatility and delectable taste.
What's Unique About Afghan Samosa?
Afghan samosa is not like any other samosa you have had before. We combine a savory meat filling, surrounded with a flaky puff pastry, and topped with powdered sugar.
This may seem odd, but it is delicious—a fun mix of sweet and savory for any special occasion.
Because puff pastry is so easy, you don't need a special occasion to make this Afghan samosa recipe.
Easily Printable Afghan Samosa Recipe.
As always, we make this recipe easy to print and replicate. I suggest you watch the video if you have any questions. Also, leave a comment. I always respond. Are you a fan of Afghan Cooks and want to help spread the word? Well, social media is critical. Finally, don't forget us on social media. We are on Tik-Tok, Instagram, and Youtube. We also have an excellent non-spammy Afghan Cooks Club. Sign up for that too!
Print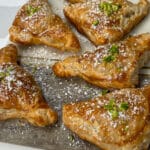 Easy Afghan Samosa Recipe
---
Description
You can't beat this savory, crispy, and sweet combination.
---
2 packages ready made puff pastry
1 lb ground meat (beef, chicken, veal or even a meat substitute)
1 medium onion (approximately 1.5 cups chopped)
1 tbs oil
1 tsp cumin
1 tsp coriander
1 tsp (2 cloves) garlic
1 tsp salt
Black pepper to taste
1 tsp chili pepper (optional)
1 egg, beaten
---
Instructions
1. Heat a skillet to medium heat.  When the oil gets hot add the onions and cook until they just start to become transluscent, about 2 minutes. Add the meat and cook for about 4 minutes until it starts to cook through. Add the spices and garlic and continue to cook another 2 – 3 minutes. Set aside to cool. And prepare your dough.
2. Lay out your puff pastry sheets. Cut each sheet into 6 pieces. Work quickly so the butter in the dough doesn't completely melt! The pieces will be more rectangular than square. This is ok! You can pull them into a square shape as you stuff them. Cutting the dough into only 6 pieces leaves you with a flakier pastry around the meat.
3. Gently shape each piece into a square. Place 1 tablespoon of meat into one corner of the square, with enough space around the edge to fold it over into a triangle. Close the edges by lifting the bottom part of the pastry triangle up and over the upper part. Place on a baking sheet or cookie tray and leave a little room for the pastry to puff up!
4. Brush with the egg. This gives it that golden color.
5. Bake in the oven at 400 degrees for 5 minutes. Reduce heat to 375 after 5 minutes and cook an additional 15 minutes. Pastry should be golden brown.
6. Remove from heat and allow to cool for 5 minutes. Dust with powdered sugar and crushed pistachios and serve.
Recipe Card powered by