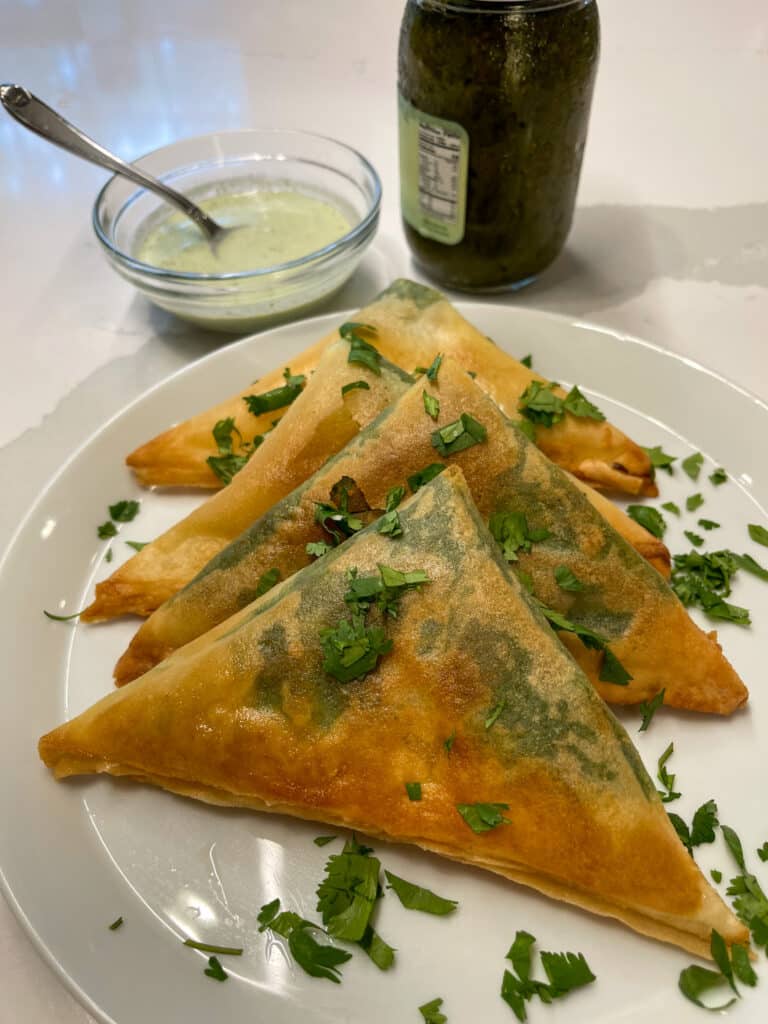 This easy bolani is, well, easy. Don't want to make your dough, don't worry; you won't have to.
Let's make it.
What makes this an easy bolani?
The most time-consuming part of making bolani is making your dough. You can do it if you want, and if you do, I have a recipe for that here.
If you don't have that kind of time, use my hack, egg roll wrappers. Egg roll wrappers are, by their very nature, thin. This means you are guaranteed a crispy outside coating.
It isn't traditional, so you traditional Afghan cooks, don't get all uptight. This is for those busy weeknight meals with everyone is busy and mom just got off of work.
Filling types for your bolani.
I used gandana in my bolani.
What is gandana? Gandana is similar to a wild onion or a leek. It is native to Afghanistan and is the most traditional bolani filling. Also, it makes your bolani completely vegetarian.
You can also use potatoes, but my grandmother said potatoes were a cheap move, lol.
For another special treat, you can make pumpkin bolani like i did here.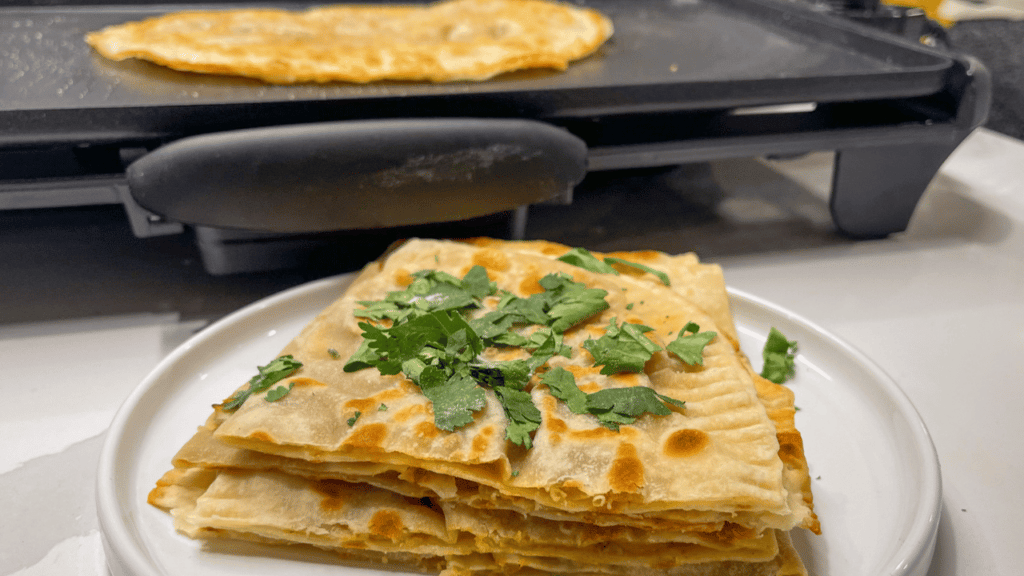 Easy Printable Recipe.
As always, we make this recipe easy to print and replicate. I suggest you watch the video if you have any questions. Also, leave a comment. I always respond.Are you a fan of Afghan Cooks and want to help spread the word? Well, social media is critical. Finally, don't forget us on social media. We are on Tik-Tok, Instagram, and Youtube. We also have an excellent non-spammy Afghan Cooks Club. Sign up for that too!
Print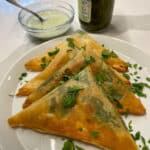 Easy Bolani with Egg Roll Wrappers
---
Description
For busy weeknights, this bolani is an excellent alternative. Egg roll wrappers!
---
Egg roll wrappers
Gandana, leeks, or green onions
Aleppo pepper, or can use some other ground pepper
salt to taste
pepper to taste
1 tablespoon of flour ( mixed with flour to make your "glue")
---
Instructions
1. First, prepare your filling. Take your gandana or leeks, and either chop or food process them. These types of onions are heartier than most things you food process. It may get stuck because they are fibrous. Just give it time and keep working it until it looks like what it does in my video.
2. Add your Aleppo, salt, and pepper. Set aside.
3. Let's talk about your egg roll wrappers. To make your bolani crispy, I use two sheets per bolani.  While you are working with your egg rolls, you want to keep a damp paper cloth on top of the unused ones so that they don't dry out.
4. I highly suggest you watch my Instagram video here to see how I use the "glue" to fill and seal the bolani. The glue is a tablespoon of flour mixed with water, and then I use a brush to seal the edges of the bolani after I fill them with the gandana.
5. Get your skillet out to fry, and get your oil to a frying temperature. Fry each bolani until crispy. Set aside to drain.
6. Finally, serve with some Afghan green chutney and yogurt sauce.
Recipe Card powered by