Khajoor (also spelled Khoujoor or Kahjur) is a delicious Afghan fried donut. This recipe is special because I brought my khalla jana (aunt) on to teach me how to make it.
Here are some tips to help you out.
Khajoor is best with a mix of Floor
As you can see in the video, my khalla is ok with you using only all-purpose flour. However, her mix of chapati flour, kooji, and all-purpose flour is going to give you the best texture for your donuts.
Chapati flour is used in Indian cuisine and so is kooji flour. Kooji is
This combination has been worked on by my khalla for years and years. She is the "OG" of kahjoor. In our family, if anyone wants these donuts, she is the one that you come to ask.
Importance of Khallas in Afghan Culture
Many of you call me Khalla (aunty). Afghans know that aunts are very important in our culture. This is shared by many other cultures as well.
Our khallas share family history, wisdom, humor, and food traditions. I am always so honored when you, my fans, refer to me as your khalla. May Allah swt guide me in the right way as I try to do and share my best.
My khalla that helped me with this recipe is my "baby aunt", my mom's youngest sister.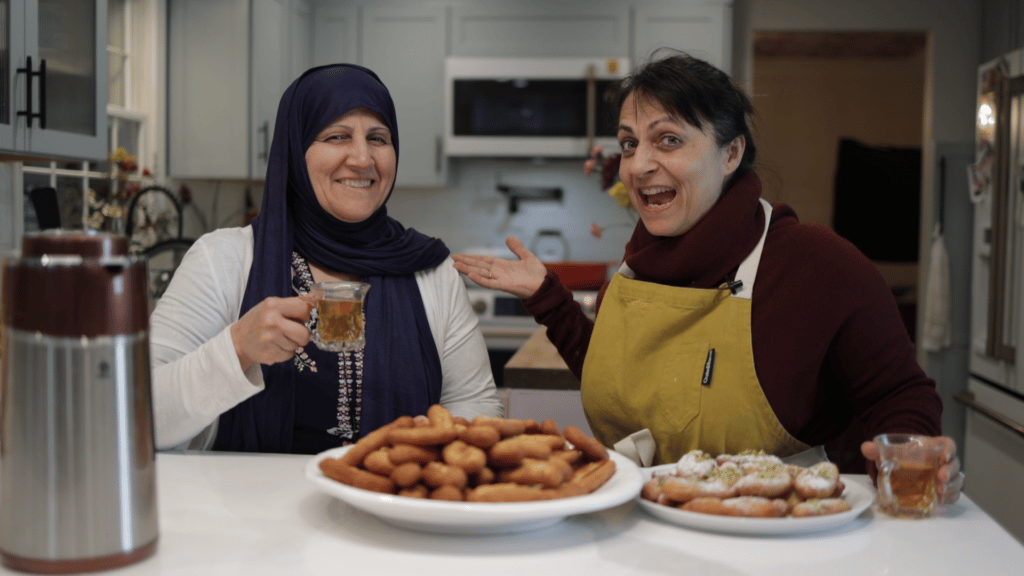 Easily Printable Khajoor Afghan Donut Recipe
As always, we make this recipe easy to print and replicate. I suggest you watch the video if you have any questions. Also, leave a comment. I always respond.
Are you a fan of Afghan Cooks and want to help spread the word? Well, social media is critical. Finally, don't forget us on social media. We are on Tik-Tok, Instagram, and Youtube.
We also have an excellent non-spammy Afghan Cooks Club. Sign up for that too!
Want Secret Recipes? News Updates?
Subscribe to our Afghan Cooks Club now. (free secret recipe for signing up)
Print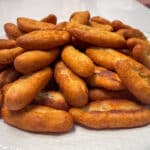 Khajoor – Afghan Fried Donut
---
Description
Khajoor (also spelled Khoujoor or Kahjur) is a delicious Afghan fried donut.
---
6 Cups All-Purpose Flour
2 Cups Chapati Flour
1/4 Cup Sooji Flour
1 Teaspoon of Cardamom
1 Tablespoon Baking Powder
1 Teaspoon of Salt
1 Tablespoon of Yeast
2 Cups of Sugar
1 Cup of Oil 
2 Eggs
Milk (by feel, but about 1 1/12 Cups)
---
Instructions
1. Mix your dry ingredients in the bowl.
2. Then, add 1 Cup of oil and two eggs. Mix this into your dry ingredients.
3.  Now you will slowly, 1/2 Cup at a time, pour your milk into the dough as you knead the dough.  We ended up using about 1 1/2 Cups. mix the dough until it comes together. If you can, let the dough set for an hour or two.
4. After rested, grease your hands. This is my khallas trick. She does not use flour to keep her dough from sticking. She finds that it makes her fry oil brown and makes a mess! Cut the dough into four pieces just to make it easier to manage. Roll the piece out into a long strip, then you are going to cut into smaller pieces. (watch the video)
5. Next, roll the pieces into ball, then you will roll it out again into a little strip, then push your fingers into to make the proper khajoor shape. Next, heat your oil to the appropriate frying temperature. This is usually around 365 degrees F. 
6. Next, your donuts will be done when they float and then turn a golden brown. It is essential to control your oil temperature so that they don't get burned on the outside and raw on the inside. 
Recipe Card powered by