This chicken korma (ghorma) recipe is a quick and easy version of the traditional Afghan dish. It's perfect for a weeknight meal, and it's sure to please even the most discerning palate. Serve with Afghan rice.
The best part is that this dish can be made in under 30 minutes, so you'll have plenty of time to enjoy it with your family or friends. If you want a more traditional recipe with bone-in chicken, I'll post that soon!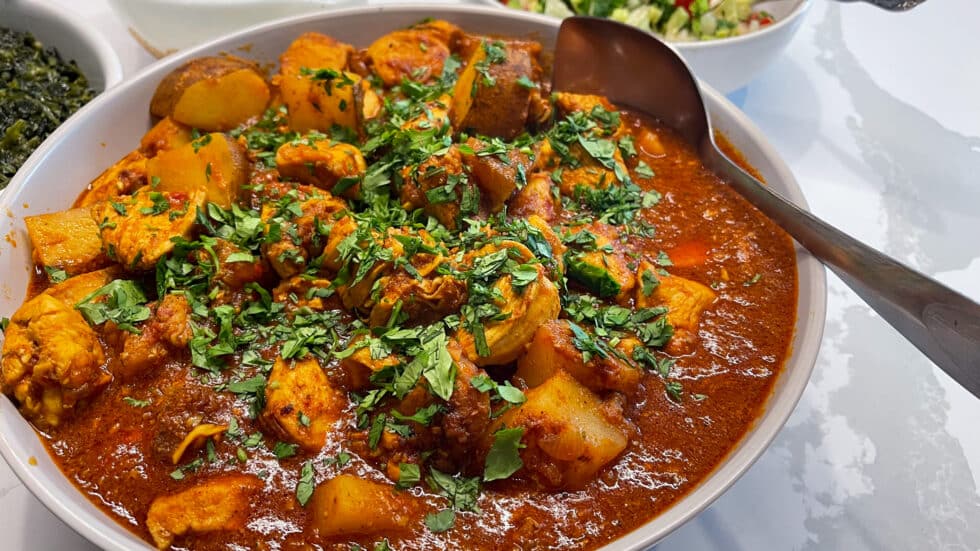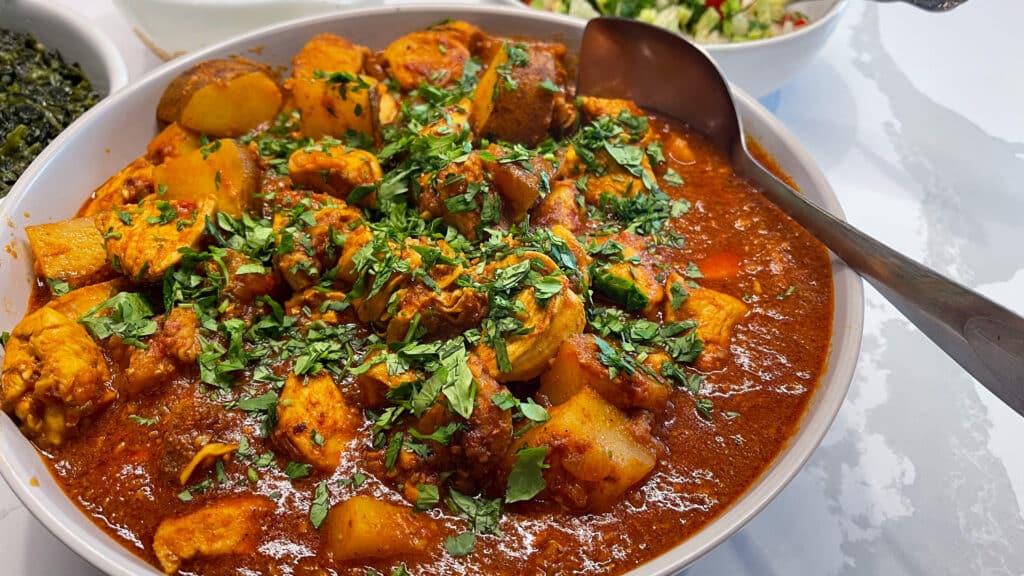 Traditional Chicken Korma (Ghorma)
A traditional Korma is stewed for quite a few hours. The reason is to let the deep rich flavors from the dark bone-in meat (legs and thighs) seep into the tomato gravy.
Because this recipe uses chicken breast we use a little more oil and get some extra help from chicken bouillon.
Indian Cuisine Has Korma, Too!
Korma has its roots in Mughal cuisine. This makes sense if you think about it since the Mughals ruled much of India and Afghanistan:
Korma has its roots in the Mughlai cuisine of the Indian subcontinent. A characteristic Mughal dish, it can be traced back to the 16th century and to the Mughal incursions into the region. Kormas were often prepared in the Mughal court kitchens, such as the famous white korma, perhaps garnished with vark, said to have been served to Shah Jahan and his guests at the inauguration of the Taj Mahal.

Classically, a korma is defined as a dish where meat or vegetables are braised with yogurt or stock. The technique covers many different styles of korma. The flavour of a korma is based on a mixture of spices, including ground coriander and cumin, combined with yogurt kept below curdling temperature and incorporated slowly and carefully with the meat juices. Traditionally, this would have been carried out in a pot set over a very low fire, with charcoal on the lid to provide all-round heat.

https://en.wikipedia.org/wiki/Korma
This Afghan Ghorma Recipe
Again, this is not my traditional recipe. This uses chicken breasts and is meant to be able to be made on a busy week of work and school. I use all of the same spices, but I wanted you to be able to make it in 30-45 minutes.
This is how my mother makes it. If I were to make it the traditional way it would take another hour or so and replace the chicken breasts with thighs and legs. (both bone-in)
As always we make this recipe easy to print and replicate. I suggest you watch the video if you have any questions. Also, leave a comment. I always respond. Are you a fan of Afghan Cooks and want to help spread the word? Well, social media is critical. Finally, don't forget us on social media. We are on Tik-Tok, Instagram, and Youtube. We also have a wonderful non-spammy Afghan Cooks Club. Sign up for that too!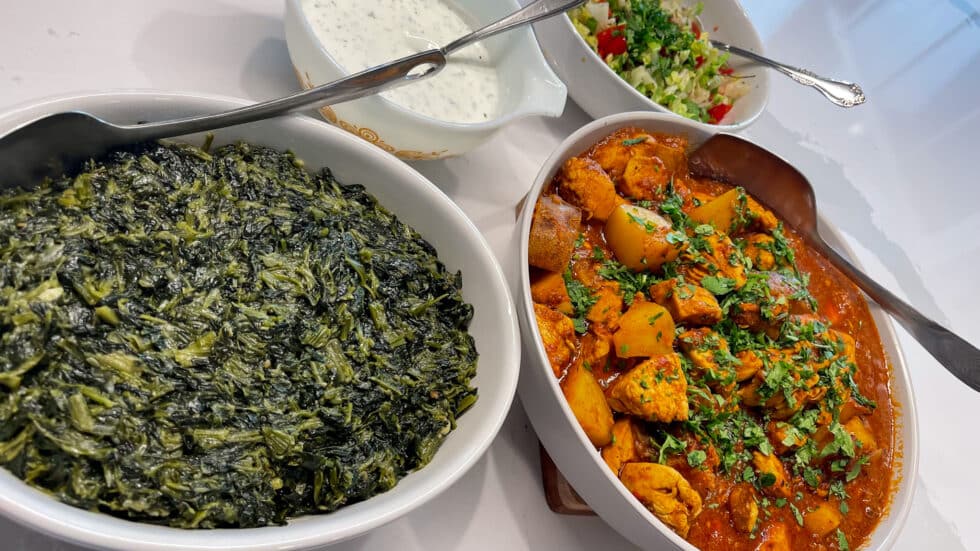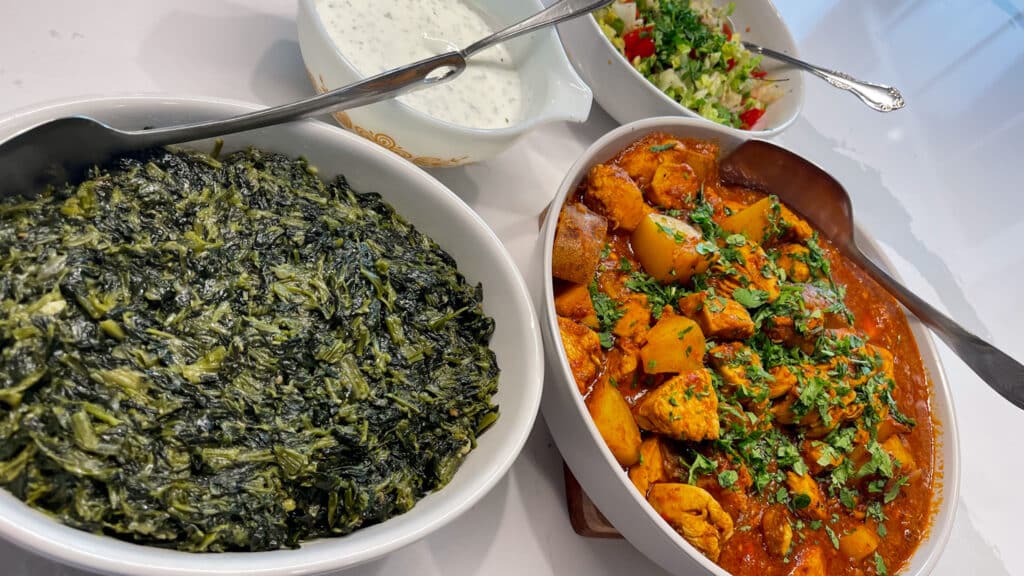 Want Secret Recipes? News Updates?
Subscribe to our Afghan Cooks Club now. (free secret recipe for signing up)
Print
Quick and Easy Afghan-Style Chicken Korma (Ghorma)
---
Description
This Afghan chicken korma (ghorma) is meant to be quick and easy and cooked during the week.
---
3 Pounds Cubed Chicken Breast
1/4 Cup Vegetable Oil
1 Chopped Onion
5 Gloves of Garlic
3/4 Tablespoon Cumin
3/4 Tablespoon Coriander
1 Teaspoon (salt)
1 Teaspoon Tumeric
1 Teaspoon Ground Ginger
1 1/2 Teaspoon Chili Powder
1 1/2 Tablespoon Garam Masala
1 Teaspoon Black Pepper
1 Cup Canned Crushed Tomatoes
1/4 Cup Water
2 Cubed Potatoes
Bullion Cubes
---
Instructions
1. Add oil to the pan and let heat, then cook chopped onions.
2. Next, add 5 gloves of garlic. Cook for two minutes.
3. Add all your spices except garam masala. Cook until toasted.
4. Next, add your chicken breast and let flavors join.
5. Add your tomatoes, water, bullion, and garam masala.
6. Finally, add your potatoes and stir.  Cover and cook on simmer until your potatoes are soft.
Recipe Card powered by