Afghan sabzi is a delicious and simple Afghan spinach dish. Not only is it delicious, it is vegan. Afghan food is hearty with savory meats and rice so it is important to have delicious vegetable dishes like sabzi to compliment.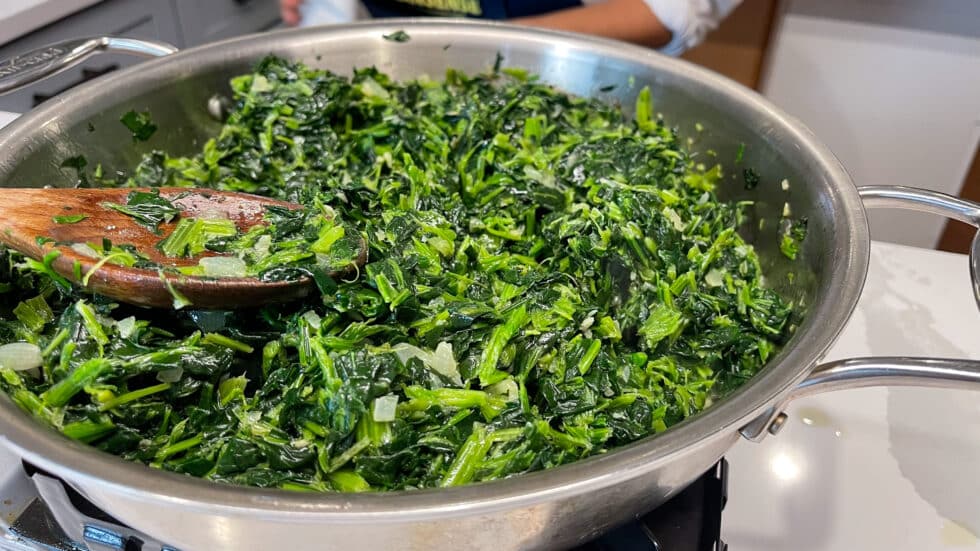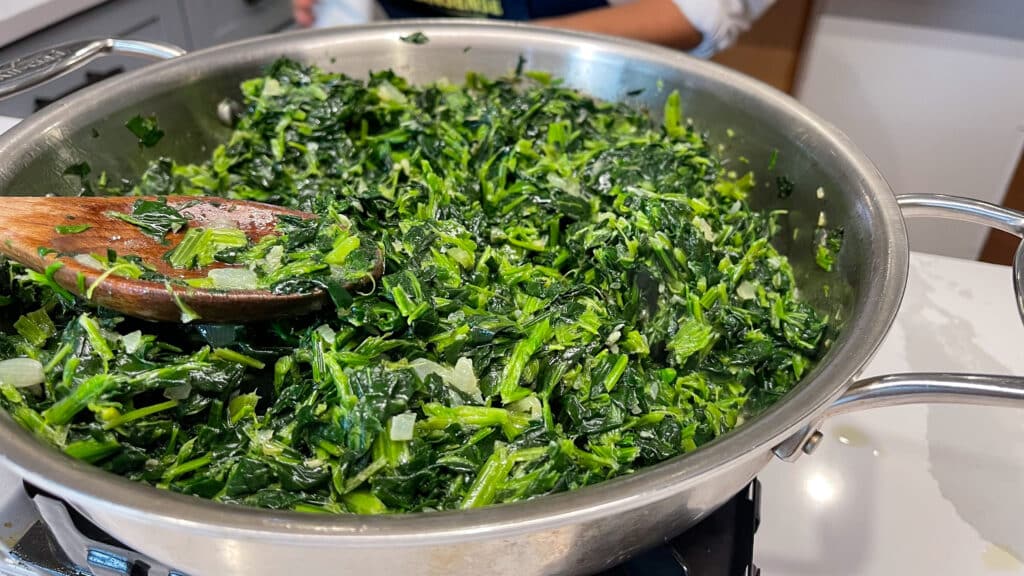 Health benefits of Afghan Sabzi (spinach)
Did you know that spinach is not only delicious but also good for you? Spinach is rich in vitamins and minerals, including iron, calcium, magnesium, vitamin A, vitamin C, potassium, and manganese. It is also a good source of fiber. Afghan sabzi is a great way to get your daily dose of spinach.
I use frozen spinach, and I think lots of other Afghans do too. In fact, I would encourage you to try using frozen spinach because that is the way my mom taught me.
Make Sure You Use enough Oil
In America people frown on using 3/4 Cup of oil when cooking vegetables. But this is not an American dish so don't try to customize it by skimping on the oil. It'll make it taste bad. You need the richness of the oil to marry with the delicious spinach flavor to create an authentic sabzi flavor.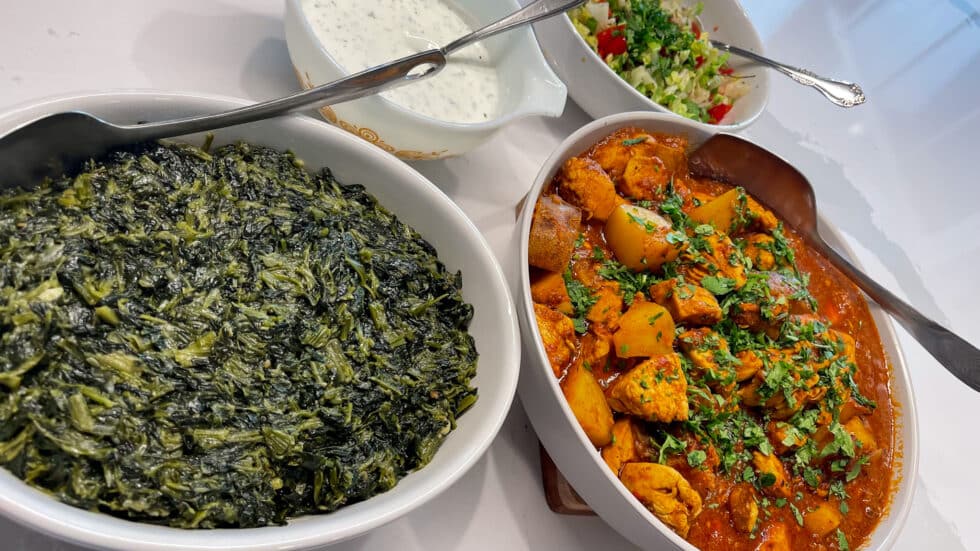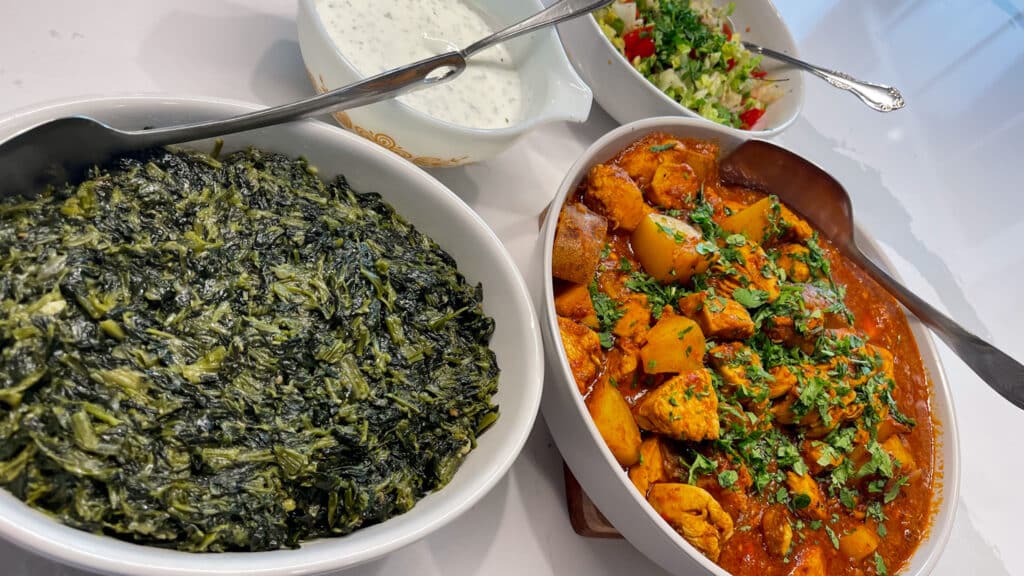 How to Serve Afghan Sabzi
Sabzi is usually served as a side dish along with kebab, or khorma, some salata, and some naan and rice. But you could easily make the entire meal vegan.
Skip the kebab and serve with just rice, salata, and some naan. Thrown in some banjan and you have a meal fit for a king or queen.
Print the Recipe Below
As always we make this recipe easy to print and replicate. I suggest you watch the video if you have any questions. Also, leave a comment. I always respond.
Are you a fan of Afghan Cooks and want to help spread the word? Well, social media is critical. Finally, don't forget us on social media. We are on Tik-Tok, Instagram, and Youtube.
We also have a wonderful non-spammy Afghan Cooks Club. Sign up for that too!
Want Secret Recipes? News Updates?
Subscribe to our Afghan Cooks Club now. (free secret recipe for signing up)
Print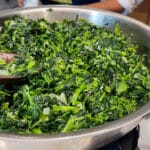 Afghan Sabzi: A Delicious and Simple Vegan Afghan Dish
---
Description
This Afghan Sabzi (spinach) recipe is super simple and 100% vegan. You can serve this as a side or a main if going meat-free.
---
3/4 Cup Vegetable Oil
3–4 Lbs Frozen Spinach
2 Teaspoon Black Pepper
2 Teaspoon Salt
1 Tablespoon Cumin/ 1 Tablespoon Coriander
2 1/2 Onions
5 Cloves of Garlic
---
Instructions
1. First, pour 3/4 Cup of vegetable oil into hot pan.
2. Next, add onions to hot oil.
3. After this, add your garlic after the onions show a little bit of light brown color.
4. Add your frozen spinach next. I prefer to thaw my spinach and let some of the excess water drain off before I cook it. But, it is totally fine to add it frozen it'll just take longer to cook.
5. Allow the onions and garlic to mix into the spinach.
6. After cooking for a few minutes, add your salt, pepper, and cumin/coriander mixture
7. After cooking for about 5 minutes cover the spinach and let simmer for about 10 minutes.
Recipe Card powered by